Even as nearly 70 major U.S. city and county police forces have begun outfitting their officers with body cameras, departmental policies limit the cameras' ability to bring accountability and transparency to law enforcement, according to a study published Tuesday.
Amid the ongoing uproar over police shootings, police reform activists and law enforcement officials have touted body cameras as a tool that can help keep cops and civilians honest. Supporters argue that the devices create objective, first-hand accounts of police encounters, which encourage good behavior on both sides and serve to clarify what happened should interactions go awry.
That sounds good in theory. But the cameras' benefits are less clear in practice.
A new body camera scorecard ― from the Leadership Conference, a civil rights coalition, and Upturn, a firm that works on technology policy issues ― finds deficiencies in police department policy nationwide. The report grades the policies in 75 departments, including every major city that has begun to deploy body cameras as well as several large counties and smaller jurisdictions. No department's policy receives a perfect rating, and almost all fail across multiple metrics.
The scorecard looks at a range of criteria, beginning with the accessibility of body camera policies. Police departments in some major cities ― including Boston, Cleveland, Dallas and Detroit ― are still failing in the basic step of making their policies available to the public online.
The report finds pervasive problems with when officers use their body cameras and how they handle the footage after it is captured. Although most of the departments have developed clear policies outlining which incidents its officers must record, they generally don't require officers to provide "concrete justifications" should they fail to record those incidents. Most departments have weak or, in many cases, non-existent rules prohibiting tampering with or other unauthorized access to recorded footage.
Only three major departments ― in Cincinnati, Las Vegas and Washington ― expressly allow individuals who are filing misconduct complaints against the police to view all relevant footage. Elsewhere civilians are left at a disadvantage when they try to seek recourse for alleged abuse.
The overwhelming majority of departments do allow or even encourage officers to review body camera footage before filing their initial incident reports or statements. This process can "taint" evidence-gathering by altering an officer's memory of an event, according to an accompanying study titled "The Illusion of Accuracy."
"This practice will make it more difficult for investigators, internal affairs, and courts to accurately assess what occurred and whether an officer's actions were reasonable given what he or she perceived at the time," the authors of the study write. "Unrestricted review policies undermine longstanding principles of procedural justice, violate the law enforcement community's best practices for preserving eyewitness evidence, and threaten to erode community trust."
The authors argue for a two-step system of "clean reporting," in which officers write their initial incident report before reviewing any footage, after which they're allowed to review video and file a supplemental report.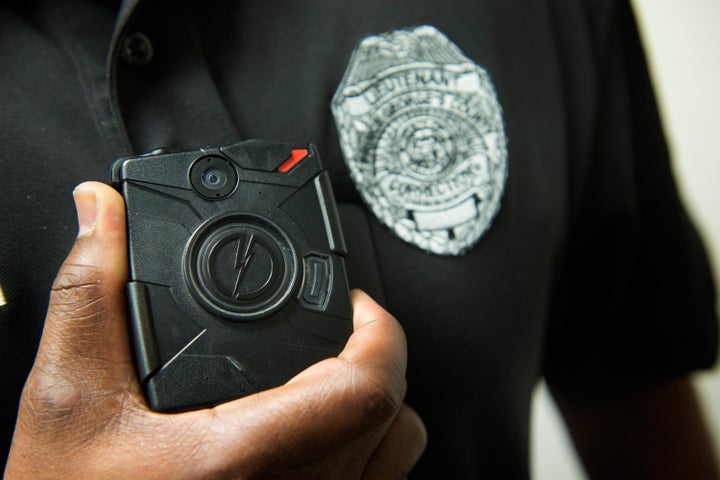 The main policy scorecard also considers a number of issues regarding personal privacy and the potential for body cameras to increase surveillance in already heavily policed communities. Most departments have failed to establish clear rules regarding the timely deletion of footage not associated with a specific case. As a result, these videos could remain in databases indefinitely and be used for questionable purposes in the future. Additionally, only a few departments have placed explicit limits on the use of biometric technologies like facial recognition to identify all the people recorded on body cameras. Critics worry that with these cameras, officers could essentially conduct a real-time surveillance dragnet, scanning each and every person they encounter while on patrol.
Overall, the troubling picture painted by the policy scorecard could feed into an ongoing debate about whether the equipment is truly worth the potential tradeoffs. In Washington, where all of the city's uniformed patrol officers have been outfitted with body cameras, the devices have had no measurable effect on civilian complaints, use-of-force incidents, policing activity or judicial outcomes, according to a recently published study from The Lab @ DC, an organization affiliated with the D.C. government.
On the plus side, the Leadership Conference/Upturn scorecard gives relatively high marks to Washington's body camera program. But if further studies suggest the technology doesn't actually improve policing, it may become harder to justify the financial cost and privacy concerns.
Over the next few years, police reform advocates say departments need to revamp body camera policies to promote accountability and transparency. But they say it's also important to recognize that body cameras are only one aspect of the reform equation.
"Ultimately, we must recognize that these cameras are just a tool, not a substitute for broader reforms needed to address police misconduct, build trust between police and communities of color, and ultimately fix our broken justice system," said Vanita Gupta, president and CEO of the Leadership Conference, in a statement accompanying the report.
Read the entire report below: