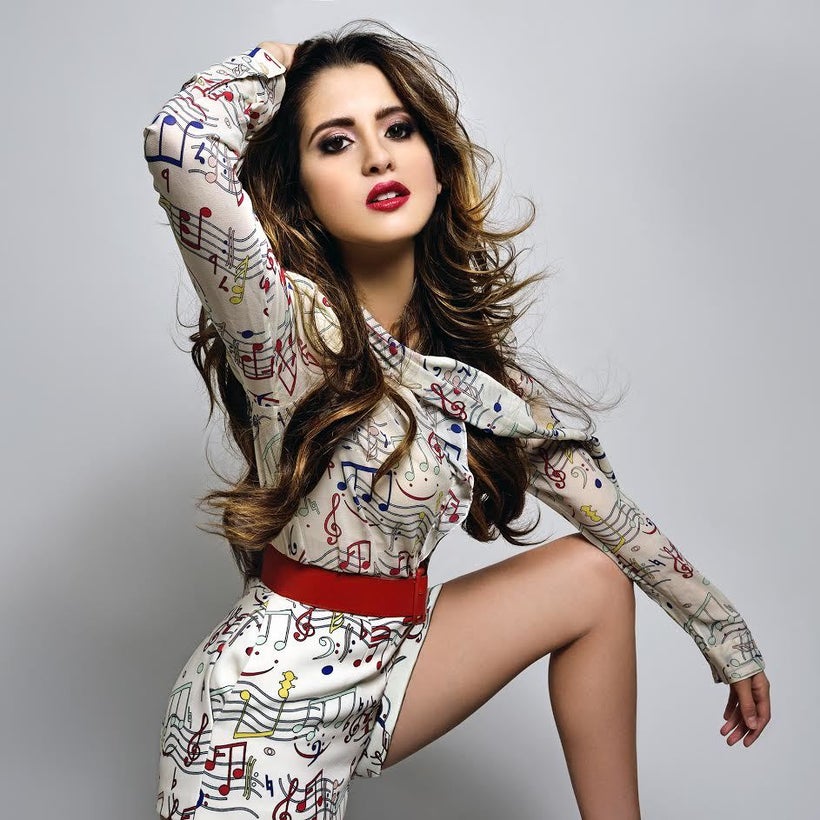 It's not an uncommon tale at this point to hear about a star getting their start on The Disney Channel, only to break out and become one of the biggest power players in the industry- and before minds start wandering to the more recent successes that the mouse with the most has produced, think back to days of the original Mickey Mouse Club and Annette Funicello. Ol' Mickey has made mega-stars out of everyone, including Britney Spears, Justin Timberlake, Ryan Gosling, Christina Aguilera, Tony Lucca, Keri Russell, Shia Labeouf, Hillary Duff, Zac Efron, and plenty of the new assortment of young stars that have taken over Hollywood. And now, Mr. Mouse has waved his magic wand yet again and given the world the newest breakout star; Laura Marano.
     Most well known thus far for her titular role on Austin & Ally as resident smart girl Ally- a girl who is looking to break out of her shy shell and get over her severe stage fright in order to pursue a career in music, Marano shows quickly that she isn't a far cry from her lovable character that fans fell in love with. Smart as a whip, with a great business head on her shoulders, the young star proves to be on the fast track to dominating this industry as she has her finger on the pulse of every end of it, showing that she is more than highly capable on all fronts- from acting, to fashion, to music. However, where she departs from her on-screen persona is that unlike Ally, Marano is clearly quite fearless in conquering her musical aspirations.
     Clever to a fault, listening to the songstress talk about her work is both compelling and fun as she is wise beyond her years, already a well-equipped businesswoman. Marano understands her audience to the point of giving them what they want, without compromising her own artistic integrity as she introduces them to newer trends. Marano isn't sitting around and being molded or manufactured- she has a strong hand in what is happening to her career, and a very methodical process that will lead her to great success, rather than tireless resentment. She is smart enough to work with her collaborators, instead of rebelling against them. From choosing the outfits that she is wearing, to the people that surround her, to the direction of her videos, Marano is clearly savvy and on board to work well with a team- making her perhaps the perfect prodigy for Disney as she truly understands the business and is willing to work with them to get where she wants to go, rather than stomp her feet like a petulant child and spurn them- which shows more signs of distinguished maturity right there.
     Marano is not desperate to grow up, nor is she looking to shock fans with a complete 180 of her image in order to be taken seriously as an adult- which is truly the most grown up move she could make in her career. The alternative method never truly works anyway as it usually only hurts child stars, leaving audiences confused and seeing them as "brats."  Instead, Marano is taking careful steps to graduate into the adulthood phase of her career organically, sagely knowing to not throw her current audience away as she continues to embrace them while encompassing an entire set of new more mature fans. Maintaining an incredible work ethic, not only is Marano breaking on to the music scene with "Boombox," a song that has already scored more than 35 Million hits on YouTube, and with an album that will shortly follow, but she also continues to work with her former employers on Radio Disney for her own show that airs once a week- as well as continuing her acting career that will only be blowing up further now that she has more time, starting with the film A Sort Of Homecoming. And if all that wasn't enough to show how hardworking she is, or how clear it is that she will be headed straight for the top, Marano is destined to be a fashion darling, and has already smartly collaborated with Sherri Hill to design a line of prom dresses- which lead to her guest hosting Say Yes To The Prom Dress on TLC, the younger sibling to their mega-hit; Say Yes To The Dress.
     And that's the brilliance of Marano- she is craftily taking her steps through outlets like Radio Disney and Say Yes To The Prom Dress to continue on to even more mature ventures, as next up she will be designing her own line of clothing and accessories. There's obviously a very thought out method here, and she is more than willing to work for it and take these steps toward building an a solid foundation for later greatness as at only twenty years old, she is more than just a "child star"- she is multi-mogul and entrepreneur. She is building an empire.
     In the interview below, Marano tells fans about the many hats she wears, making her fun "Boombox" video, what her album will be like, her future in fashion, hosting on Radio Disney, who her influences are, who she would love to work with...and more!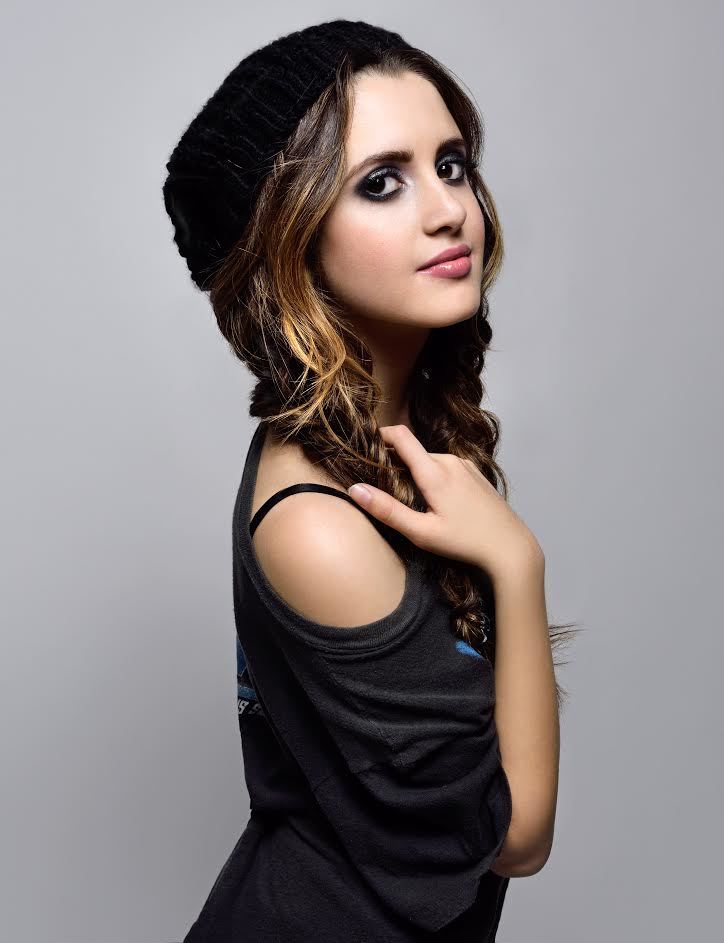 Your music career is already off to a great start with your hit "Boombox" garnering over 35 million views. What was the inspiration behind the song?
I actually recorded "Boombox" a year ago in August! And I remember recording it, I was so nervous because I was really excited about it, and it just went so spectacularly. When writing a song, it's a lot like speed-dating- you don't know who you're going to hit it off with; it can be a great experience, it can be a not so great experience, so thankfully this was an absolutely awesome experience, and the whole song is about having that special person in your life that adds that special energy- the one that makes you want to sing in the shower and dance life a fool. And that could be romantic, or a friendship, it could be anything- it's just that person that adds that special energy.
The guy in your "Boombox" video is very attractive, and you two have plenty of chemistry. Who is he, and were you the one to choose him?
Okay, so I had this idea for the music video- and I'm just going to be honest with you- [giggles] I had watched The Lizzie Maguire Movie, and I really wanted to recreate that scene between Lizzie and her Italian semi-love interest who was teaching her how to dance. So, I told everyone that I wanted that energy, but not necessarily that type of guy- he could have been any type of guy. So, we had a casting and when I met Mason [Cutler], I really liked his personality- he's a super sweet guy, an awesome dancer, and everyone was in complete agreement that he would be perfect.
[Check out the video for "Boombox" below!]
 You have your own weekly radio show on The Radio Disney Network. how did you get into that, and what kind of music do you like to play? Who are your biggest musical influences, and who would you love to sing with, or collaborate with one day?
The show on Radio Disney obviously came about from my knowing the Radio Disney people from my years of being on Austin & Ally, and for me, in this major part of my life, it's been very important to broaden my audience- but at the same time during the past four years I've gained an amazing fan-base that I don't want to let go of and I want to bring them along with me on this journey into music. So, Radio Disney seemed like a really cohesive and great step in that direction as it would really open people up to my record and the work behind it that people don't really get to see. And I have the most wonderful guests on my show, like Ariana Grande, and One Republic. And I definitely always play the songs of my great guests on my show, but I just love to play really awesome songs that are fun and that have great artists behind them in general. For me, Pink is the greatest artist in the world. She inspires me so much. She's a tremendous song writer,  a fantastic performer- she's great at everything. If I could collaborate with her in any way, I would simply die. It would be the best moment of my life. I will say that I had a really amazing moment this year because I got to write a song with one of my other heroes; Jason Mraz, which thus far has been just about the coolest experience of my life.
You also have amazing style and you not only developed your own line of prom dresses for Sherri Hill, you will also be developing your own line of clothing and accessories. Talk about your venture into prom dresses, what it was like co-hosting Say Yes to the Prom dress, and what your line will be like? Who are your favorite designers, and who are your fashion influences?
Working with Sherri was absolutely lovely. It was prom dresses, but it was also formal dresses as well. I've always loved formal wear and fancy dresses. It might sound so cheesy, but when I played with Barbies, my favorite time to play was when they were in the fanciest dresses ever. But, you have to understand, I'm a bit of a prom guru; I went to three different proms, I did a movie about prom, I've done a TV episode about proms, so I felt very proficient in my prom knowledge. So, I wanted to do something with Sherri Hill as she is just an awesome designer. So, we collaborated on the line and I was really happy with it. I'm really proud to wear any of the dresses and they are really bold colors. I'm pretty obsessed with the mermaid silhouette, because it's usually my favorite type of dress as I find it very flattering- but they are all very cool, and there are tons of different figures for every shape and person, which I love. And then, that of course gave way to Say Yes To The Prom Dress. Everybody, of course, knows Say Yes To The Dress with Randy Fenoli, so this was an opportunity to bring in an entirely new audience. I get to co-host with Monte Durham, who is amazing. I'm going to be honest, I didn't realize how emotional this show was going to be. This is such a beautiful experience- you have 50-100 girls who have come from rather unfortunate backgrounds and risen from them, in spite of some rough upbringings and they were just the most amazing women- and a lot of these girls didn't even think they were going to be able to go to prom. So, the fact that these girls got to spend the entire day getting to just shop, and put make-up on and do a runway show- it was such a beautiful thing. As for my line that I'm doing right now, I came in and said that I wanted to do something for juniors and tweens that is sort of reflective of Stevie Knicks- I'm obsessed with her and her style; kind of boho meets a little rock and roll, meets a little 70's action. I'm currently obsessed with bell-bottom pants. I don't know about you, but the idea of 11-15 year-olds wearing bell-bottoms makes me really happy [laughs.]
Funny you say that- one of the hottest parts about your video for "Boombox" was that you are wearing flares, which was a really bold statement as it really veers from the skinny jean trend and will really be what is happening next as it had almost a 70's meets late 90's retro feel. You really have a terrific eye for style and trend-forecasting!
Thank you! Yes! It's so important to take chances and risks and do what everyone else is afraid to do. I still love skinny jeans and I'm open to so many different outfits, but, I just really love bell-bottoms right now. The video also featured some great fashion by Jeremy Scott, and he is absolutely brilliant. Some of my other influences as far as what I am looking at for fashion are TopShop- which is my haven and sanctuary, I love BCBG, Ted Baker. I love Free People- whenever I really need to get my boho on? That's where I go to. Back in the day, when I was twelve or thirteen, Betsey Johnson was my everything. She's just so innovative.
You are going to be starring in A Sort Of Homecoming. What can you tell fans about that?
I actually shot A Sort of Homecoming two years ago and I think it is actually out now on iTunes America- which is so exciting. I'm kind of a little bit of a speech and debate nerd, so this whole movie sort of circles around high school debate. It focuses on my character Amy, who finds out that she is adopted and deals with this very relatable problem of not knowing where she belongs, and not knowing where she might fit in within this vast big world. It was a very fun movie to shoot- especially because we got to shoot in Louisiana, so we spent some time in New Orleans- which was one of my favorite places to be.  I had to keep eating beignets- and that was actually pretty amazing! [Cracks up.]  It was so much fun. I shot it during the hiatus of Austin & Ally, between season three and four.
And of course, you just wrapped Austin & Ally, which developed quite a fan-base. Have you managed to keep in touch with your co-stars?
Of course! I just texted with them this morning! It's such a transition going from seeing each other every day to now not even being in the same state sometimes. We knew going into season four that it would be our last, so that was kind of nice- we compared it to being like our senior year of high school and as if we would be graduating on to other projects rather than college. But, for four years, we were together all the time, so it was truly one of the best experiences of my life. I love all the awesome fans that came from the show and it's been such and amazing ride.
And you will also have an album launching later this year. What can you tell fans about that? Will you be going on tour?
I definitely will be going on tour after the album comes out. I might be doing something a little before, but I'm working on so many things right now. I've been working on this album for about three years, so the fact that I'm almost done with it is crazy. The hardest part for me has been finding a title! It's such a major part of my life, and it's really important to find a title that embodies that work!
     A title that represents Marano's next phase? As it looks like the Laura Marano Empire is in full swing, how about "Graduation?"  Who knows? She may very well be the next chairman of Disney some day. How's that for some girl power?
This post was published on the now-closed HuffPost Contributor platform. Contributors control their own work and posted freely to our site. If you need to flag this entry as abusive,
send us an email
.