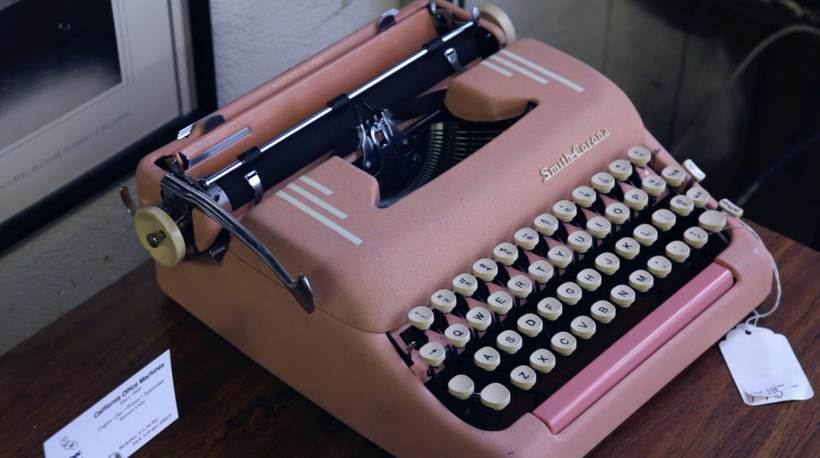 California Typewriter (2017)
Cast includes: Tom Hanks, John Mayer, David McCullough, Sam Shepard, Jeremy Mayer, Silvi Alcivar, Herbert Permillioon, Ken Alexander, Richard Polt, Smith Corona, Royal, Olivetti, Remington, Olympia, Sholes & Glidden
Director: Doug Nichol (Sting: Ten Summoners Tales)
Genre: Documentary (103 minutes)
"Sunday, August 21, 1966… moon in the sky… a perfect day for an execution. I had a typewriter with me…" And, so goes the beginning of Edward Ruscha's classic… "Royal Road Test." Not all typewriters are destine to become road kill though… at Christie's, $254,500 was the amount paid for Cormac McCarthy's manual Olivetti. On the other hand, "We've become a throw-away society," they say at California Typewriter, a shop in Berkley that's been repairing typewriters for 38 years. Herb bought the store after a career at IBM… "right around the start of the computer era… We don't know how much longer we can stay in business." Actor Tom Hanks is a collector of typewriters. He tells us he has about 250, all in perfect working condition. He's been trying to "foster a community of typewriter people… It hasn't quite worked," even though he regularly gives them to friends. Unlike expensive mechanical watches that command exorbitant prices, no one will be making collectable typewriters. "No good typewriters are ever gonna get made again." So Hanks is passionate about his favorite Smith Corona, for example.
Martin Howard collects a different kind of typewriter… those from the 19th century… "the wild west of typewriters." He loves seeing the genesis of a design… the non-standard typewriters. Some have keyboards… some have an "index design." "The only typewriter of historic significance missing from my collection is the Sholes & Glidden." Jeremy Mayer tells us he's "just as much a typewriter person as collectors who want to see them intact." But Jeremy takes them apart and makes art out of the pieces. Some people don't like it, but the guys at California Typewriter are happy to exchange typewriters too far gone to repair for parts they haven't been able to find. "When I take a typewriter apart, I see people." Looking at his sculptures, we see people, too.
Through these and many other fascinating characters, we come to appreciate the typewriter, not as a quaint invention that's been made obsolete by technology. We see the typewriter at the center of history and great social changes… "The revolution will be typewritten." Martin Howard continues his quest with religious reverence for the illusive Sholes & Glidden. We learn that it was the first typewriter with a QWERTY keyboard. Sholes couldn't find any investors, so he eventually sold the patent to a weapons manufacturer, Remington. The first typing school opened in 1881 enrolling 6 women, who were then able to go out and get jobs in a man's world (and start the feminist movement). With its jazzy score, this is a beautifully rendered love story about an invention, a movement, a community, lots of philosophy, and a whole typewriter ecosystem. Typewriters are simple, elegant and functional. They're also complex and important. Believe it or not, you can't write the same way on a computer. John Mayer says, "It's hard to be a wacko when you're editing." But can computers and typewriters coexist? At California Typewriter, they hope so… But, "Questions are far more interesting than answers."
3 popped kernels (Scale: 0-4)
Old typewriters, really old typewriters, parts, and the people who use, repair, and love them
Visual Style: Unvarnished Realism
Nutshell: Typewriter ecosystem
Social Significance: Informative & Thought Provoking
This post was published on the now-closed HuffPost Contributor platform. Contributors control their own work and posted freely to our site. If you need to flag this entry as abusive,
send us an email
.