Pope Francis has denounced the brutal attack that shattered the sacred stillness of a morning mass at a French Catholic church on Tuesday and left an elderly French priest dead.
The two assailants, who claimed allegiance to the so-called Islamic State, had targeted a church in the Normandy town of Saint-Etienne-du-Rouvray. The attackers reportedly slit the throat of a priest in his mid-80s named Rev. Jacques Hamel. Two nuns and two worshippers were also taken hostage, one of whom was seriously wounded. The attackers were later shot dead by police.
Vatican spokesman Rev. Federico Lombardi called the attack "barbarous" and said that the Pope is praying for the families, the parish, and the diocese of Rouen, where the attack took place. Lombardi said that the pope was particularly shocked that the violence took place in a church, which is supposed to be a place where "God's love is announced."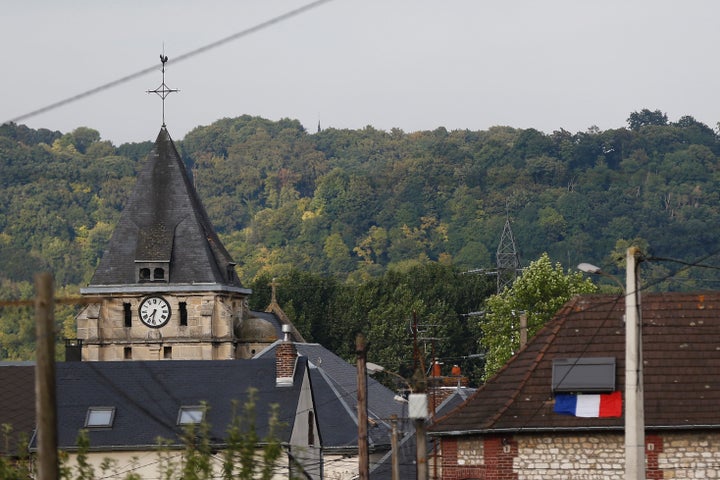 According to Vatican Radio, "The Pope shares the pain and the horror caused by this absurd violence and expresses firm condemnation of every form of hatred and prays for the victims."
Archbishop Dominique Lebrun, who heads the diocese of Rouen urged for a peaceful response to the attack. 
"The Catholic Church has no other arms besides prayer and fraternity between men," Lebrun said in a statement.
Some Catholics are already calling for Hamel to be considered for the sainthood.  Soon after the attack, the hashtag #santosubito, which means "saint immediately" began circulating on Twitter.
Hamel was a retired Catholic priest who often subbed in for the St Étienne-du-Rouvray parish's official priest, according to The Guardian. Locals told French media that Hamel was a faithful priest who never tired of serving his flock.
BEFORE YOU GO
PHOTO GALLERY
Elderly Priest Killed In France Church Attack