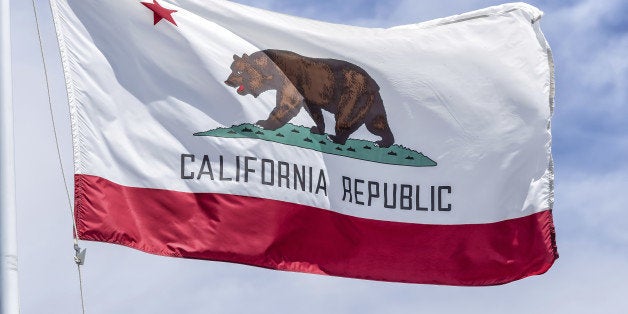 Measured by itself, it's the eighth largest economy in the world. It's also the most populous, economically, culturally and socially diverse state in the nation -- and perhaps on the planet.
Widely considered the technological heartbeat of the 21st century economy, this geographic paragon is home to Google and Facebook. Simultaneously, it's the fifth largest supplier of food on Earth. A global powerhouse for entertainment, it projects American culture abroad.
Even so, historically, by the time its June primary rolls around, much of the Republican and Democratic Parties' Presidential races are traditionally written off as forgone conclusions.
I'm talking about the now, all-important California primary on June 7th.
Rather than minimize its role in 2016's pandemonium-infused Presidential primary contests, for once Californians actually have a unique opportunity to have a major impact.
You see, this June of 2016 represents a watershed moment in electoral history for Californians.
Unlike most Presidential primary's where the state is neglected as most nominating contests are decided months before Californians get to cast their ballots, this year is different.
At this point, unless Donald Trump pulls off epic victories in the winner-take-all states of either Ohio or Florida or both on March 15th, the bloody battle for the Republican nomination will almost certainly continue until California. That's because without wins in at least one of those states, the delegate math alone makes it a daunting task for Trump to clinch the magic number of 1,237 delegates necessary to secure the GOP nomination.
And, with the Stop-Trump movement gaining momentum, it's looking more and more like this will be the case.
Polling shows Ohio Governor John Kasich running neck-and-neck with Trump in Ohio. Given his deep roots and statewide network, combined with the millions likely to be spent against Trump, Kasich's well-positioned to win his home state.
Likewise, Florida's hometown hero, Senator Marco Rubio, is nipping at Trump's heels in the Sunshine State, closing in on him by single digits in recent polling. With a flood of campaign cash pouring into Florida in negative advertising against Trump, victory is definitely within reach for Rubio's campaign.
Beyond Ohio and Florida, Texas Senator Ted Cruz has proven his ability to trounce Trump in caucus states as well as closed Republican primaries, of which there are several coming up.
Together, this means that it's possible Donald Trump, Ted Cruz, John Kasich and Marco Rubio all remain in the race until California, and along the way, continue to split up the votes and the delegates.
On the Democratic side, even though Hillary Clinton has racked up a solid lead and captured the lion's share of delegates, her opponent has pledged to compete all the way until California's primary.
Bernie Sanders has surprised everyone watching this race. He's turned-heads, built a real movement, and has tapped a nerve in America by harnessing a message that addresses voters' anxiety about stagnant wages and a shrinking middle class. That said, he's essentially hit a ceiling among the Democratic electorate-- mostly only appealing to white, liberal voters, white low-income voters, young people, and Independents. And, he hasn't been fully embraced by minority voters who are vital to assembling a winning coalition necessary to sew up the Democratic Party's nomination.
Despite his steep hill to climb, Sanders' unrivaled fundraising apparatus, and the groundswell of grassroots support he's generated, will no doubt guarantee his capacity to stay in the race until June 7th.
Well, for starters, there are a whopping 475 state appointed delegates up for grabs for Democrats. 172 delegates are available for the Republicans. Those numbers dwarf every other state by a landslide. They also equate to almost 20% of needed delegates on the Democratic side and 14% on the Republican side to secure either Parties nomination. Most significantly, for GOP candidates, California is a winner-take-all state. This makes it that much more impactful in Republicans' race for delegates.
Still, while Californians may not ultimately decide who becomes either Parties nominee, they'll nonetheless make a big splash going into the Republican and Democratic Parties' conventions.
By having a contested and competitive election, California will provide candidates with a last-stand battleground opportunity to help shape and define their campaigns, their narratives, and both Parties' conventions. That means each Parties platforms and honed-in messages as they gear up and use the conventions for their respective launching pads towards the impending November General Election.
Why does all this matter? Because instead of its usual role as an ATM cash-machine dominated by the donor-class in Presidential races, real people on the ground in California will matter.
Republicans and Democratic Party contenders will not only compete for votes in California, but besides the District of Columbia's election on June 14th, the state represents essentially the final frontier and last chance for them all to define themselves and their Party on the big stage before it's convention time.
It'll be fascinating to see what happens when Presidential candidates actually plan on going-going, back-to-back, to Cali, Cali to engage in trench warfare and compete for real votes instead of just campaign cash.