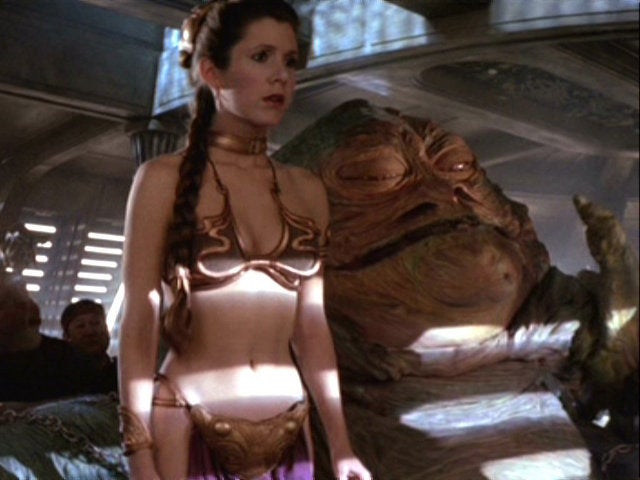 Ross Geller may have to find a new fantasy because it looks like Princess Leia's gold bikini is going out of style. Disney is reportedly phasing out the iconic imagery from the "Return of the Jedi" enslavement sequence with Jabba the Hutt, according to "Star Wars" comic-book artist J. Scott Campbell.
The Leia slave garb, often seen as antithetical to female empowerment, will no longer be used in "Star Wars" films or merchandise, if Campbell's comments are to be believed. (The Huffington Post contacted Disney and Lucasfilm reps but has not heard back.) Responding to a Facebook post from sci-fi author Blake Northcott, who pointed out that Amy Schumer evoked Leia's bikini on the cover of GQ earlier this year, Campbell said he's heard from "two sources" that the imagery is now off limits. 
"We can't even draw Leia in a sexy pose at Marvel, let alone in that outfit!" Campbell wrote. "We also had a 3-D SL statue killed at a major manufacturer because there will no longer be any SL merchandise." ("SL" means Slave Leia.)
After Campbell's comments drew attention online, he tweeted that perhaps it wasn't as definitive as he'd first implied.
Given the limited number of female characters in the "Star Wars" universe, it makes sense that Disney would want to eliminate an image that subjugates the franchise's most famous woman. The rumor is especially potent given Carrie Fisher's recent comments in Interview magazine: "You should fight for your outfit," she told Daisy Ridley, who plays a lead character in "The Force Awakens." "Don't be a slave like I was."
PHOTO GALLERY
Our 20 Favorite 'Star Wars' Characters
For a constant stream of entertainment news and discussion, follow HuffPost Entertainment on Viber.