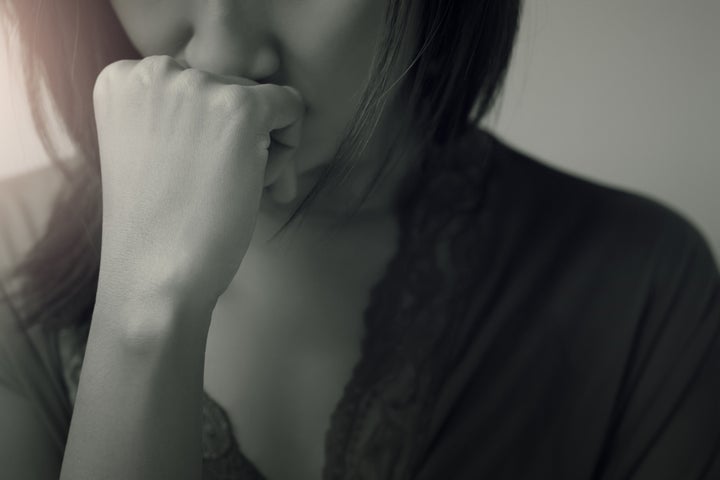 I glanced up and saw him watching me. The other photographer shooting the event. I had only been vaguely aware of his presence over the course of the evening, as now and again his flash illuminated the crowds around me.
Then came the question, a question I've heard before: "What gear are you using?"
A red flag. I have only ever been asked this by males, and the rest of that conversation is never fun. I reeled off the model of my camera and the lights. More questions followed along with a lot of mansplaining and a breakdown of his equipment which was of course much better than mine. I found his manner aggressive and he must have picked up on my reluctance because he said "Do you know who I am?" I did not. He said "I'm surprised" and passed me his business card. I'll let you imagine what it looked like.
He regaled me with stories of being "the best club photographer in Glasgow," how much money he made and about how the fast lifestyle of late nights, kebabs and quick turnarounds on images for big clients really suited him. I think I was supposed to be impressed and flirtatious. That I wasn't was only making him more persistent and aggressive. I didn't want to be rude, but I also wanted it to stop, so I was polite but distant. Time seemed to be passing very slowly and I remember thinking that another person would have picked up on my discomfort. In the end I said, "I'm just going to have to get on with some work," to which he responded "You don't have to be such a fucking bitch." I was trying to decide how to respond when he demanded I take his portrait, and ultimately, I did as he asked. It was my job.
For the rest of the night, I avoided him and I finished the event with a knot in my stomach. I felt violated and demeaned as a professional and as a person.
The next day I messaged the man who had hired him. Let's call him Gordon. I explained what happened, how I felt and said that I would leave it in his hands to deal with. The first thing Gordon told me was that Dom had been hired because he had a very specific set of skills. The Liam Neeson of event photography. Next, I was told that Gordon had met Dom "several times and he has always been cheerful and polite." And finally, I was informed that he would speak with Dom.
The message left me with a really bad taste in my mouth. At no point had he taken my experience or feelings of violation into consideration. Why did Dom's skill set matter? Why was it relevant that Gordon knew him to be cheerful and polite? Either this guy was indispensable to Gordon and I wasn't believed, or what what Dom had done simply wasn't a big deal. I felt that reprimanding Dom was simply a placation.
Nobody followed up with me.
He continued to receive work, and I was forced to spend time in the same room as him, which made me feel deeply uncomfortable. I spoke to friends and they told me to "Let it go." "Maybe he was joking," they said. "Edinburgh is a small town. If you keep up with this it could cause problems for you."
In fact, Edinburgh is such a small town that when Dom was hired to work with kids during a festival, I saw him posting photographs of my daughter. The thought of her being around a man I knew could act in such a misogynistic way was deeply upsetting to me. All the responses had made me feel powerless. And I felt angry with myself that I had not done more.
This was a very unpleasant thing that happened to me. It's not the worst thing that has happened to me. It's not even the worst thing a man has done to me. I have had many encounters with pushy, misogynistic men. All women have. It was, however, the first time I had spoken out about it.
We're two years on and in the past week Harvey Weinstein was finally outed as a misogynistic monster of mammoth proportions. It has been a difficult time for all women as we can't help but be reminded of the men who have hurt us, and the culture that allows them to do so. In the wake of all of the violence, the #MeToo movement and the outpouring of truth and solidarity was profoundly affecting. I feel so connected to all of my sisters and our shared experiences as women.
I don't think the #MeToo movement is without issues but I was pleased to hear women's voices leading the narrative. In the aftermath I saw a lot of men post about how the misogyny and violence had to stop, how disgusted they were by Weinstein's actions and how brave the women were.
One of these men was Gordon.
In the past few years, Gordon has achieved a large social media following and he uses it to share his ideas and ideals. He has tasked himself with "reinvigorating perceptions of Scotland" and often speaks about positivity, tolerance and generally liberal ideas. He is often asked to speak at events and has built his brand around these values.
In his post about Weinstein, he wrote:
"I have total respect and admiration for the victims who stand up to them and share the truth. And the sleazy creepy men who slither their way into positions of power, are role models for how not to behave, so our good sons can be better men."
Anger rose immediately when I read this. This was at odds with how he had acted when he had the chance to directly stand up to one of these "sleazy creepy men." As for him saying he admired the victims for speaking up, those were just empty words.
I want to acknowledge here that what Dom subjected me to was not nearly as awful as what Weinstein subjected those women to. Worse things happen all the time. It is precisely because of that I think we have to try to understand that although on the surface these acts of violence are very different they exist on the same spectrum. Allowing one allows the other.
I responded to Gordon's comment on Weinstein in a general way and included Nicole Stamp's amazing post on how men can actually help. I read all of the praise under Gordon's post (nearly all of it from men) and I felt furious. He was hiding behind the cloak of being an ally.
I kept reading over Gordon's post and my response to it. It wasn't enough. Hours passed, my body and brain buzzing with anxiety. The realisation of what was wrong was also the motivation I needed to move forward. I wanted to confront Gordon but was scared of the consequences.
I understand exactly why women stay silent. I have stayed silent many times, and I carry the weight of the violence I experienced ― the fear of speaking up ― with me every day. I want more than anything to change that narrative, for myself and for other women. This seemed like a good place to start.
I wrote, with shaking hands, a message that is not half as articulate as I would have liked it to be. It's really crazy how scared I was writing this. Every single thing I had been told in the past going 'round and 'round in my head. Was I being dramatic? Should I just let this go? Would this affect my career? This was really hard for me so I can't imagine how hard it is to speak up about rape or violent sexual assault especially after being initially ignored or dismissed.
"Hi Gordon, I felt that I should write in person as that's always better. I noticed your posts about your thoughts on the culture of abuse that is everywhere. I commented on one. I thought it was important that I mention to you that when I came to you with the abusive behaviour and comments of Dom (who you hired), you used a lot of language that shames victims of these incidents and you also continued to work with him. You made me feel like I was complaining about nothing and by continuing to work with him I felt like I wasn't believed or that you did not take his actions seriously. His behaviour was 100% not OK and I actually dread seeing him which I have had to do quite a few times. I wasn't going to message but I actually want to contribute towards things changing for the better. I'd also be happy to speak to you about abuse culture/misogyny and how you can help to combat it from the pretty large platform that you have. Obviously it's good that you posted but actually contributing to change takes a lot, lot more."
Behind the frenzy of a body filled with adrenaline I felt empowerment lay down its warm, solid weight.
I wasn't sure if I was expecting a reply or what he would even say, but I was pretty unprepared for what I got.
"Hi Kristie, I hope you and your lovely family are well. It would be great to see you, Kindest regards,

G"
I just stared at it, waiting to see if he would write more ― this couldn't be it. Was this a stock response sent by a bot? "My lovely family!?"
Dismiss me once, shame on you. Dismiss me twice, shame on me. I responded immediately, the words flew from my fingers and onto the page. I hit enter before the cursor had blinked at the last letter.
"Excellent we can talk more about this in person.

As someone who has explicitly stated his desire to end this sort of behaviour from men, I expected a lot more in your response once your actions had been shown and explained to you. Saddened to see that you would rather ignore it."
I was shaking. I spoke to my friend who knows both of the men involved and she was incredibly supportive. She asked if she could speak to Dom about the incident (as he sometimes worked for the same company she did) and I gave her my permission. I suppose I was looking for some sort of acknowledgement. It's hard to be repeatedly dismissed or ignored.
She got back to me very quickly. Gordon had dismissed me and had called Dom immediately to ask him what had happened. I presume Gordon had entirely forgotten about the incident and that he ever said he would speak to Dom. Apparently, Dom did remember the incident somewhat and felt really ashamed. He hadn't felt ashamed at any other point in the last two years, but suddenly when he had been outed the shame came rushing back. He wanted to apologize, but he was going to write to my friend and have her pass it on. I insisted the apology be sent directly to me. I mean, of course it should be sent directly to me!
"Hi Kristie.

Gordon and P got in contact with me tonight informing me of a mistake I made during our exchange at the event.

I wanted to reach out and say that I'm incredibly sorry for using that word and offending you. It was insensitive for me to use that word. I don't remember the context, but I'm certain I didn't intend to mean it in an abusive way.

From what I remember I was loving your work and enjoying speaking to you. But I realise that was not your takeaway from the conversation which is more important than my intent so I apologise and take responsibility for that mistake.

I strive to be respectful and have positive effect on people and I definitely messed up in that interaction. In the last two years, I've saught to be more self aware, improve my behavior and I'd like to think I'm more careful now than I was then.

I suppose mixing in progressive circles I only ever hear the word in positive contexts where the older and harsher meanings have been reclaimed and didn't consider how it might sound coming from me (a man) or how it might effect women with different experiences. I don't mean this as an excuse, more as an explanation.

I appreciate being checked on this and will use this lesson to watch my word choice and behavior, especially with strangers, much more carefully."
Sure, at first glance this could pass as an apology from a "woke" sort of guy. It has all of the hallmarks of an apology, right? He says sorry for his "mistake," he acknowledges that using "that word" wasn't okay and he says he'll be more "careful."
To actively avoid saying 'bitch' so many times is odd. He can't say the word he actually called me.

'Loving my work.' He had never seen my work.

I am certain that the only context in which you can call a women you don't know a "fucking bitch" is an abusive context.

His experience in "progressive circles" has led him to believe that calling a woman a "fucking bitch" when she doesn't want to talk to you is okay.

He has stated that something I lack has caused this issue. I lack the progressive way of thinking that would make me okay with him calling me a "fucking bitch."

He is a very progressive man.

At no point during this message does he acknowledge any of the underlying issues with his behavior, despite how progressive he is.

You got that he's progressive, right?

He can progress right into the gates of hell.
I know, I know. It's "good he apologized"; a "step in the right direction"; "most people wouldn't even have admitted it."
"He said sorry, what more do you want?"
This is exactly the problem. The bar for men is too low. Many men hide their ignorance and misogyny behind the mask of alliance. You cannot be an ally without becoming keenly aware of the issues that are at the core of how our society functions. Allyship is much, much more than words. If you don't devote time and energy to learning, you will inevitably do delusional things like conflate "progress" with the use of derogatory language against women. You will use language and act in a way that enables perpetrators and shames victims. You will not understand how to change yourself or our societies. And what good is that? We don't need that sort of help. We don't need that sort of ally.
Allowing men to hide their misogyny behind these too-easy-to-gain or self-entitled labels is an affront to what women experience every day. The battle has to start with challenging the offhand comments, the slurs, the wolf whistles, the casual sexism. It has to start with women like me who have privilege and support. We have to pave the way for women who face a much harder job in confronting and exposing the terrible violence they experience at the hands of men. It took 20 years for Harvey Weinstein to be outed and right now he's on holiday. We have a long way to go, so let's start now.
But although these are things I can do, the primary onus rests with men.
Dom could have spent the last two years teaching himself how to become a truly progressive man ― a real ally to women ― and sent me a meaningful apology. Gordon could have admitted he was complicit in a system that oppresses women and keeps victims silent, and accepted my offer to speak to him about abuse culture and misogyny. Even before that, Gordon could have cut ties with Dom and explained to him why his behavior was unacceptable. In an ideal world, Dom wouldn't have been disrespectful and pushy while calling me a "fucking bitch" in the first place. He would have been taught or taken the time to understand that our society is inherently misogynistic, that the objectification of women is wrong and that opposing these things with every fiber of his being is the only right thing to do. At almost every single step of this journey, misogyny won out. My choosing to speak openly about these experiences, in the face of what we as women are taught to do, is where misogyny falls down.
This situation has become a 2000-plus-word saga. It could have been a three sentence anecdote.
"Work was fun and I had a good night. I'm tired but it felt great to be out in the world again after having the baby. But oh my god, check out this guy's shitty business card."
An update:
Gordon removed me as a friend on social networks after I contacted him, without uttering a single apology. 
Dom, on the other hand, has tried very hard to communicate with me over the course of days and has been very open to hearing me. I've been amazed by his response, as I did not expect such maturity. He recently wrote me the message below, and while it's not perfect, he's obviously trying to sort through his internalized misogyny. Gordon, apparently, is totally cool with his part in it all.
'So I've talked to a number of my friends about this and asked them to critique my social conduct

They agreed I had a tendency to not notice or ignore when someone is less than pumped about a conversation with me and try to power through what might have normally been the natural end of a conversation. This wasn't something I was aware of at all so it's definitely good that I know now so I can try to work on that. Fortunately from what they remember I've not flipped out when someone didn't want to talk to so I'm hoping yours was an isolated incident, and I'm certainly on the lookout for controlling/abusive behavior like that now. While wracking my memory I've remembered lots of occasions where I've been in your exact shoes with someone acting as you described me acting, so why I didn't have a bit of empathy/human decency is beyond me.

The know-it-all thing was something I was aware of, but my friends also agreed with that so that needs more work too.

The photographer chat with the gear and boasting about my work. I worked out what my internal logic is for that sort of chat and I won't explain it cause it'll sound excusey and you probably don't care, but the point is I never really considered how it might feel to be on the receiving end if they're not like me. I love getting that sort of chat but I can see now why it could super easily be taken in a bad way and be hurtful/terrible chat. So I need to tone that done quite a few notches.

I've also done a bit of an inventory on my vocabulary and am trying to clip a few words out of it regardless of context or audience in order to prevent them coming out in the worst possible way like it did with you but mainly because I guess really they shouldn't be used at all.

Thanks for bringing this all to my attention. I clearly fuck up sometimes, but I'm trying to make those fuckups fewer and far between and I really regret that you got such a full dose of my character flaws.