The Hamptons are better known for Puff Daddy's White Party, but some residents of the profligate hamlet are swaying decadence to the green side. Case in point: Project Greenhouse in East Hampton.
Designed by Edvin Karl Stromsten, the modern eco-home is decked out with geothermal flooring, a solar-paneled roof, and an awe-inspiring collection of green furnishings. So beautiful and so verdant, the house is any environmentalist's castle in the sky.
Throughout July, Project Greenhouse played host to benefit dinners for such environmental organizations as Riverkeeper and Charity Water. On Saturday, July 21st I attended a Brazilian-themed fundraiser for The Rainforest Foundation. Though I should have been mingling with guests and trying to get a glimpse of celebritè, I was far more interested in the house's impressive collection of green-design elements. Read on for highlights of my favorite Project Greenhouse eco-furnishings.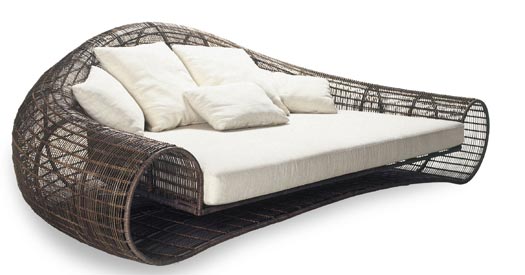 (Photo credit: Kenneth Cobonpue)
After a few too many glasses of bio-dynamic wine I took a rest on this absolute dream of a sofa from Philippines-based-design-genius Kenneth Cobonpue. The Croissant Sofa, also known as the most comfortable thing I have ever sat on, is created from strands of abaca rope, more commonly referred to as, "Manila hemp."
In the Philippines, Cobonpue employs a highly skilled team of artisans to create modern furniture using ecologically sustainable fabrics and local-organic building materials such as bamboo, rattan, and abaca. Integrating green design, exotic resources, and innovative hand-made production techniques, Cobanpue offers an exciting alternative to the Western definition of modern design.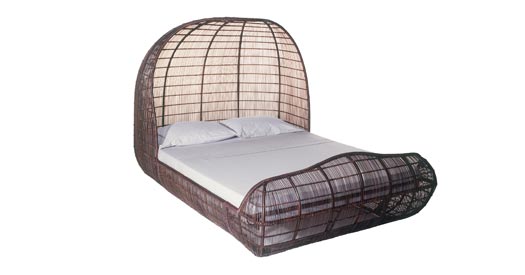 (Photo credit: Kenneth Cobonpue)
Cobonpue's furnishings are so popular that even Hollywood is lining up for the designer's latest and greatest. Fans include Brad Pitt, who recently bought a bed made from abaca rope, while Warner Brother's Studio commissioned Cobaonpue to create the casino furniture seen in Ocean's Thirteen.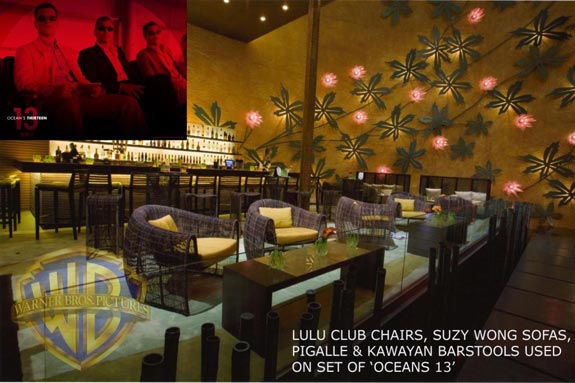 (Photo credit: Kenneth Cobonpue)
In addition to celebrity accolades, Cobonpue has also received the highly coveted 2005 Design For Asia Award--the most prestigious design award given in Asia that recognizes those designers improving quality of life and promoting public good.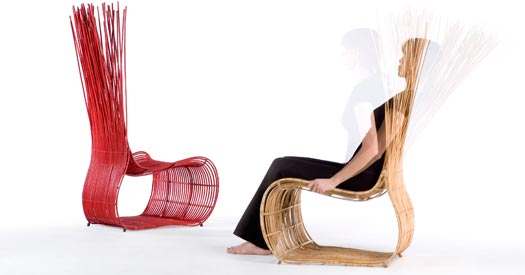 (Photo credit: Kenneth Cobonpue)
Continuing greatness, Cobonpue created the fantastic Yoda Chair (also featured at Project Greenhouse). Poor Yoda gets a lot of bad press these days (please watch below video . . . it's hilarious).
Yoda would be proud to lend his name to such impressive engineering. The chair appears to be a jumbled mess of rattan vines, but upon closer inspection the "messy twigs" are masterfully wrapped around a soft steel fame.
Rattan--the stem of a climbing palm--can grow up to 200 meters. The Yoda chair mimics the rattan vine's reach, but the real question is . . . why does the Yoda Chair allude to Yoda? If I recall correctly Yoda is quite short. Hmmmm . . . I'm not sure, but according to the great master himself, "Size matters not. Strong am I with the force."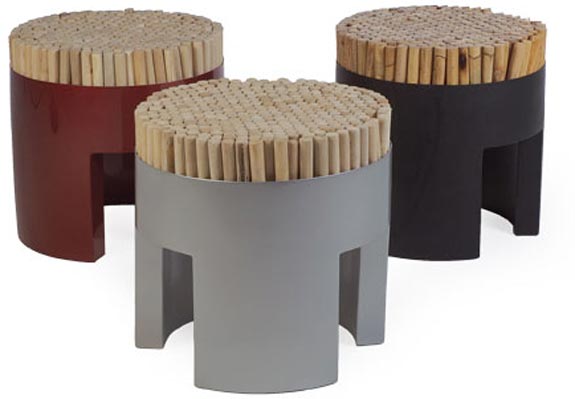 (Photo credit: Kenneth Cobonpue)
Some people obsess over furniture. Others, like my intoxicated college roommate, have trouble noticing it at all. The furniture-fanatic and apathetic alike all take note of Kenneth Cobanpue's Chiquita Stools. The stool was so popular on Project Greenhouse's opening night that guests lined up for a test ride.
As you can see from the below close-up, The Chiquita gets its unique comfort from the combination of natural rattan poles atop a cushion of polyurethane. When sat on, the poles sink softly creating that eerie, yet quite relaxing, "I'm floating" feeling.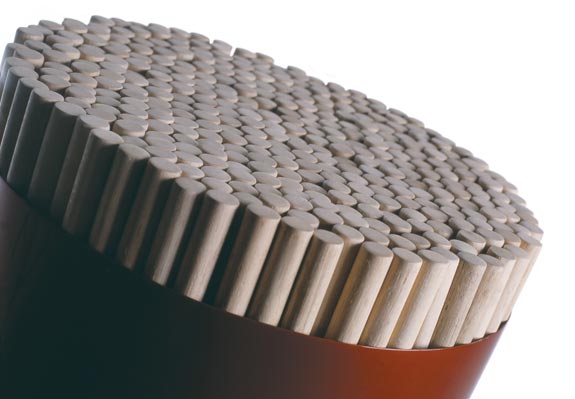 (Photo credit: Kenneth Cobonpue)
It's tough to rival the meteoric genius of Kenneth Cobonpue, but several eco-designers are emerging from their solar powered workshops and bamboo stock-piles to gain popular attention and respect.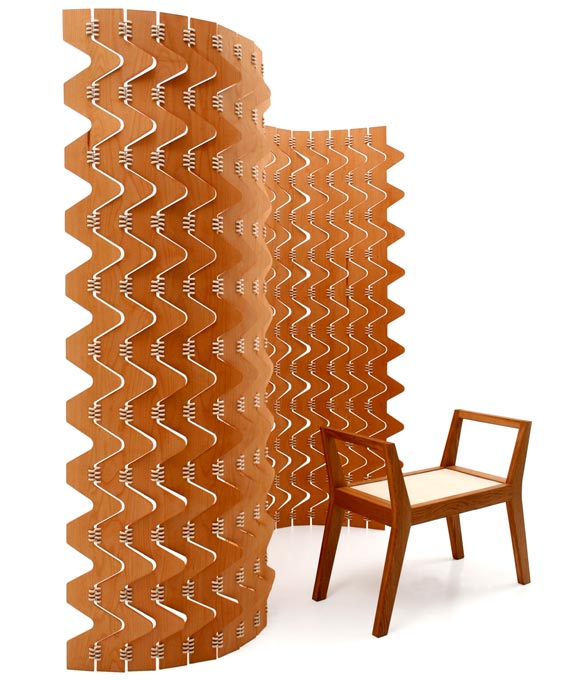 (Photo credit: Pirwi)
Mexican designer, Emiliano Godoy is one such star. Project Greenhouse showcased Godoy's "Knit" collection. Above, the Piasa screen is made of scalloped wooden strips "interlaced" to allow the screen to rotate freely and adopt different forms.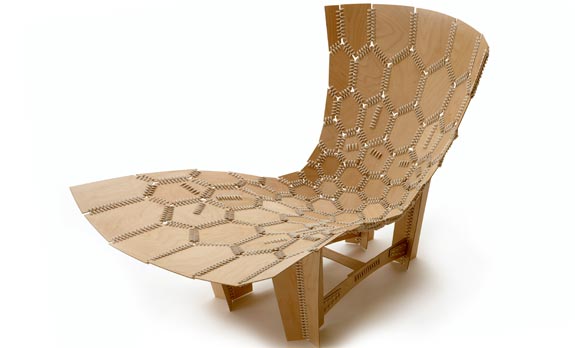 (Photo credit: Pirwi)
Similarly, Godoy's Knit Chair employs tied bits of wood to create a comfortable recliner. The curved and angled panels provide pressure-free relief for lengthy sittings. Such comfort alleviates the need for synthetic cushioning (environmentalist speak for toxic-sofa innards).
All of Godoy's pieces are designed for biodegradation because materials and components come from renewable, naturally occurring resources such as formaldehyde-free pine, organic walnut plywood, 100% cotton rope, and a vegetable-based finish.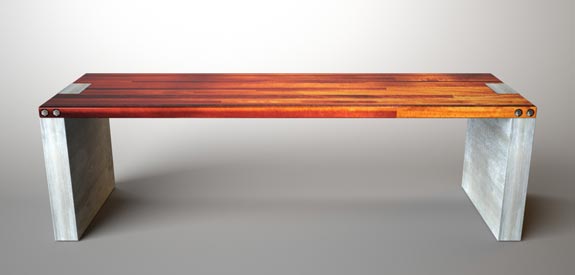 (Photo credit: Acronym Design)
Acronym Designs is another noteworthy furniture company for the green generation. The company was started by Andrew Bennett Dickson to satisfy his passion for design, but disdain for waste. Acronym pieces simple in form, but created from reclaimed, recovered, or otherwise sustainably managed wood--such an approach to sourcing reduces the use of virgin trees and reduces waste sent to landfills. In addition Acronym only uses recycled and recyclable metals, concrete, non-toxic glues, and non-toxic/low VOC finishes. Added bonus: Acronym pieces are manufacture in the United States. That's local for many HuffPo readers.
In addition to showcasing beautiful design and sustainable innovation, Project Greenhouse proves that green living can be done, with style, ease, and even some fiscal rewards.

To purchase any of the above furnishings please visit www.econsciousmarket.com. 50% of profits will go toward the charity of your choice.