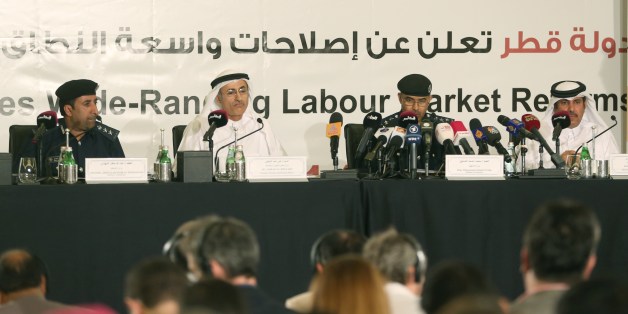 It was one of the biggest upsets in sporting history when Qatar was awarded the 2022 FIFA World Cup. Fans first protested the horrendous desert climate for hosting these outdoor games. An announcement that the games might be moved to the winter to accommodate the weather did little to appease the angry mobs. But the story that's been steadily gaining traction is that of human rights violations for the workers in Qatar, first reported by Amnesty International in November 2013. It's fascinating that a sports story might actually change things. Particularly so given that the primary sport in Qatar, after vacation planning, is driving. And it's a land of zero irony.
Having lived in Qatar from 2004 to 2006 -- during the race to prepare for the Asian Games -- and then again in 2009, I can assure you, the human rights violations aren't new. For most of recorded history, Qatar was a barren wasteland. The settlements that did form near water were often ransacked and abandoned. When their true wealth, their supply of natural gas, began to be exploited in the late 1970s, an entire world had to be imported.
Today, in a country with a population of about two million people, close to two thirds -- 1.38 million -- have been imported to work there. Over the coming decade, plans call for spending an additional $220 billion on infrastructure. Not all of that will go to the World Cup, but in a country that's smaller than Connecticut, it's a package deal.

This story came to a head earlier this week when ESPN aired a hard-hitting documentary revealing construction workers' appalling living and working conditions. According to the Nepalese embassy in Qatar, 400 workers have died working on World Cup projects since 2010. Nepalis are but one population of migrant workers employed at readying the country for the games. Yet it wasn't until the ESPN show aired that anyone in Qatar even bothered to comment.
In a tone-deaf response to ESPN's E:60: Trapped in Qatar, a spokesperson for the 2022 World Cup said that no migrant workers had died in preparation for the games. Nasser Al Khater told Reuters, "it's not possible to have 400 deaths when you are still digging a hole in the ground so I would like to make sure this matter is put to rest."
I have to wonder how much time Al Khater has spent outside in the 120-degree heat. Even standing still it felt life-threatening.
While it's true that one of the first things I noticed about Qatar, as its beige landscape blurred beyond the safety of my car's plate glass windows, was that no one was outside. And then I began to see them, legions of them, men in blue suits, doing everything from manicuring the grass to working on the side of a building's scaffolding, in the blazing heat of the mid-day sun. Not that their homes offered much respite.
Behind the compound where I lived, I saw another, smaller compound emerge. Built from makeshift materials, one day I realized that workers were living there. And then the next day it was gone, bulldozed over to make way for more construction.
What's it for?
Qatar's Asian Games were one of the most poorly attended in Olympic history. It was a tough sell in a country without pork. Likewise, nobody wants to attend a dry World Cup game. But it would be unprecedented for FIFA to change its decision.

The truth is, Qatar can do better. I saw it firsthand when I worked for Carnegie Mellon University in Qatar, which is part of a multiple university campus called Education City. On that campus Weill Cornell is looking at the genetic implications of an inbred population, in and of itself previously scandalous to contemplate. Northwestern is bringing something like actual journalism to the region. During my first stint there, there was no real reporting in Qatar, just daily papers that read like family newsletters. Today there's an upstart website, JustHere, that has been reporting on this story since last fall. Just getting co-educational universities installed was an accomplishment. More impressively, in 2009 the Tribeca Film Festival screened uncensored films for the first time ever in that country.
These things didn't happen in a vacuum, and they didn't happen because the power structure was happy to welcome change. These initiatives came about because of Sheikha Mozah bin Nasser Al Missned, and her daughter, Sheikha Al Mayassa bint Hamad bin Khalifa Al-Thani. These women used their positions and power strategically on behalf of their causes.
I've just written a book called Hello American Lady Creature: What I Learned as a Woman in Qatar. One of the things I learned is that there are women in Qatar who do have real power. These are two of those women, and if ever there was a time for these two women to use their power strategically, it's now. The changes in sponsorship laws announced earlier this week are just that. Announcements. They have yet to be passed by the government. Furthermore, their net result might simply be to bind workers to longer contracts . Improvements in the lives of the workers as a result is uncertain at best.
I call on you Sheikhas to step forward, use the power you have and put an end to this mistreatment.