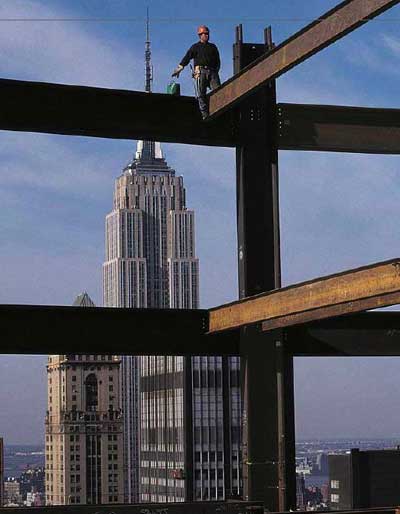 I kid you not, this is the image from page 4 of the Bear Stearns 2000 Annual Report. That was the year the company erected its skyscraper in Manhattan which the boys who run the place have been gushing over in almost every report since.
Not only does the image speak of presumption and one-upmanship, with designs to precede the Empire State Building, it's an incredible statement about corporate power, a girder protruding from between the legs of the hard hat.
What's ironic, however, is that eight years later, this blue collar worker is probably more emblematic of the average Joe losing his house as a result of the blind speculation perpetrated by those tools at Bear Stearns.
And here's one more view of the Bear Stearn boys and their steel fixation.