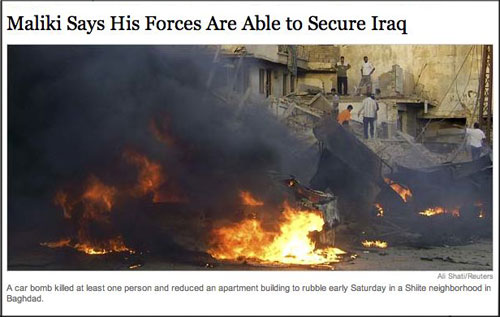 Has the NYT been (visually) playing into Administration propaganda?
Specifically, has the recent employment of heavy-handed photos enhanced White House scare tactics about a post-occupation Iraq? ...And, as a parallel issue, how valid is the assumption that a U.S. presence is keeping Iraq "more stable," and that withdrawal would necessarily make things (even) worse?
Take this photo and headline that appeared just yesterday.
In the accompanying story -- more than half of which is a "mayhem" roundup of chaos across Iraq -- the article leads with Prime Minister Maliki's assertion that Iraqi forces could secure Iraq without an American presence. The statement is only mentioned at all, however, as a backdrop for the anemic White House Iraq progress report presented last week.
Given the context, Maliki has got to be off base (pardon the pun), since he's out of step with the view of senior U.S. military commanders. States the article:
[Maliki] seemed at odds with statements on Friday by senior American military commanders that efforts to train Iraqi forces had actually slowed during the five-month-old Baghdad security plan and would need to be widened to allow any large pullout of American troops. There are now just 6 Iraqi battalions able to operate without American support, compared with 10 in March, military officials said.
Notice how military logic and politics meld into a Catch-22: Iraq can't stand on its own militarily until it has a fighting force in place that the U.S. judges as viable. For Iraq to militarily stand on its own (and for Maliki to be right) however, the already long and futile effort to train Iraqi forces would have to be widened to put Iraqi troops into shape.
But then, why bother with details when the guiding information -- the headline and photo -- suggests that Maliki's claim will lead the country to go up in flames?
...And this is not the only incidence of Administration-friendly visual doom-suggesting. Here is its cousin that appeared six days ago.
(image: Ali Shati/Reuters. July 14, 2007. Baghdad, Iraq. nytimes.com)