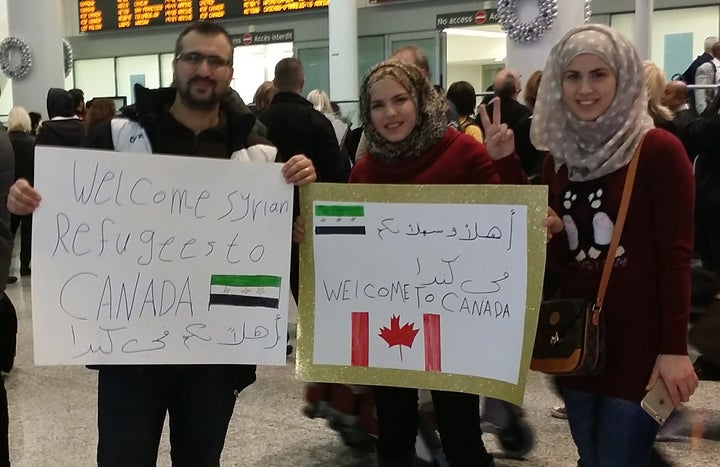 After months-long detention, U.S. immigration authorities refused asylum bid.
Driving with a broken tail light and obstructed rear-view mirror. Using a cell phone GPS to find confusing suburban roads. Moving too slow on the highway. All three are reasons why, in the span of one month earlier this year, a Syrian asylum seeker said he was pulled over by New Jersey police.
"License and registration, please," the officer asked, each time. Kamal Hassan at first didn't understand, but quickly realized that he should produce a document showing that he was allowed to drive in this country, and something additional proving that the car belonged to his boss.
Upon furnishing his Syrian driver's license, the only response was one of stunned silence.
Certainly this was not the best form of ID to be showing any member of law enforcement in a paranoid era, when fears of an ISIS-inspired attack are high, and anti-immigrant sentiment runs deep.
But Kamal needed the vehicle for his job, which he said involved transporting large amounts of cash around New York City for a company whose ATM machines he fixed. There was a special alarm, tracker, and other security precautions to protect the cash in the glove compartment.
Yet, ironically, the driver was unable to secure permanent status in America, stuck somewhere between bureaucratic negligence and suspicion of new arrivals from war-torn Syria.
Kamal, who requested that his real name not be used out of fear for the safety of his relatives still living in Damascus under the rule of Syrian President Bashar al-Assad, was optimistic in early spring about building a life for his family in the New York area.
But in mid-April he abruptly moved to Canada with his wife and two children ― another Syrian family seeking refuge that America, for a variety of complicated reasons, couldn't accommodate.
Once north of the border, the Hassan family met with a judge in June and received approval to apply for permanent residence there, on a four-year path to citizenship. "It should be the last station of our long journey," said Kamal.
"Our life in Canada is going well step by step," added Kamal, whose kids started up the new school year last month. With a busy new job, Kamal said via email he's even been doing "some overtime after I got work permit, and social insurance number." He's also enrolled in "an evening ESL class [and] was busy to get [an Ontario] driving license."
"I got a lot of help in Canada," he said, contrasting his recent experience with what the family had previously faced in the United States. They were quickly placed into a rental apartment, and volunteers assisted with the move.
"People in my city [one hour west of Toronto] are very nice," said Kamal via text message at the beginning of the summer. "In America [too], I saw nice people and normal people. But I really miss New York."
Kamal is an intense person, bubbling with energy and eager to stabilize his life. He seems careful not to let the excitement turn into resentment. Kamal remains focused on the future, practical-minded about how he might be establish more continuity after four years of transient migration. Although he seems nostalgic for what could have been in America, Kamal believes that his family's new setup in Canada is for the best.
Nightmare journeys like Kamal's through the clogged system appear common, with many cases falling off the radar for long periods in which officials remain incommunicado. People are often forced to work before authorization comes, after an initial waiting period of 150 days. In many "defensive" asylum cases such as Kamal's, deportation is a very possible and frightening outcome.
Some unlucky asylum seekers wait years just for an interview with an officer at U.S. Citizenship and Immigration Services. And during limbo, without a social security number, many other steps are virtually impossible. Temporary Protected Status, granted by the Dept. of Homeland Security specifically for Syrians and others from war-torn nations, can facilitate that leap towards building an identity here.
Although Syrian asylum cases apparently have a high rate of approval (80 percent in recent years), many simply cannot wait for their status to change -- especially after so many years in limbo.
Kamal's story is at once fascinating and unbelievable. As an engineer in Damascus, Kamal says he supervised hundreds of employees in a food production facility making cookies, biscuits, crackers, and other snacks that at one point were well-known throughout the Arab world.
He almost managed to put down roots in Egypt, finding a similar job there as he had back in the Syrian capital.
His family's journey to North America took them from Cairo, where they'd been living for three years, to Brazil and then Mexico, from which they traveled in 2015 to Southern California. After declaring their intention to seek asylum in the United States, Kamal says he was locked up in an immigration detention facility near Irvine, Calif., for almost four months. Even his family spent a few days behind bars before a judge allowed them to go free.
Officials at the Dept. of Homeland Security declined to comment on the specifics of Kamal's case. On the ICE website, the organization said that its civil detention system "maximizes access to counsel and visitation, promotes recreation, improves conditions of confinement and ensures quality medical, mental health and dental care."
While detained, Kamal says he mostly stuck to himself, not fitting into any of the main cliques. Though able to learn a few slang terms from the Latino prisoners, Kamal didn't much bother fraternizing as he waited for an immigration judge to rule on his predicament. In New York, Kamal soon found decent but low-paying work where his engineering skills came in handy.
'Credibility determination'
Ultimately the family was granted withholding of removal, which was better than being deported -- yet all but prevented them from ever receiving permanent residency. The process was excruciating, Kamal says, and his lawyers couldn't figure out how to provide a path to decent long-term status in the U.S. under which they'd be eligible for substantial benefits.
"Each case has its own set of facts and variables that affect its outcome," said Kathryn Mattingly, spokesperson for the Executive Office for Immigration Review at the Department of Justice. "Immigration judges adjudicate cases, including asylum claims, on a case-by-case basis, according to U.S. immigration law, regulations and precedent decisions." She said that entailed consideration of "all evidence and arguments, including information on country conditions, presented by both parties, [to] decide each case based on that information."
Mattingly added that judges issue a "credibility determination for each asylum applicant, considering a wide variety of factors, including an applicant's demeanor while testifying, the plausibility of an applicant's claims, inconsistencies in the applicant's testimony, or inconsistencies between the applicant's testimony and any other evidence of record."
As the Syrian civil war, now in its fifth year, engulfed most of the country, many people living in stable areas fled after watching close family and friends be detained and tortured by government forces. Kamal says his decision to flee came after a close friend was arrested by Assad's men, and he saw the writing on the wall.
As a Sunni in Damascus, Kamal could not risk a similar thing happening to him. He says he doesn't care for politics, but that Syria simply became too dangerous.
Kamal talks about going to pray at a Shia mosque in the New York City borough of Brooklyn. "There was absolutely no problem," he says. "Though it was a little weird, because they have different traditions than us."
He says before the war he'd not have thought twice about praying at a Shia mosque in Damascus. But, he concluded, unequivocally, "If I tried to do the same today, I would be killed. Without a doubt."