And Where Rendell Goes, Wolf Follows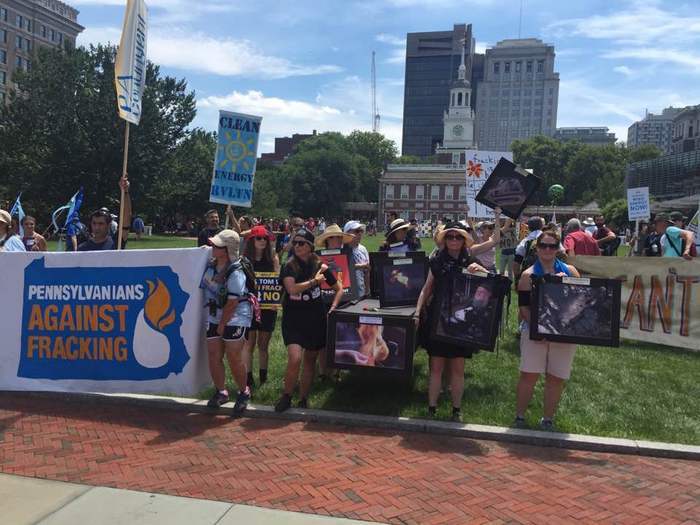 Ten thousand people braved sweltering temperatures of nearly 100 degrees to take to the streets of Philadelphia on July 24th to march for a Clean Energy Revolution. Pennsylvanians Against Fracking partnered with the national coalition Americans Against Fracking to organize what turned out to be the largest demonstration during the DNC convention. Fracking continued to make headlines during the week in a telling tale of two governors.
On Wednesday, speaking as a panelist at an energy event hosted by Politico, Ed Rendell made the stunning admission that he had "made a mistake" on shale gas development, putting what he considered to be economic gains over the protection of Pennsylvanians and the environment. He didn't explain what brought about the revelation. As recently as 2013, he was publicly criticizing the other governor who also made headlines last week, New York's Governor Andrew Cuomo.
"New York has a healthy band of vocal critics right now who continue to push a false choice: natural gas versus the environment. But as the former Democratic governor of a major natural gas-producing state, I know we can enjoy the benefits of gas production while also protecting the environment," said Rendell in his notorious 2013 op-ed targeting Cuomo in the New York Daily News. He was a bit more pointed in his criticism of Cuomo later that year to the New York Post, "New York would be crazy not to lift the moratorium." Rendell neglected to mention to either paper that he was working for the industry at the time of his comments, something the Daily News corrected upon discovering it.
Cuomo didn't allow himself to be goaded by Rendell. He kept the moratorium in place until his state's health department had time to conclude its exhaustive Public Health Review of High Volume Hydraulic Fracturing for Shale Gas Development and ultimately, upon hearing the findings in December 2014, banned fracking in New York. He talked about the decision in his remarks to the DNC on Thursday. He said, "We are protecting the environment by banning fracking because this is the only planet that we have!"
Perhaps Rendell was moved by the sheer number of people marching on Sunday. Pennsylvanians Against Fracking led a statewide contingent that told the story of how much we've lost thanks to the former governor's greed and stupidity and how we are taking back our state with a vision of a sustainable Pennsylvania that relies on 100% renewable energy and builds a green economy in the process.
Then again, Rendell is a political creature, so it's likely that he was motivated by the politics of the moment rather than the suffering he has caused to his former constituents and to the environment he was constitutionally bound to protect. After all, fracking became one of the top issues of the primary campaign. Rendell, who chaired the DNC host committee, is a party guy through and through and, these days, the party is trying to sound a little less wretched than it is on fracking.
The Democratic talking point currently making the circuit is that state and municipal governments should be able to make their own decisions about whether or not to allow fracking. National and state candidates have used it. Carol Browner, the former EPA chief under Bill Clinton, parroted it during the platform debate. Rendell dutifully stuck to the script, repeating it during his remarks on Wednesday.
It's a pretty difficult tightrope Rendell finds himself walking as he struggles in balancing his allegiance to both the party and the natural gas industry. He was quick to qualify his admission by saying that all of the problems with fracking were addressed by 2010 and that things have been just fine since then. Like so many other members of the party that claims to believe in science, he has turned his back on the more than 680 peer-reviewed studies that collectively make the case for a ban on fracking, the vast majority of them published long after 2010. He has certainly ignored the profound and worsening impacts being experienced in communities across the shale fields of Pennsylvania. The Department of Environmental Protection has confirmed 280 cases of contaminated private water supplies as a result of fracking and that number just scratches the surface as countless cases remain unidentified, unresolved, or incorrectly determined. He's even done his part to suppress the truth about fracking, interceding on behalf of Range Resources to get the EPA to call off its investigation into water contamination in Parker County, Texas.
Pennsylvania's current Governor Tom Wolf, a protégé of Rendell's who served as his Revenue secretary, has been doing his boss proud by going out of his way to enable the industry. He doesn't even use the Obama administration's "bridge fuel" line. His recently departed DEP chief John Quigley, another Rendell administration alum, talked about 100 years of shale gas development in Pennsylvania and tens of thousands of miles of new natural gas pipeline infrastructure in the next 15 years. Wolf stood idly by earlier this year as the legislature moved $12 million from alternative energy to natural gas pipeline incentivization. He directed Quigley to lead a pipeline infrastructure task force last summer with the stated goal of "building public acceptance" of the industry. And like the other sitting governors since the fracking boom began, Governor Wolf has never visited an impacted community to see firsthand the devastation fracking has caused and will continue to cause.
Ten thousand people don't take to the streets to march a mile in near-100 degree weather unless they feel passionately the urgency and gravity of a problem. The March for a Clean Energy Revolution was about making a swift and just transition away from all forms of dirty energy, not just fracked gas, but the science is irrefutable. Dirty gas has no place in our clean energy future. In Pennsylvania, that means that while our governors are condemned to their sad legacies for their failure to act, we, the people, are ready to take back our state and build the clean energy future the next generation and generations to come deserve.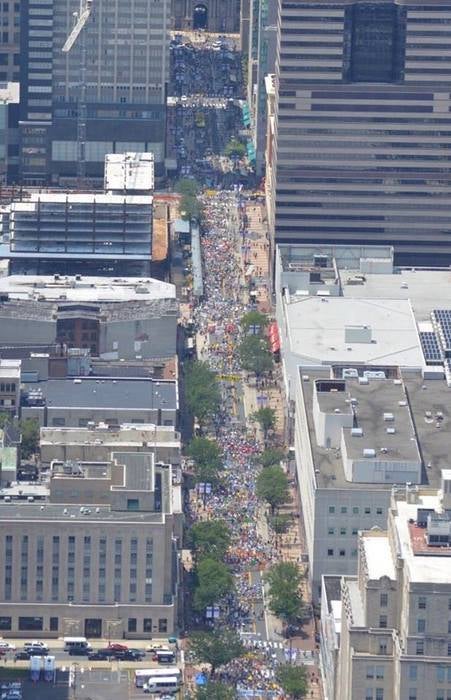 This post was published on the now-closed HuffPost Contributor platform. Contributors control their own work and posted freely to our site. If you need to flag this entry as abusive,
send us an email
.