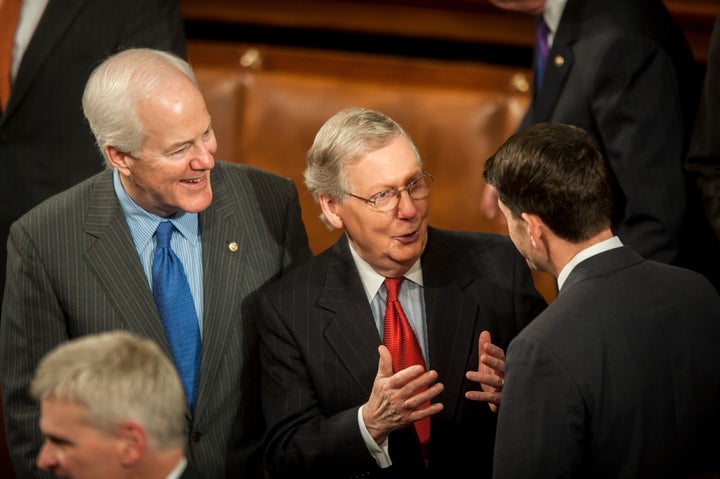 BALTIMORE -- There have been heroin and criminal justice problems here for decades. But lawmakers took little notice until the drug soaked into higher-income, predominately white, rural communities, causing problems that included bursting prison populations. 
House and Senate Republicans held a retreat this week in Baltimore -- a city considered the heroin capital of the U.S. as recently as last year -- with rudimentary talks on how to address the two issues, possibly together. Only when prompted did they mention the city they chose for their retreat, or its problems.
"Baltimore is not the only place there's a problem," Sen. Lamar Alexander (R-Tenn.) said as he rushed to catch a cab for the airport. He noted that he and Dr. Tom Frieden, head of the Centers for Disease Control and Prevention, had a roundtable discussion in Knoxville, Tennessee, about prescription drug abuse. "It's the avenue to heroin addiction, so this is a national problem not just a Baltimore problem."
Heroin began pulsing through Baltimore in the 1950s, but was "relegated to people of lower-income status," said Thomas Carr, executive director of the Washington/Baltimore High Intensity Drug Trafficking Area -- a program that grants special federal assistance to local and state efforts.
But more people are paying attention to addiction now because, as Alexander mentioned, it has spread beyond cities. The epidemic has hit wealthier communities and engulfed states like Tennessee and New Hampshire in the last three to five years. There is no ignoring it. On the presidential campaign trail, New Hampshire is using its status as the first-in-the-nation primary state to get 2016 presidential candidates to talk about it.   
"Oh, it's changed," Carr said. "The use of prescription opioids in the white middle class has driven a lot of people to turn to heroin for their addiction."
It's now a "rural drug," he added.
A bill in the Senate co-sponsored by Sens. Kelly Ayotte (R-N.H.), Rob Portman (R-Ohio) and Sheldon Whitehouse (D-R.I.) would put money toward fighting the prescription opioid and heroin epidemic, including expanding prevention and education efforts, and making the overdose treatment drug naloxone more readily available.
While Republicans met at the Marriott Waterfront in Baltimore's Inner Harbor to discuss their agenda for the year -- primarily touting it as one that would be filled with bold ideas -- White House Chief of Staff, Denis McDonough told reporters back in Washington that the heroin epidemic "can, and should, feed the criminal justice reform effort."
Alexander agreed, saying "there is" an opportunity to connect the two.
"And fortunately, the Congress is going to be dealing with criminal justice reform early on this year," Alexander continued. "It's important to the president, it's important to us, and when you have that kind of convergence, things often happen."
Rep. Dave Brat (R-Va.) said talk of criminal justice reform was "in the air" during the retreat.
Aside from vows to funnel 12 appropriations bills through Congress this year, Sen. John Cornyn (R-Texas) said Republican leaders communicated with members that they are "going to look for areas we can work with the administration on" in President Barack Obama's last year. Criminal justice legislation is a main one, Cornyn said, bringing up the topic unsolicited during a sit-down with reporters.
In the Senate, that includes legislation that would allow sentences for low-level drug offenders to be revisited, and give qualifying inmates a chance to get time shaved off their punishment. Similar legislation in the House also targets harsh sentencing laws, and seeks to significantly reduce the prison population. Cornyn said he and Rep. Bob Goodlatte (R-Va.), an author of the House bill, talked during the retreat to hash out disparities between what Republicans in each chamber want to see in the bill.
Cornyn said he also sees potential for the measure to include language addressing the heroin problem that's hurting a growing number of states.
"It's pretty easy for me to see that if the majority leader were to bring the criminal justice reform bill to the floor with an open amendment process, we may well have amendments that deal with mental health reform, some of these issues that's intersection of the criminal justice system, and some of the problems relating to heroin abuse," Cornyn said.
A remaining issue is how much priority the chambers' leaders -- Senate Majority Mitch McConnell (R-Ky.) and House Speaker Paul Ryan (R-Wis.) -- are willing to give to such legislation, and whether they will put it on the floor before Congress by July, when congressional activity dims for the presidential election.
"Speaker Ryan personally believes that we should take a hard look at reforming our criminal justice system, but ultimately, it will be up to the conference to decide the path forward," Ryan spokeswoman AshLee Strong said in an email.
As for McConnell's willingness, Cornyn said he expects the Senate to move on it "as soon as possible."
"We're having this final discussion, trying to work out the differences so we can assure Sen. McConnell that there's broad bipartisan support and by and large consensus on our own party," Cornyn said.