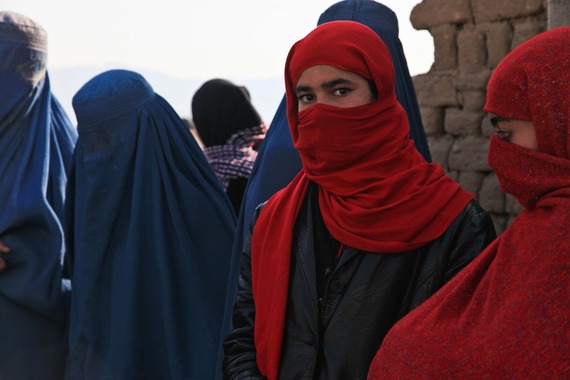 Just last month, the George W. Bush Institute released We Are Afghan Women, a book highlighting powerful stories from the lives of extraordinary Afghan women. U.S. interest in the women of Afghanistan was ignited in the early days of the war against terror in Afghanistan. As former First Lady Laura Bush stated in November 2001, "The fight against terrorism is also a fight for the rights and dignity of women." In part, the poor status of women under the Taliban regime was used to justify the U.S. intervention. However, given that conflict may disproportionately affect women, the U.S.'s policies on achieving gender equality in Afghanistan may not be all that effective.
Have policies improved conditions for Afghan women?
At first glance, yes. Female health and education indicators, such as female school enrollment, have dramatically improved. In 2001, virtually no female was enrolled in school whereas today, it is estimated that 2.9 million girls are enrolled. Progress has certainly been made; but there is still a long way to go. Today, Afghanistan also ranks 171st among 188 countries in the UN's Gender Inequality Index. In addition, the current official female labor force participation rate remains stagnant around 16%- one of the lowest in the world. Even worse, according to several polls, Afghanistan is the most dangerous country in the world for women to live. A lot remains to be done.
The U.S. Agency for International Development (USAID) has been on the forefront of promoting gender equality in Afghanistan. In 2014, USAID launched the largest - $216 million - women's empowerment program in the Agency's history, called Promote. This five-year program aims to advance opportunities for young Afghan women through leadership development and training programs.
Will policies aimed at equipping women for the workforce actually promote equality in a context like Afghanistan, and will equality reduce conflict?
It's easy to get caught up with anecdotes and assess the situation in Afghanistan with a few success narratives from women - but, we have to be extremely careful not to extrapolate from these. Anecdotal success cases may not be representative of the average Afghan woman - and for that, we have to look at the data.
From the 2015 Survey of Afghan People, I find that the average Afghan woman is married by 18, she has 2.3 years of education, and she will have about 5-6 kids. The average Afghan woman is also not engaged in the workforce, as reflected in the labor force participation rate. Given that many programs aim to empower and equip women for the workforce, it is important to understand the role of insecurity. Data reveals that regions with more violence are subsequently associated with a lower female labor force participation rate. In fact, in districts with a higher share of men being affected by mines and explosive devices, female labor force participation also decreases. Looking beyond Afghanistan, evidence from 161 countries indicates that conflict, measured by the Global Peace Index (GPI) score, affects men and women's labor force participation differently. On average, countries with higher GPI scores, or more insecurity, have more men and less women in the labor force.
This leads me to believe that insecurity or conflict disproportionately affects women and prevents women from entering the labor force, which directly hinders equality. This suggests that simply providing training and skills to women may not make it easier for women to contribute to the economy if there is severe conflict.
Recent work in political science on the effects of aid programs on violence have shown that this is a complex relationship - some have indicated that internationally induced gender equality programs may increase the risk of violence under conditions of ongoing conflict. While it's unclear what the implications are for USAID, it seems unlikely that gender equality can precede security.
In the case of Afghanistan, the U.S. needs to revisit its approach. If insecurity does in fact exacerbate inequality, along with targeting insecurity and building strong state capabilities, the U.S. needs to shift its thinking around traditional gender policies. Even if it seems like the right thing to do, training women and equipping them for the labor market may not be the answer if an insecure state limits women's mobility. Programs like Promote will not be effective in its mission if violence persists, which means we may be misallocating $216 million.
So what can the U.S. Government do?
This is a difficult question to answer. It seems clear that violence and insecurity need to be addressed first, but how should this be done? Resources must go to stabilizing Afghanistan and reducing violence, but it's unclear if international military operations are actually increasing or decreasing violence.
The U.S. Government should consider a regional approach, moving beyond a bilateral agenda, and deeply engaging with India, Pakistan, and China. The U.S. rhetoric disregards the deep historic linkages in this region and the role of regional stability in aiding Afghan peace. USAID, and development agencies in general, must rethink gender equality programs and not be confined to quick measureable outputs, such as number of women trained and number of girls enrolled in schools. These measurements, for the most part, are quite meaningless, especially in a context of grave violence.
Once Afghanistan is stabilized, the Afghan government can target gender more effectively. But this will only happen with a wider cultural change that includes both men and women, and encourages their participation in a long-term dialogue. Perhaps this begins with early education with young boys and girls or media interventions, such as radio and television programs. But it will absolutely require a rethinking of national laws and a reshaping of who makes decisions at the national, provincial, district, and shura level. It will require a larger transformation that has to come from within Afghanistan. But this can only happen with stability.
I only hope to continue reading more powerful success stories; however, we cannot ignore the larger situation unfolding in Afghanistan.