The native Puerto Rican made a surprise appearance on "Ellen" Wednesday to promote nothing other than how we can all help Puerto Rico after the devastation they've endured.  
"Ladies and gentlemen, I am from Puerto Rico and right now Puerto Rico is suffering," Martin said. "We were destroyed by a hurricane and it's been very difficult right now. There is no water, there is no electricity, there is no food. There is no medicine. There is no diesel for the generators that will make the hospital work. People are dying. So, as a Puerto Rican, as the American that I am, I'm here to ask for your help."
Martin goes on to say that he hadn't talked to his brother for five days at one point after the storm and that his father is currently very sick, but can't get off the island due to the current status of the airports.
"It's very scary," he said.
Because Ellen is a gem, she presented Martin with an $80,000 check to help with the relief efforts, courtesy of Cheerios and General Mills, but obviously, the island needs every bit of help we can give them.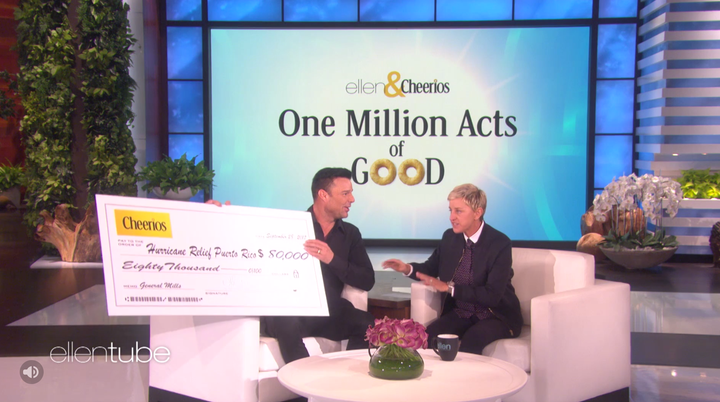 Martin indicated that with any and all donations, he'd be buying bottled water, mosquito repellent, baby wipes, hand sanitizer, diaper, canned food, baby formula, pet food, blankets and pillows, towel, and medicine. You can donate via Martin's YouCaring link here or on Hand in Hand here.
Kudos to Ricky and Ellen for being at the forefront of this incredible cause!
BEFORE YOU GO
PHOTO GALLERY
Puerto Rico Reeling After Hurricane Maria