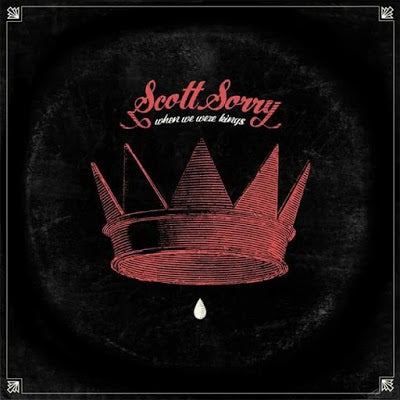 Rock ain't dead. Neither is jazz or blues or classical or reggae or whatever genre du jour critics love to proclaim is presently on life support. What most of these self-appointed arbiters of cool don't tell you is that their newspaper or magazine is the one desperately in need of a defibrillator. Subscribership for some of these periodicals is less than the turnout at a child's summer lemonade stand.
The Who decried the premature diagnosis of rock and roll as far back as '74. "Long Live Rock," Daltrey commanded. And he was right. The message, rock lives, was loud, distorted and proud and on full-display in 2016. It came in the form of a sleeper of a raging, crowd-source-funded indie-punk record generated from, of all places, Gorham, Maine. One record is all it took to reinforce the idea—at least for me—that rock and roll will never die when in the hands of brilliant singer/songwriters armed with electric guitars and Marshall stacks.
Musical genres atrophy when artists stop exploring and experimenting and the verse-chorus-verse formulae succumbs to a wholly derivative nod to artistic nostalgia. The best music embraces its influences, yet creatively contorts and defies the borders. This is exactly what goes down on When We Were Kings.
Scott Sorry wears his punk influences on his tattooed sleeve: Bob Mould, the Replacements, the Ramones, Pixies, Social D. But Sorry culls from hard rock too, loading his four-minute bursts of spirited defiance and raw yearning for redemption with heavy hooks, unexpected melodic detours and forays that have little to do with the nadir of punk's snot-age and more to do with its future.
Scott Sorry is certainly not new to music, a four-string journeyman with a resume that includes time as the bassist in L.A. bands, Amen as well as Brides of Destruction. He joined U.K. cult punk/hard rock vanguards The Wildhearts from 2006-2012, helping this gloriously, sonically-schizophrenic band stay connected to its street gang call-and-response punk pedigree. After his run in the Wildhearts, Sorry elected to step away from music to focus on his family (Sorry has been a vocal advocate for autism awareness and research having a son diagnosed with the condition).
In 2016, apparently grounded and secure as husband and father, Scott Sorry returned to music with When We Were Kings, his first solo record. Released through the PledgeMusic crowd source platform (the album reached 434% of its fundraising goal). The album is ferocious and melodic, mature, nostalgic and unabashedly repentant. While early punk was always rooted in defying the societal status quo and giving the finger to the political establishment, When We Were Kings inverts the message and finds Sorry, instead, gazing inward. This is soul-searching stuff in the thematic tradition of Johnny Cash backed by a remarkable punk band.
In song after song, Sorry rips the Band-Aid off of his own pain and failures, looking at childhood, friendship, fatherhood, loyalty and loss. When We Were Kings is a deeply personal, hook-heavy guitar record, a candy shop of riffage, awash in self-reflection and redemption. Start-to-finish, it's an album about being a better human being.
The record kicks off with the barn burning "Broken Hearts and 45s," a punk-ode to love and musical salvation. The song is emblematic of the entire record (and emblematic of the best music, period)—with each listen you notice something entirely new: the in-your-face lead vocals; the Fullerton-punk motif of the lead guitar hook ribboning in and out throughout the track; the tightness of Sorry's incredible band—this is unapologetic garage punk with the precision of prog. The bass line in "Broken Hearts," (played by band member Roger Segal) is grooving and monstrous.
On yet another listen, you pick up on the rapid fire drumming by L.T.K., the solos by Andy Watt; and, ultimately, you notice the production quality of the record itself. Holy shit. This is a perfectly mixed album—instruments and performances all blended together, yet easily audibly separated.
The 40-minute opus rolls on. All ten tracks on When We Were Kings are standouts. "End of Summer," a look at old friendships, lost connections and loyalty, moves seamlessly into the catchy and heavy riffs of "Close Calls," a song that looks at fuck-ups and second chances. "Til' All the Pieces Fits" begins with a spoken intro by Sorry and his son River, a fierce, fist-pumping testament to loyalty. The title track, blended with keys by Kris Rodgers would fit perfectly on a new Social Distortion record. The album closes with "Days on End," a melancholy track with Sorry unaccompanied, raw and alone on electric guitar, singing:
Do you remember those desperate nights?
When all we had was your hand in mine?
Distant Days and restless nights
When We Were Kings is a Nutribullet fusion of the melodic cacophony of the Sex Pistols, the noisy pop-sensibilities of the Replacements and a bit of Marty Robbins gunslinger swagger. Scott Sorry has taken his influences and forged his own punk sound in what is, without question, the best work of his career. As year-end "best of" lists proliferate across the internet, it seems to me that the best in rock goes to When We Were Kings.
Rock is dead they say. Long live rock.
This post was published on the now-closed HuffPost Contributor platform. Contributors control their own work and posted freely to our site. If you need to flag this entry as abusive,
send us an email
.