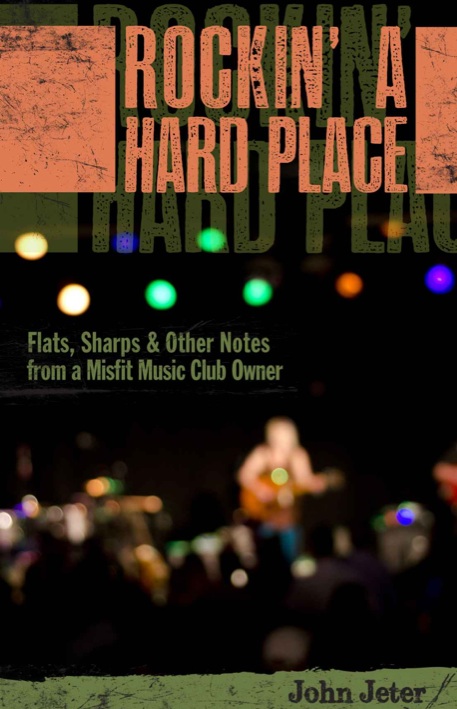 Book jacket courtesy of Hub City Press.
The memoir by Jeter - a Columbia University Journalism School grad and co-owner of popular Southeastern music venue The Handlebar - is an absorbing tale of how to start a business and fail, and win, and succeed, and fail and win again. Fans of singer-songwriters and blues musicians, in particular, will appreciate Jeter's many anecdotes and quotes from road warriors such as Livingston Taylor, Leon Redbone, and even the Godmother of folk herself, Joan Baez.
Jeter illustrates how the cliché of limos and excess in the 1970s and 1980s has today given way to an every-artist-for-himself landscape. There are pros and cons to this new order: for music fans, small-scale concerts mean getting up close and personal with their heroes. (I can attest to the magic of The Handlebar's acoustics and vibe; it's where I discovered the poetry of songwriter Pierce Pettis and danced onstage with the Dirty Dozen Brass Band.) However, making money with music is now overwhelmingly difficult for the entire food chain - from the agent to the artist to the promoter and beyond - and in the book, Jeter feels the squeeze.
From starting a club named after a moustache and housing it in a mystical, ramshackle mill building in the heart of Greenville, South Carolina in the early 1990s to bickering a decade later with a neighboring codger who stalks The Handlebar with a decibel meter the same way the paperboy in the film Better Off Dead taunts Lane Myer with his bicycle, Jeter and his partners (brother Stephen and wife Kathy) have spent two decades on the rollercoaster that is the music industry - and lived to tell the tale.
For most of us, the rent dispute which closed Hilly Crystal's infamous New York spot CBGB (birthplace of the Ramones, Talking Heads and Television) in 2006 might be the only notable example of the financial treachery of club ownership, but in the book, Jeter's struggles with The Handlebar are juicier still: he describes how, in a decidedly unglamorous mid-size city in South Carolina, his modest venue bucked up after the 9/11 slowdown to become the proving ground for artists who are now some of the biggest names in the biz, including Sugarland, John Mayer, and the Zac Brown Band.
There are funny bits in the book, too - including a list of riders that run the gamut from Aimee Mann's persnickety piano requirements to another band's demand for a 8-piece fried chicken meal meant to be tossed onto its fans from the stage ("NO CHICKEN, NO SHOW," the contract stated).
Ultimately, Rockin' A Hard Place is less about the rise and quirks of the artists than it is about Jeter's journey as a fan and businessman, and his candid approach makes the book equally fascinating for music lovers and casual readers.
"I'm just about done being a fan," Jeter tells me of his current take on proprietorship. "But for the previous 18 years, I insisted on being one, because if I couldn't be a fan, well, how could I as a promoter have enough passion to convert fans into ticket buyers?"
As for the future of the music industry - insomuch as that industry exists beyond the pre-fab pop divas and choreographed arena shows - Jeter believes as long as there are singer-songwriters out there, music fans will seek out a place to hear and see them.
"Fans exert control with their wallets," Jeter says. "Businesspeople brokering art? How does that serve anybody? I'm optimistic that one day fans and artists will join together and say, 'Occupy music, occupy clubs, and let's occupy this shared experience of art together.'"