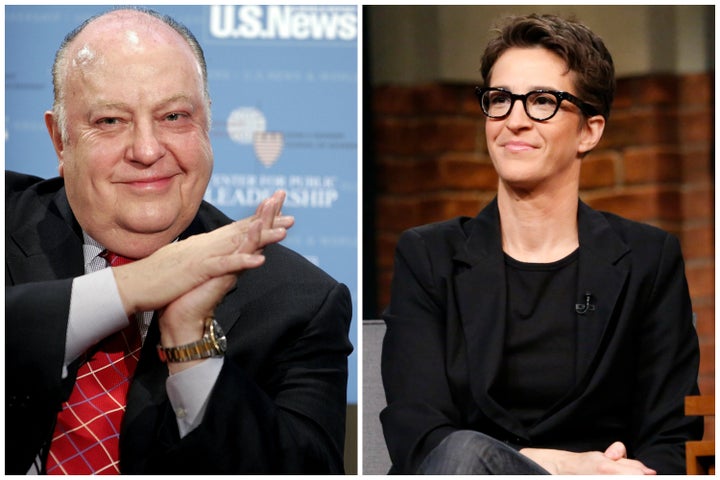 Rachel Maddow has gotten some flack since Roger Ailes' death for saying that the late founder of Fox News was something of a "friend."
Ailes faced a flurry of sexual harassment allegations late in his life, but Maddow said after his death this month that she considered him a "mentor." She expanded on her views this week during a sit-down interview with Howard Stern.
During the interview, in which Maddow once again called Ailes a "friend," Stern asked the MSNBC host if she would have ever considered working for Ailes, leading Maddow to divulge that is was once an option, albeit not in the way you might think.
"He once told me that he wanted to hire me at Fox, and actually this was not that long ago. Within the last few years, he told me he wanted to hire me at Fox," she said.
Adding, "And then, he told me he'd never put me on the air. He'd just hire me, so nobody could put me on, and put me on ice. So I was like, 'So you'd pay me a full contact to not work?'"
The revelation led Stern to ask, "Would you consider that?"
"Who would not consider that?" Maddow laughed. 
The reason Ailes wanted to bury Maddow isn't hard to understand. For one, her politics greatly differed from his. But perhaps even more importantly, "The Rachel Maddow Show" has been one of Fox News' greatest challengers in the ratings department in recent years, lately even overtaking her competition at the right-wing network. 
It's an interesting counterfactual to consider, if an irrelevant one now. 
BEFORE YOU GO
PHOTO GALLERY
Women Who Have Accused Roger Ailes Of Sexual Harassment