In the name of full disclosure (if there's such is a thing as half disclosure I'd like to learn how you do it) I should state that the sculptor Roger Phillips was a roommate of mine at Bard College. In no way is this responsible for what I am about to write about Phillips' current sculpture show at the James Graham & Sons Gallery at 32 East 67th Street in New York City, (running thru August 27th) which I attended last week. I loved the work in this exhibition, loved it as a stranger might that did not know this artist, loved the work for its grace, its wit, its high ambition, and its remarkable execution.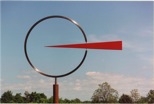 As will happen with college friends, we lost track of each other over time. But when we met again in the later part of our lives, I discovered that my old friend (whom I vaguely recalled as having made small mobiles in college) had become a sculptor of abstract metal structures on a monumental scale forged in his workshop in Stuyvesant, New York. I found the work compelling; a marvelous use of painted and polished metal to create abstract sculptures that often moved physically in their outer space and moved me emotionally in my inner space. Two separate feelings occurred as I saw these pieces. One: the ever present child in me wanted to touch, turn, and watch the sculptures at play. I simply wanted to lay my hands on them and spin that great red arrow -- so tempting in its perfectly balanced steel circle. And second, as a lover of fine craftsmanship, these elegantly finished sculptures and their models as well as Phillips' abstract works on paper made me admire the care and precision with which they were executed, the attention to every detail which only very hard work can give to art the effect of total simplicity. Many of these sculpture pieces were designed to be placed against buildings in an urban setting, and thus bring a piece of life affirming art to a densely populated spot, or to be placed on the landscape of a house, their very human craftsmanship adding to and pointing towards the beauty of a natural setting, the trees or the sea beyond, allowing the wind and nature to interact with the sculpture.
When my youngest son bought his house a few years ago I was delighted to find several of Roger's sculptures installed on a neighbor's lawn and I could examine them working their wiles against the landscape as I was walking Sam, the chocolate lab, or my twin grand-daughters, those marvels of toddler perfection, both of them eager to have a go at the sculpture. Age has given to Roger Phillip's sculptures a special assurance that comes from the long, hard practice at one's art, maturity matters in creating art that is "younger than springtime." That's a difficult idea for a youth obsessed culture to respect, but a visit to the James Graham & Sons gallery will, I trust, prove my point.