It's a sunny August day on the "Rosewood" set in Southern California, and Jaina Lee Ortiz sits down inside her air conditioned-trailer for an interview with The Huffington Post. The actress, who plays Detective Annalise Villa in the series, opens up about what it means to portray a Latina lead on primetime TV and how she personally relates to the role. 
"I've always wanted to play a character that is tough, smart, sexy and vulnerable all in one, that's Villa" the star, of Puerto Rican descent, said. "I can show that full range in just that one character."
The medical crime drama revolves around Dr. Beaumont Rosewood (Morris Chestnut), a private pathologist who uses his sophisticated lab to perform for-hire autopsies for the Miami police department. Rosewood takes a very hands-on approach to investigating the cases he works on to the dismay of Detective Villa, who he joins forces with for certain cases.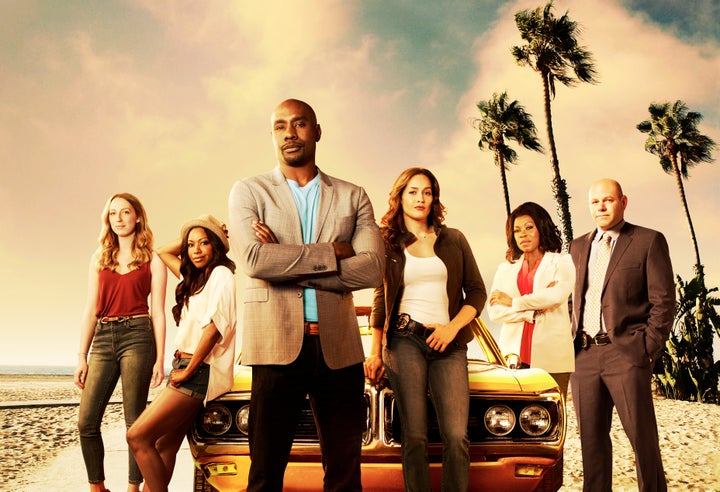 Her character, in typical buddy-cop fashion, is forced to work with Dr. Rosewood. Ortiz says, despite the cliche "odd couple" pairing, the series stays fresh because of the character's personal story.  
"It's not your typical procedural [drama] because it's a character driven show and everyone is going to go on a journey with the characters," she said. "It's not really about what we do but how we do it."
What will certainly be fresh is seeing a Latina lead in a primetime drama -- after "Rosewood" premieres, Ortiz will be part of a very small group of Latinas, not in an ensemble cast, to have leading roles on television.
And that's actually an improvement, from 2010 to 2013 there were absolutely no Latino leads on television, according to "The Latino Media Gap" report. Ortiz says that's why she finds the role of Detective Villa "refreshing," because she's a Latina character that doesn't feed into stereotypes.
My character is very Latina, let's be real. She's feisty, she has attitude, she is sexy but I feel that because of her range and what she's been through as a person she can connect to any race."
"I feel like people will learn that Latinas aren't just the sexy hot girlfriend or the maid or the pregnant teenager or the exotic dancer -- that they can be smart and tough and badass," she said. "They're not just what people instantly think of when they think Latina."
The actress says she recognizes that her character does embody some of those Latina preconceptions -- the difference is that Detective Villa is a complex leading lady rather than a token character.
"My character is very Latina, let's be real," she said. "She's feisty, she has attitude, she is sexy but I feel that because of her range and what she's been through as a person she can connect to any race."
And the actress connects to her character on a deeper level, as well. Ortiz's father has been a New York homicide detective in the Bronx for over 20 years.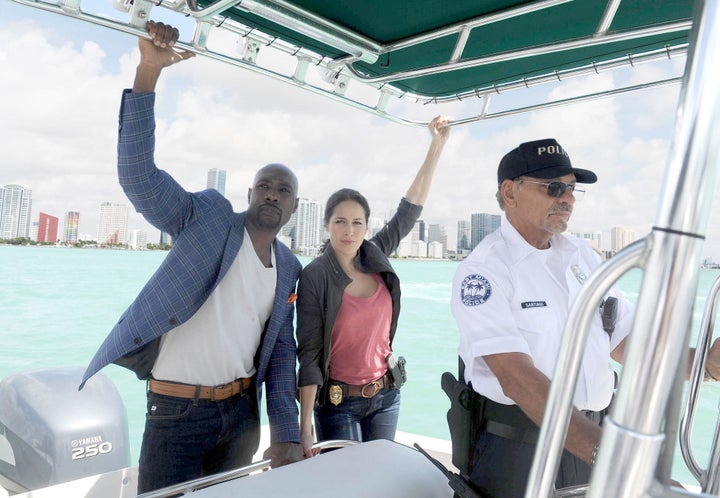 "I love playing Villa mainly because I draw so much inspiration from my dad," she told HuffPost. "I basically call my dad up and he has all the answers."
Ortiz admits there are many aspects of the job she could never truly understand, but the idea of quasi following in her father's footsteps is something she enjoys.
"I guess you could say I'm basically walking in his footsteps," she says with a laugh. "I joke around a lot because I tell him that I got promoted faster than he did, because he's been on the job for 22 years and I've been acting for about seven years. My first role was as a cop and my second was as a detective, and that's really fast."
"I'm really grateful for Fox because not only did they take a huge risk, but they gave me a chance," Ortiz said. "To give a no-name actress who has very little experience, to put them as one of the leads on a show is huge."  
After our chat, Ortiz joins Chestnut back on set to film a beachside scene. Detective Villa and Rosewood are working on a new murder case together -- leisurely walking as beachgoers stroll and bike around them. Ortiz walks in stride with the veteran actor and not for moment does she miss a beat. 
"Working with Morris is a dream come true, it's like a Cinderella story," she said earlier to HuffPost. "I couldn't have asked for a better co-star. He made me feel like I had been doing this for as many years as he has, he didn't treat me like a newbie. And so for that I will always have the utmost respect and love for him as an actor." 
 "Rosewood" premieres Wed. Sept. 23, at 8 p.m. EDT on Fox.
PHOTO GALLERY
27 Celebs You Didn't Know Were Latino