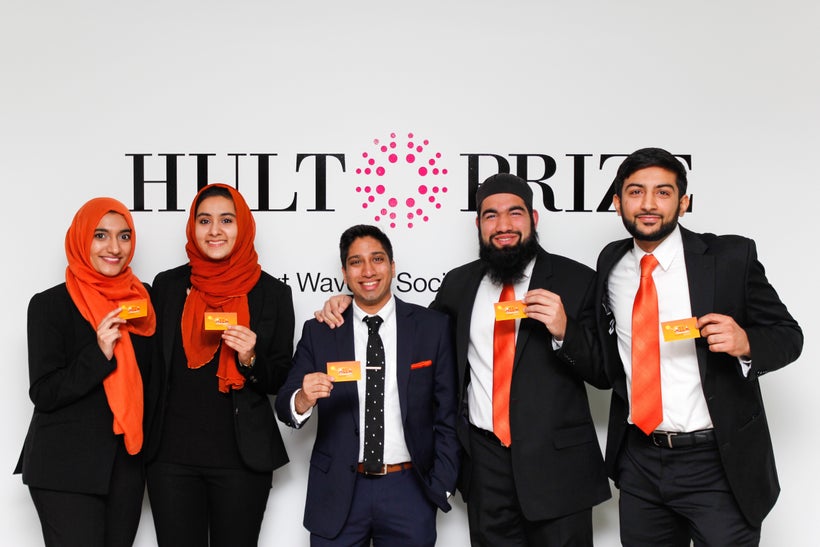 Rutgers University is located in a region where transportation is rampant and ride-sharing options like Lyft is the primary choice for those without transportation. It does an excellent job at providing secondary or in some cases primary income for those with reliable vehicles. What about communities who do not have this luxury? What is the solution for these communities? Unlike many companies looking to solve a social problem, they don't come in wearing a cape but rather the garb of community members... a smile and desire to help. They aren't looking to be the saviors but rather solving a problem as fellow community members. I have a strong notion that Roshni Rides may be the solution and will be making impact internationally. The thoughtfulness of the Roshni team has created a solution for locations with vastly different challenges but the same goal as ride share options… to help stimulate the economy and enrich lives of all through accessibility to travel amongst refugees. With a great idea like this, it was intriguing to find out the impetus for their solution. This Rutgers super team is ready to tackle the challenge.
How did you develop this idea... what was the inspiration?
Roshni Rides was inspired by Barkat Ali, a former resident of Orangi, and family member of one of our team members. Barkat has worked in transportation for a number of years in Orangi, and still has connections there. He was the inspiration behind our idea and pilot location. In order to solve the problems of affordability, safety, and wait time for transportation, Roshni Rides was born. Our renewable energy and business model enable us to have a competitive advantage that is unmatched in the region.
Why are you the right team to execute on this vision(Expand on the skill sets of team)?
As a team, we have been fortunate enough to taste success many times. This success however, is the result of copious amounts of research and preparation. Having been a team for about 3 years now, we all know each other well and know how to work together in a professional setting. We have won 2 other case competitions aside from the Hult Prize. Each member of our team brings a unique skill set and knowledge base. Gia is extremely organized and is usually the one that consolidates all of our information and research. Hanaa is a gifted artist who is skilled at making presentations, graphics, videos, and taking pictures. Moneeb has experience with Finance, and does most of our financial projections. Hasan is the one who always takes care of our logistics and sourcing. Qualities that all of us share however, is that we are all very passionate and hard working. 
We are the best to team to implement this project because we care about the people we are helping, and have a connection to them. Being Pakistani gives us an advantage because we can speak the language of the locals. We hope that bridging the language barrier can help us implement our new system. In addition to this, we have have a team on the ground that is very well known in Orangi Town. They help give us credibility in the area. We have also secured partnerships with various organizations that will gives us resources and even more credibility in Orangi. Lastly, change is always hard to adapt to, but once the people see our extremely competitive price point and superior quality, our service will become a no-brainer
AB: Around the world in various regions there are problems to be solved. There are people looking to solve them but many are stuck at the point of how to get others to buy in. What is your advice fir getting someone to care about an idea?
Winning tips for sharing an idea and having others buy into it?
1. Passion: If you are not passionate about your idea, don't expect others to be. Social entrepreneurship is a way to utilize the skills we've gained in order to benefit ourselves and society at large. Hearing stories from locals in Orangi, and thinking about the positive impact we could have on the lives of these refugees pushes us to work harder every day.
2. Preparation: "By failing to prepare, you are preparing to fail."-(Benjamin Franklin) As a team, we spent hours upon hours preparing for that 6 minute pitch. We would meet twice, sometimes 3 times a week, brainstorming, researching, and practicing. Hard work always pays off.
3. Advisors: As a team, we sought help from anyone and everyone (professors and professionals) who were willing to listen. It is extremely important to get feedback from as many people as possible. Everyone has a different perspective and something unique to offer. Leverage your resources and utilize your connections.
AB: Next Steps for Roshni Rides team?
We are going to launch our pilot program this summer. After that, we will attend the Hult accelerator program in Boston, and pitch in September. We have a lot to do in a short amount of time, but we are extremely excited to make this dream a reality.
AB: Being that some of you are seniors... are you going to fully pursue Roshini Rides or look for employment?
We are all deeply invested in Roshni Rides and see it as a once in a lifetime opportunity. We are excited to pursue it, knowing the risk.
AB: Throughout the journey, there will be things that you need along the way. At this current moment, how can individuals/organizations help in what you are looking to accomplish?
There are 3 ways to help Roshni Rides: advising, finance, and spreading awareness. If you have expertise in a certain area or connections that you believe will be useful for us, please feel free to reach out (roshnirides@gmail.com). If you would like to help fund our pilot program, look out for our crowdfunding campaign. We would appreciate any amount given. Lastly, if knowledge and money are not an option, but you still believe in our idea and want to support, please spread awareness about our idea and let people know via social media and word of mouth. You can follow our page on Facebook and Twitter, and let others know about our idea.
Most useful advise that has been given by RR advisor and how have you altered your plan to reflect advice?
A question we were often asked by advisors was, "How are you tackling security in a developing area that is not as technologically capable and unsafe?" In order to mitigate this risk, we came up with a QR scanning system that is validated via SMS (because of limited internet capabilities). This way, our drivers do not handle and cash (prevents threats of stealing), and we can keep track of how many rides our customers have on their Roshni cards. Additionally, rickshaws themselves will be insured and equipped with tracking devices to ensure the safety of our vehicles and drivers. Without this question form our advisors, we would have had a major hole in our business model.
What were your feelings when you heard Roshni Rides chosen for the finalist for the Boston finals?
Our immediate reaction was gratitude. Gratitude to God for giving us this gift. Gratitude to our parents who supported us our entire lives. Gratitude to our advisors who took their time to give us key feedback. Gratitude to our community that supported us wholeheartedly throughout this process. Roshni Rides doesn't just belong to us, it is in the hearts of all these people. We are excited to make this project a reality , for ourselves, but more importantly for the people of Orangi.
Advice to students looking to pitch their idea.
Our advice is to chase your dreams. The Hult prize is a platform where your idea can turn into something tangible. That being said, take this opportunity to explore social entrepreneurship, as this is the time to take risks in your life. Be prepared for people to tell you that what you are doing will not work. Don't let that discourage you. Let that be the fuel that improves your idea. Prepare to work hard and change the world. If you need any help, feel free to reach out to us!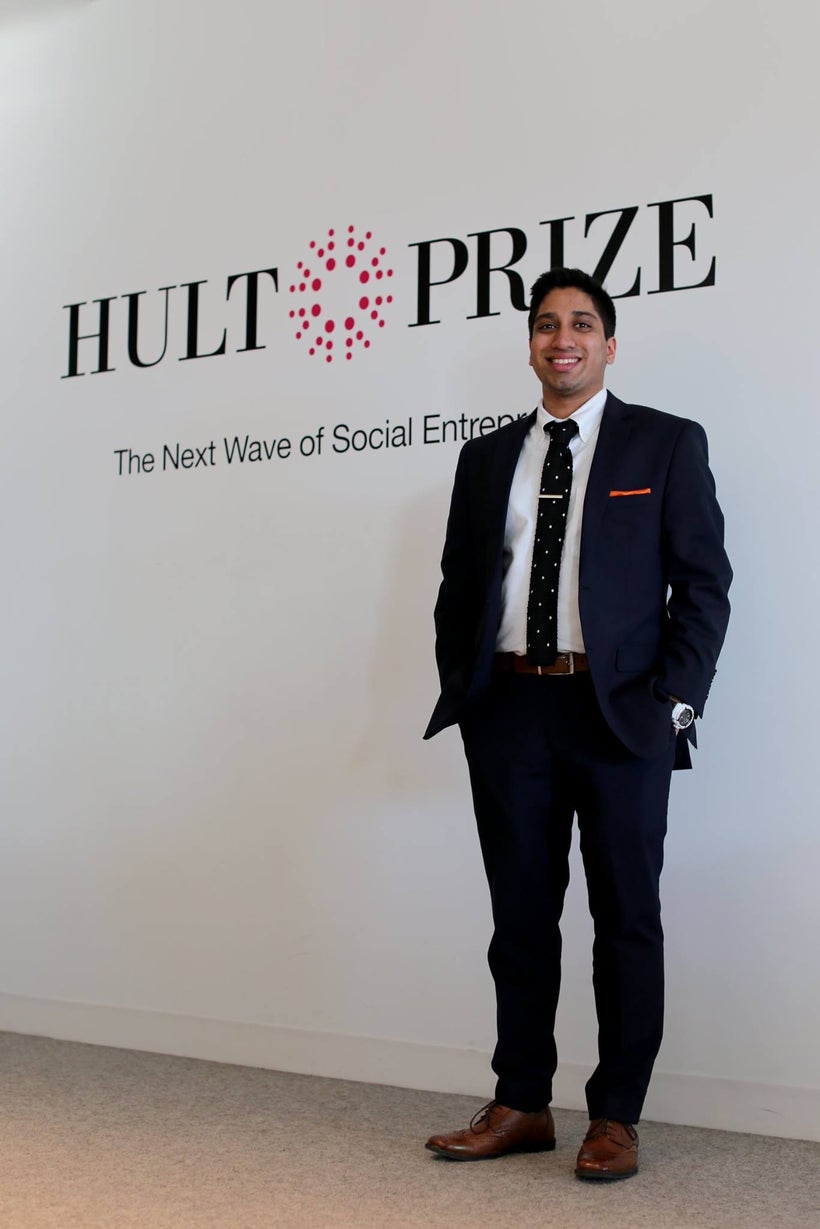 The machine behind The Hult Prize @ Rutgers
But who is the force behind being able to identify the leaders who are taking Hult by storm? Last year Rutgers won 2nd in the Boston finals(beating out Princeton, Yale, Duke and other notable IVY League schools) to the team that won the international competition last year. The man, the myth the closer.... Umair Masood is behind the team. Not only in organizing, but afterwards looking for ways to help the team prepare for the international final this year. I wanted to pick his brains and find out just what drives him and how he has gathered such amazing talent. Oh.... and did I mention he started taking the charge as a sophomore?
How did you develop a pool of talent for two years straight(2nd place last year and 1st this year)?
The overall attention and buzz around Hult Prize, is what makes it truly unique and special! It certainly attracts the attention of about 50,000 student applicants every year internationally, who represent the next generation of innovators and problem solvers. Naturally, when I go around telling people that if they compete and that they have a chance of winning $1 Million to change the world, it truly widens their eyes! And you can't shake that feeling! 
I put in 110% effort into treating Hult Prize @ Rutgers as an entrepreneurial platform and as my own business that I have the responsibility to grow. Over the past two years, along with managing classes and part-time internships - I spend a lot of man hours into the marketing and growth of Hult Prize competition on Rutgers Campus - sending countless emails on different university listserves, setting meetings with professors to advertise/and support the competition, talking with different student leaders and relevant student organizations to cross-promote everything about Hult Prize! 
Effectively getting the word out to as many people and students from undergraduate level to PHD Students has been my main strategy. And naturally everything falls into place - the competition is so attractive it's hard for student innovators to turn down the amazing opportunity.
How will you top this year's accomplishment(What is your next strategy)?  
After teams from other universities win on different campuses all around the world, other campus directors for the Hult Prize usually go back to their normal schedules. But I'm different - I take this as a perfect opportunity to work. I put my full effort into consulting and connecting the team with special advisors, professors, and industry professionals that can aid them in their ideating and building of their presentation (Sort of a Pre-Accelerator to Regional Final). Using the leverage my personal and university network, I think this what makes Rutgers so strong for the last two years (Your support has been amazing). 
I've already started to solidify my executive board for next year, but the next thing to do for Hult Prize @ Rutgers is to really chase down those Sponsors that want to be involved with the social innovation hub here at Rutgers University. My go-to plan is to make a couple of big fortune 500 companies that recruit on campus - to support the competition in fall 2017. When students realize the validity and opportunity their participation is counting on - it will attract even a larger pool of contestants. 
Why did you decide to take this project on last year as a sophomore?
As an avid student of entrepreneurship and being involved with an entrepreneurship platform since 8th grade has really shaped my goals and ambitions. I was given my first internship in NYC my junior year of high school (skift.com) and it exposed me to what and how a company was built, how growth followed and what it truly means to create a great product. 
After a couple of internships later - I was than exposed to this opportunity with social entrepreneurship (which blended my two passions: community service and entrepreneurship/business) and I saw the Hult Prize Foundation as a game changer in this amazing space that was honestly taken up by dull foundations and old people. Being involved with Adam Rubenstein, and in Rutgers Entrepreneurial Society - I saw this as a perfect opportunity to expose Rutgers to whole new side of business which quite frankly RBS was not teaching. 
After months of hard work - I am so glad that we have accomplished (god willing) so much in the time period that I started Hult Prize @ Rutgers. I pitch it to everyone I meet!
This post was published on the now-closed HuffPost Contributor platform. Contributors control their own work and posted freely to our site. If you need to flag this entry as abusive,
send us an email
.