For Ross Mathews, the 16th time was the charm. After covering the Primetime Emmy Awards for a decade-and-a-half, the out comedian giddily walked the red carpet Sept. 17 for the very first time with RuPaul's Drag Race.
"I turned to RuPaul at one point and said, 'I feel like when the misfits get to sit at the popular kids' table for a day,'" Mathews shared on Party Foul Radio with Pollo & Pearl.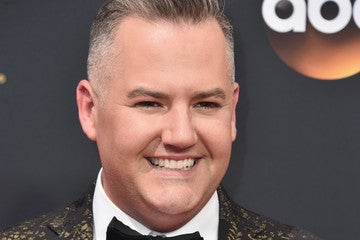 "And we are. That's why [Drag Race] resonates with people," continued Mathews. "We are the misfits who are pulling this off, 'The Little Show That Could.'"
Mathews spoke to Podomatic's No. 1 LGBTQ Podcast on Monday, just hours after attending the 69th-Annual Primetime Emmy Awards. When he arrived that evening with fellow Drag Race stars RuPaul Charles, Michelle Visage and Carson Kressley, the show had already snatched three of eight trophies for which it was nominated.
At the previous weekend's Creative Arts Emmys, Drag Race took statues for "Best Costumes" and "Best Picture Editing" in the reality TV category. Of course, RuPaul collected a second consecutive win for "Outstanding Host for a Reality or Reality-Competition Program."
For Mathews, who has covered The Emmy Awards since his days as "Ross The Intern" on The Tonight Show with Jay Leno, being an actual guest for TV's biggest night was undoubtedly a dream come true. However, it's clear his role on the show which got him there is no less so.
"I, like everyone who's sane in the world, was a fan," said Mathews of Drag Race. "I'd watch at home and talk at the TV."
The Celebrity Fit Club and Chelsea Lately star did not hesitate when invited to be a guest judge on Season 6 of the popular reality competition. He was shocked the following year, he said, to join RuPaul, Michelle Visage and Queer Eye for the Straight Guy alum Carson Kressley on the panel full-time.
"It's one of those things where you look behind you like, 'Are you talking to me?'" he said in typically self-effacing fashion. "I don't know why they chose me, but I said 'yes' before he could finish the sentence."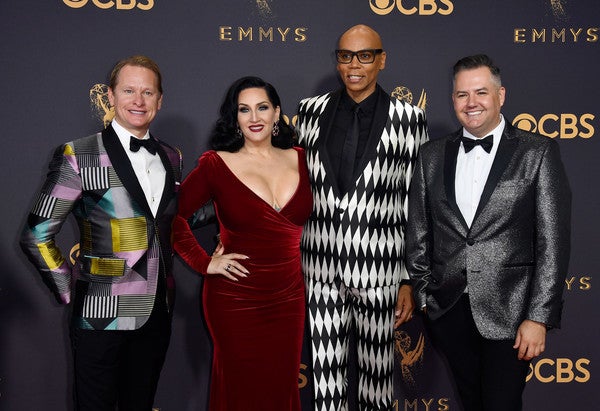 The Season 9 jump from LOGO TV to VH1 made for Drag Race's biggest year ever. Its surge in popularity, evidenced by eight Emmy nods, also expands the show's ability to raise awareness of queer culture – whether that is the intent of the program or not.
"I don't think you're ever going to see a history lesson — a Drag 101 — on the show," Mathews asserted.
He went on to say education is merely a byproduct of "the pressure to be a colorful, good show." People are enlightened to the LGBTQ community by "taking something that is niche" (drag) "mainstream," Mathews said, and "telling gay stories, meeting gay people and really having them expose themselves in a beautiful way."
"You're meeting people at their most vulnerable, trying to be the best at what they do, so it becomes very human," he pointed out. "I think that is what is educating people -- really showing humanity, the common core that unites everybody."
Another result, Mathews acknowledged, is the increased reverence afforded the art form it showcases. Widespread love for the show's stars has boosted acknowledgement of drag entertainers universally -- both by the queer community and beyond.
"Drag queens have always been on the front lines in our community, going back to Stonewall and before," Mathews stated.
"We've always respected them within our community," he concluded, "Now people outside the L, the G, the B, the T, the Q, the I, the A, they're getting it because of the show."