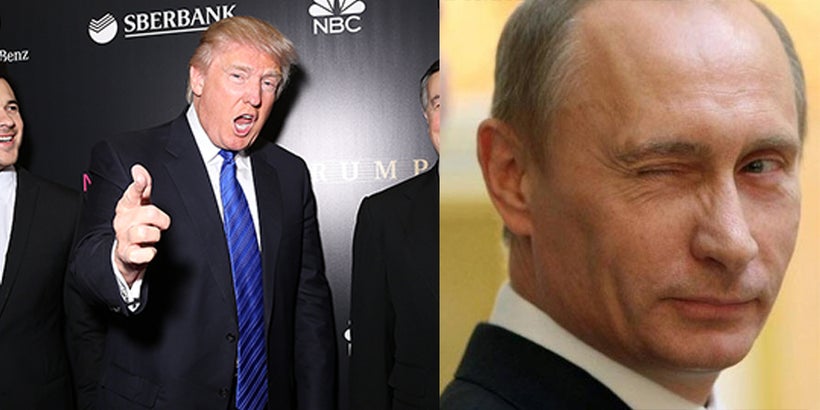 Russia is openly seeking to tilt the scales of public opinion by disseminating stolen information about this year's presidential election.
Now, Russian state-controlled media is running an overt "psy-op" with Putin's foreign affairs office, to pretend they're being banned from observing America's general election.
The reality is that Russia's foreign ministry has specifically sought failure to gain election observer status, and is publicly blaming "the United States."
They sought out the inevitable warning that tampering with an election is a crime, subject to arrest, and combined it into a grossly general, utterly false narrative.
Russia is plainly playing victim.
The United States government's intelligence community has formally announced that Russia's government made the decision to interfere in America's elections at the "highest levels," by participating in a scheme to hack private emails belonging to Democrats and leak them through Wikileaks.
Last night, Democratic nominee Hillary Clinton unequivocally named Russian President Vladimir Putin as the source of the operations.
The US State Department has already debunked Russia's latest aggressive propaganda ploy, which is breaking a longstanding taboo in relations between the two nations, not to directly or indirectly interfere in elections.
A simple American civics lesson is all it takes to learn that states control their own electoral systems, and the federal government does not.
But RT wrote this anyhow:
US officials categorically rejected even the possibility of such a mission, however, instead recommending that Russia join the international mission of the OSCE's Office for Democratic Institutions and Human Rights (ODIHR).
RT went on to say that, "The request was also rejected on a state level, and in three states – Oklahoma, Louisiana, and Texas." 
They also forgot to mention that Louisiana law authorizes election observers on a case-by-case basis - and plainly they didn't authorize Russia's request - which is the state's sole discretion.
Oklahoma allows election observers as long as they do not interfere or get within 50 feet of the polling place, just as they outlined in a letter to then-Secretary of State Hillary Clinton in this 2012 letter, to give guidance after she invited OSCE to observe the Obama/Romney election.
Official state newspaper Izvestia wrote a false story in Russian, which RT used as their source. Their headline translates to, "Russian observers will not be allowed in US elections," according to Google Translate.
In actuality, the Obama administration invited European election observers - and Russia with them, as well as making a special, first time invite to the Organization of American States to observe our polls, primarily a means of encouraging participation in their hemispheric monitoring programs.
It's obvious that the Russian foreign ministry is playing games by asking to be an international election observer in a way they knew would fail because of the states chosen.
Why skip working with OSCE you may ask?
Ironically, Russia Today and that country's other official news sources conveniently forget that they passed a law outlawing "foreign agents" and according to Human Rights Watch.
HRW writes that Putin's administration and predecessors used it to chase away GOLOS, the voting rights organization which monitored heavily disputed elections in 2008, 2011 and 2012.
For the past four years, the Kremlin has sought to stigmatize criticism or alternative views of government policy as disloyal, foreign-sponsored, or even traitorous.  It is part of a sweeping crackdown to silence critical voices that has included new legal restrictions on the internet, on freedom of expression, on the rights of lesbian, gay, bisexual and transgender (LGBT) people, and on other fundamental freedoms. An enduring, central feature has been the 2012 law requiring independent groups to register as "foreign agents" if they receive any foreign funding and engage in broadly defined "political activity." In Russia, the term "foreign agent" can be interpreted by the public only as "spy" or "traitor." To date, Russia's Justice Ministry has designated 146 groups as "foreign agents," courts have levied staggering fines on many groups for failing to comply with the law, and over 20 groups have shut down rather than wear the "foreign agent" label.
These are Donald Trump's friends, the man Putin that the Republican nominee says he knows, as you can plainly see in the video below unearthed by the Democratic Coalition Against Trump.
Listen to Trump's glowing review of the Russian former spymaster, turned authoritarian ruler, then make careful note of the kind of governance the Republican nominee prefers most, which is in a place where criticism is silenced and a petro-state that confers vast wealth upon a small oligarchy, using official means to arbitrarily control day to day life for over 100 million people.
Russian game playing in its official media sources has already destroyed their outlets' reputations as either a transparent or objective news source.
Now that RT has been turned it into little more than a tame propaganda machine, built on deception and functioning to distribute the propaganda of its owner Vladimir Putin, it's long past time that American media personalities stopped accepting funds to produce and distribute their programs to or from Russian state-controlled sources.
Larry King is shamefully wasting his patina of legitimacy gained by decades on air at CNN, on airing his broadcasts alongside a Russian psychological operation to influence America's general election.
All Americans should disregard these frivolous Russian claims, and be wary of voting for any politician who seeks to use them to their own benefit, by claiming that our country's famously decentralized general election system can possibly be rigged.
This post was published on the now-closed HuffPost Contributor platform. Contributors control their own work and posted freely to our site. If you need to flag this entry as abusive,
send us an email
.