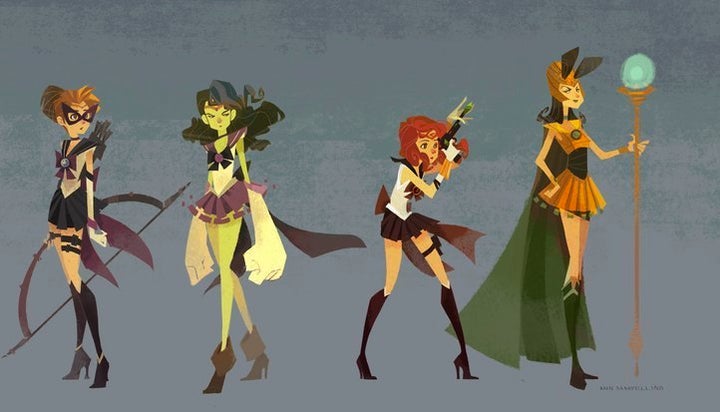 "Fighting evil by moonlight
Winning love by daylight
Never running from a real fight
She is the one named Sailor Moon!"
What do you get when you mash up this classic '90s superhero cartoon with the most recent iconic Marvel superhero franchise? The awesome "Sailor Avengers," a series of fun and creative fan art from illustrator Ann Marcellino.
"I have been a fan of 'The Avengers' and 'Sailor Moon' for years, and I was really excited after I saw the 'Avengers' movie so I wanted to do something fun for it," Ann wrote in an email to the Huffington Post. "I'm also a Joss Whedon fan!"
And the images struck a chord with both "Avengers" and "Sailor Moon" fans. As of last week, her work had been widely shared on Tumblr and larger sci fi and comics sites such as io9.com and Comics Alliance.
"I am overwhelmed by how many kind comments I have been receiving," she says. "The most popular is Sailor America but people also seem to really love Sailor Hawkeye's design. Everyone has their personal favorites for their own reasons."
Do you know an awesome teen-run Tumblr or Pinterest page the world should be obsessed with? Email it to us at teen@huffingtonpost.com!
BEFORE YOU GO
PHOTO GALLERY
Sailor Avengers!