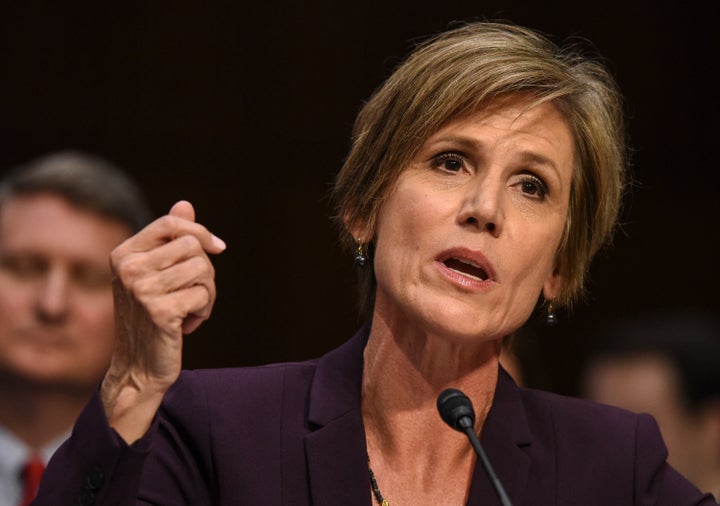 Former acting Attorney General Sally Yates says the United States' core democratic values are at risk unless Americans start demanding "objective truth" from politicians.
In a fiery op-ed published in USA Today on Tuesday, Yates cautioned against normalizing lies and misinformation spread by public servants because of "exhaustion or to protect our own political objectives."
"Not only is there such a thing as objective truth, failing to tell the truth matters," Yates wrote. "We can't control whether our public servants lie to us. But we can control whether we hold them accountable for those lies."
We are not living in ordinary times, and it is not enough for us to admire our nation's core values from afar.

Sally Yates, former acting attorney general
Yates, whom President Donald Trump fired in January after she refused to have the Justice Department defend his controversial executive order on travel and immigration, pointed to the Constitution to highlight the country's "core values." She broke down a portion of the 52-word preamble as follows:
We the people of the United States ...
"We are a democratic republic, not a dictatorship"
in order to form a more perfect union ...
"We are a work in progress dedicated to a noble pursuit"
"We revere justice as the cornerstone of our democracy"
insure domestic tranquility ...
"We prize unity and peace, not divisiveness and discord"
provide for the common defense ...
"We should never give any foreign adversary reason to question our solidarity"
promote the general welfare ...
"We care about one another; compassion and decency matter"
and secure the blessings of liberty to ourselves and our posterity ...
"We have a responsibility to protect not just our own generation, but future ones as well."
Though she did not name Trump in the piece, Yates appeared to address the president's proclivity for peddling conspiracy theories and spinning false narratives. She warned the U.S. could become an autocracy if Americans don't demand truth over "fabrications" and if the Justice Department isn't free to operate autonomously from the White House.
"We are not living in ordinary times, and it is not enough for us to admire our nation's core values from afar," she wrote. "So stand up. Speak out. Our country needs all of us to raise our collective voices in support of our democratic ideals and institutions." 
Yates has been an outspoken critic of Trump. In October, she tweeted that Trump had "a complete indifference to the truth."