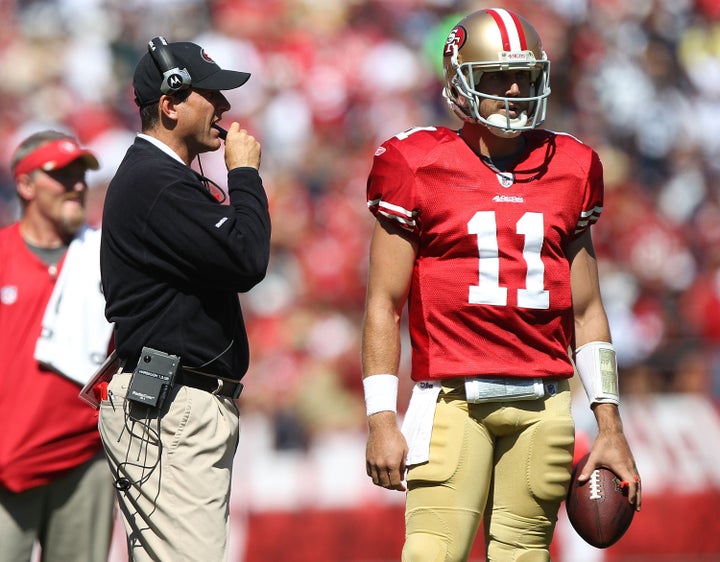 The San Francisco 49ers hold 17 divisional championships. They have won five conference championships and five Super Bowl titles. Yet, as one of the proudest and most heralded franchises in the NFL, the team hasn't won a single postseason game in nearly a decade. Just how long ago was that? Well, Terrell Owens was their best receiver, Jeff Garcia was their quarterback and Nelly's "Hot In Herre" ranked third on the Billboard charts. Yes, it's been that long.
But the 2011 season marks the start of the Jim Harbaugh era and a suddenly resurrected franchise. San Francisco has raced out to a 6-1 start, its best since 1998. The 49ers don't play sexy football nor do they have an elite receiver. Running back Frank Gore is as consistent as he is steady: a no frills guy that anchors one of football's best rushing attacks. Alex Smith, the first overall pick in 2005, has gone from longtime bust to consistent leader. Defensively, Patrick Willis has flourished into one of the game's most devastating linebackers and, is flanked by 23-year-old NaVorro Bowman, whose 68 total tackles rank second in the NFL.
Another linebacker on this team is 26-year-old Larry Grant, a local kid drafted by the Niners in 2008 only to be put on waivers two years later and eventually return to his hometown club. Grant -- who last season played for NFC West rival St. Louis -- has noticed a drastic difference from the 49ers this year, who by the way lead the division by four games over Seattle.
"I knew a little bit about this organization with coach [Mike] Singletary and knowing the players here, and it just didn't seem like they were playing together as a team and buying into the system here," Grant told The Huffington Post.
"Coach Harbaugh has brought a lot of trust. The players have been trusting and buying into his system, and doing things his way and not their own way, or the way things have been done in the past."
With any successful team in this league, it all starts and ends at the quarterback position. Perhaps no quarterback has been more maligned or disregarded over the past six years than Alex Smith. Drafted out of the vaunted spread offense at Utah -- where his head coach was Urban Meyer, who also coached Tim Tebow -- and running a similar offense as Tebow ran, Smith has endured seven different offensive coordinators and three head coaches throughout his tenure in the NFL. In year's past, he often looked scared and confused in the pocket, pushing or sailing throws a former No. 1 pick simply shouldn't.
Harbaugh, who at Stanford groomed little-known recruit Andrew Luck into a Heisman Trophy candidate and future superstar, has worked similar magic with Smith. Make no mistake: Smith's numbers (1,267 yards, 9 TDs) aren't gaudy or flashy. The improvement, however, is clear. His 63.2 completion percentage is the highest of his career and 95.7 quarterback rating -- 8th in the NFL -- tops his all-time high by a whopping 13.6 points. And let us not forget, that this is a guy who in 2009 and 2010 combined, threw 22 interceptions in 22 games. This year, his interception rate (interceptions divided by pass attempts) stands at a stellar 1.2 percent that ranks him best in the league, which is even more impressive when you consider his career clip is 3.5 percent.
Grant -- having played both against and now with Smith -- has already noticed a considerable difference.
"Alex's confidence has [been] raised a lot," he says. "It comes through the coaches and the players. ... What comes with his confidence is him playing within a system that Harbaugh and his offensive coordinator [Greg Roman] have brought. His potential is unlimited."
And it's not merely his "potential" either. The 27-year-old Smith has orchestrated fourth-quarter comebacks in all three of San Fran's road wins.
The improvement hasn't been limited to him either. Much of this team's blueprint for success has been an athletic, yet disciplined and containing defense that flies around the ball and doesn't allow the home run play.
"Everything starts up front," Grant adds.
"Our D-line has been playing tremendous for us this year. The three guys up front -- Isaac [Sopoaga], Justin Smith and Ray McDonald -- their success this year has helped everybody. Of course it's helped our LBs run around and hit and make plays, but it's given our DBs the opportunity to make plays on balls coming out a little earlier or later than they usually are. We emphasize on team; that's what we're doing."
Just how dominant has the defensive line been?
The 49ers lead the NFL in rush yards against, including holding the game's second leading rusher LeSean McCoy to 18 yards on nine carries and possible Pro Bowler LeGarrette Blount to a mere 34 yards on 10 carries. This is a line that penetrates gaps very quickly and forces offenses into obvious passing situations with a slew of third down and long's. It's a simple philosophy, sure, but one that most teams cannot execute.
And for Larry Grant, it makes his return home that much sweeter.
"Being a San Francisco kid, I've always dreamed of being with the Niners," he says.
"St. Louis released me after the lockout. San Francisco called me, and after thinking about it, no one really gets a second chance to go back home to do what they wanted to do in the first place. I told myself, 'I'm going to do what I can to make this team and help it go to the playoffs and a Super Bowl.'"
Grant has never taken the road more traveled, but yet it's always seemed to work out. He even started his collegiate career at City College of San Francisco, only to be named JUCO National Player of the Year. More importantly, this is a guy who is used to winning. Grant played in four straight national championship games, two at City College and two at Ohio State, and he recognizes that this 49ers team is a winner.
"As long as we progress week by week, the sky is the limit for our team and this defense," he says. "I think our team will be one that a lot of people have to think about."
Email me at jordan.schultz@huffingtonpost.com or ask me questions about anything sports-related @206Child for my upcoming mailbag.
Plus, check out my new HuffPost sports blog, The Schultz Report, for a fresh and daily outlook on all things sports and listen to our brand new radio show, Sports Blitz Now every Wednesday afternoon.