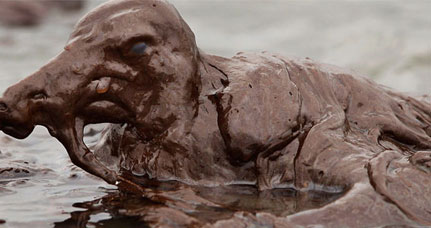 These harrowing pictures of birds covered in oil are so totally depressing it's hard to imagine this spill is going to be our nation's wake up call. But that was an idea posited on KCRW's Which Way LA.
One of the more interesting speakers was Richard Cizik, an evangelical who says "polluters will have to answer to God, not just government". Ouch. I hope God doesn't go and do something rash like warm the planet up or something.
Sadly I'm not buying the wake-up call notion.
"Former Shell Oil president John Hofmeister and former Saudi Aramco manager Nick Pozzi" told both BP and government officials that "85 percent of oil from a massive offshore Saudi spill in the early 1990s was cleaned up using supertankers to suck in seawater and oil - millions of barrels at a time."
Then the barrels were discharged "in port where the two substances could be separated and treated."
Great solution right? The downside: "You tie up oil tankers" - tankers that could be carrying crude above the Gulf's waters to customers." Gosh we wouldn't want to do that.
Mind you, this is former Shell Oil president and former Saudi Aramco manager suggesting this -- not some tree-hugging hippies.
After reading this suggestion a couple weeks ago I thought I'd be hearing it discussed everywhere -- but I haven't heard a peep. Does anybody have Obama's direct line?