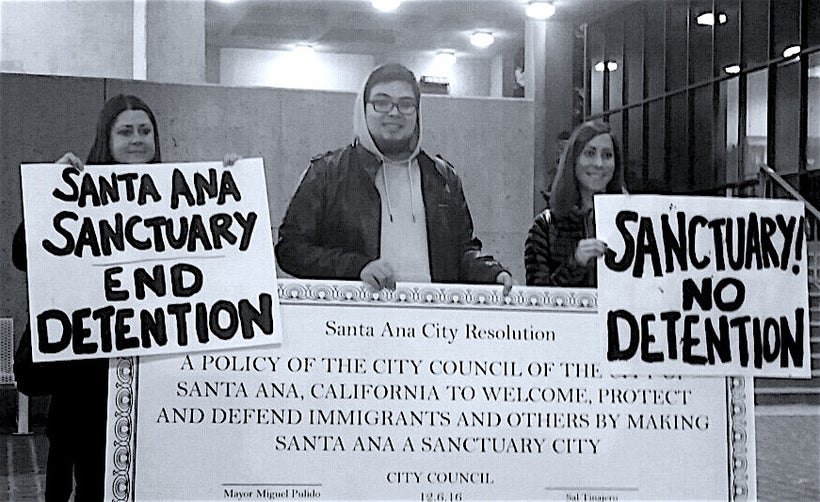 On Tuesday night, the City of Santa Ana in California passed a resolution declaring itself a "sanctuary city." It is not.
The City of Santa Ana is in Orange County, which has been long touted as "the nation's most Republican county." Although over 70 percent of its residents are Hispanic, the City of Santa Ana has been contracting with U.S. Immigration and Customs Enforcement (ICE) to detain immigrants in its jail since 2006. This type of entanglement with ICE is absolutely voluntary and goes far beyond what most cities and counties do. Calling Santa Ana a "sanctuary city" will not change that.
In fact, the City will continue to operate the only official detention facility nationwide that detains transgender women, despite protests by local community members and national campaigns to end the detention of trans people and all immigrants. Even Congressional representatives have weighed in, calling for an end to the detention of transgender immigrants in Santa Ana and beyond.
My organization, CIVIC, has filed multiple federal complaints about abuse inside the Santa Ana City Jail, including unreasonable use of solitary confinement and medical neglect. Earlier this year, we filed a complaint on behalf of 31 immigrant women who were victims of unlawful and degrading strip searches. Take the case of Gloria Hernandez who came to the United States after suffering a gang rape in her home country of Honduras. Gloria was forced to relive her past sexual trauma in unlawful and routine strip searches at the Santa Ana City Jail.
The City of Santa Ana has begun to take some positive steps forward. In May, the City Council voted to conduct a study on how it could reuse its jail and support community-based alternatives to detention. The Council also stated in May that it would not renew the City's contract with ICE when it ends in 2020. In November, Council members directed the City Manager to terminate the ICE contract as soon as possible. And on Tuesday, the City decreased the maximum number of immigration detention beds in its jail from 200 to 128.
These are steps in the right direction, and other municipalities that contract with ICE to detain immigrants should follow in the footsteps of the City of Santa Ana. But the City can and must do more. In drafting the resolution, the City hoped to simply "maintain the status quo," not "add policies or practices to its laws to further protect residents." This is not sufficient for a City that continues to detains immigrants for ICE and is complicit in their abuse.
No other city that has declared itself a "sanctuary" also operates an immigration detention facility. The City of Santa Ana's resolution specifically states that while the City "desires" to address fears in the community, the City "must maintain positions on federal policy that do not affect the financial stability of the City of Santa Ana." It is clear that the City of Santa Ana is continuing to privilege profit over its people by maintaining its lucrative contract with ICE.
The City of Santa Ana must end its contract with ICE. It must support community-based alternatives to detention and devote funds toward ensuring that those currently detained at Santa Ana have the best chance of being released rather than transferred to another facility or deported. Until then, the City of Santa Ana will remain an active part of Trump's impending deportation force. Not a sanctuary.
This post was published on the now-closed HuffPost Contributor platform. Contributors control their own work and posted freely to our site. If you need to flag this entry as abusive,
send us an email
.