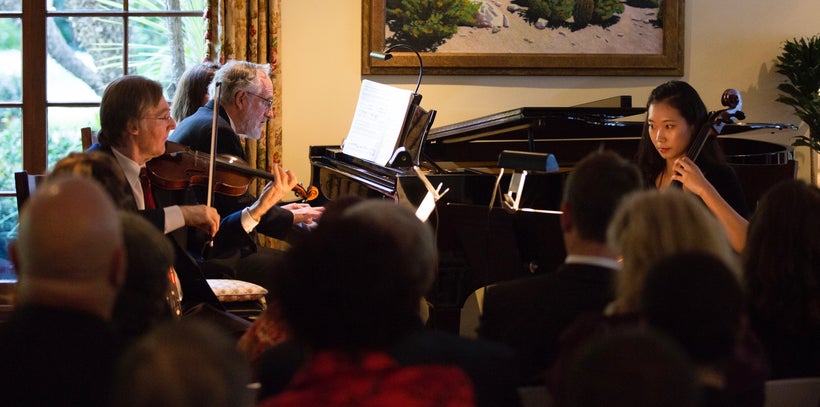 One of the treasures of Western civilization has always been to have the freedom to hold inclusive artistic, theatrical and musical events. Thanks to the generosity of the City of Santa Monica, LA County, the California Community Foundation, Wells Fargo, Morley Builders, Linda Bourque, Sheila Wells, Robert Segal, and Michael Gruning, Santa Monica has been fortunate to be able to retain the tradition of providing free classical music concerts to the public for the last seventy-two years.
On Saturday evening, May 27th, former Mayor Richard Riordan hosted some of Los Angeles' premier chamber musicians to perform Mendelssohn's Piano Trio No. 1 in D minor. Violinist Guido Lamell, cellist Dahae Kim (assistant principal cellist for the LA Philharmonic), and pianist Leo Marcus captivated guests at the annual spring fundraising event for southern California's finest community orchestra, the Santa Monica Symphony.
Angel Espinosa provided a sumptuous terrace dinner for over 75 guests who were then treated to my personal favorite piece of chamber music, the Brahms Piano Quintet, performed by famed LA Philharmonic violinist Vijay Gupta, pianist Somang Jeagal, violist Dale Silverman, as well as Guido Lamell and Dahae Kim. Somang Jeagal has won international competitions and is a highly accomplished musician; violinist with the LA Philharmonic, Vijay Gupta is co-founder and Artistic Director of the renowned Street Symphony, which brings classical music to marginalized communities experiencing homelessness and incarceration.
Dedicated supporters of the symphony who attended the event included prominent members of the Santa Monica and southern California business, law, educational, and medical communities including attorney and host of the Barak Lurie Radio Show, Barak Lurie, and President at Lederer & Associates Investment Counsel Richard Lederer. "The chamber music was absolutely wonderful!" said Lederer. "My wife and I enjoyed the intimate environment, which included meeting and shaking hands with Vijay and Somang, who I learned was a fellow USC Trojan. And after the performance we spoke with Guido who shared his beautiful new classical violin with us."
A long-time violinist for the LA Philharmonic, Guido Lamell has been the conductor of the Santa Monica Symphony for the past five years. Audiences love and admire his lyrical sense of musicality, as well as his winsome personality and exuberant love for sharing the classical repertoire with the community. Lamell said, "For me, as a long-time member of the Los Angeles Philharmonic, it's especially rewarding to have an opportunity to share the great wealth of musical experiences that I have been privileged to receive."
The event helped raise over $20,000 for the symphony that provides a series of five free concerts free every year, including the annual concert Martin Luther King concert, which last year won a prestigious National Endowment for the Arts award.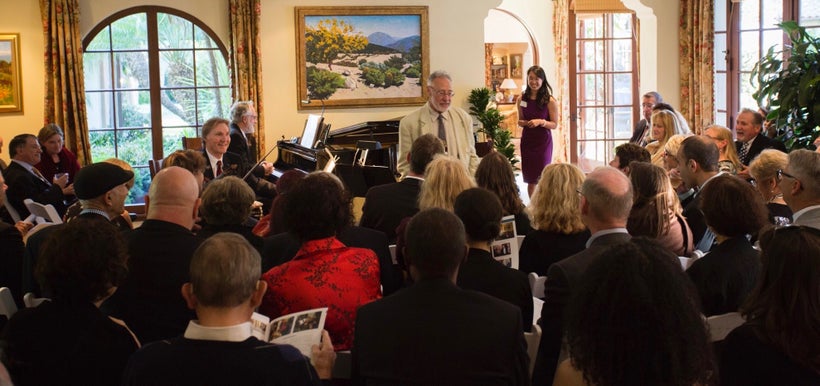 President of the SMS Board of Directors David Bendett said "We have an exciting line-up of concerts in place for next season, and we are proud to be a part of making the greatest treasures of the classical symphonic repertoire easily accessible to the public." David has been playing with the SMS for decades and works in the music industry representing some of the top names in music today, including 16-time Grammy award winner Bela Fleck.
The following evening I was treated to more wonderful music at the Santa Monica Symphony's season finale, where former principal cellist of the LA Philharmonic, Ronald Leonard, performed Elgar's Cello Concerto and the symphony performed the Stravinsky's famed Firebird Suite.
Don't miss any opportunity to support one of Santa Monica's greatest gifts, the Santa Monica Symphony!
This post was published on the now-closed HuffPost Contributor platform. Contributors control their own work and posted freely to our site. If you need to flag this entry as abusive,
send us an email
.