One Seattle Seahawks fan has had enough of the "embarrassing" behavior by his fellow "12s."
Dean S. posted a petition on Change.org on Tuesday, pleading for an end to the string of "cringeworthy" letters and petitions that followed the Seahawks' season-ending loss to the Carolina Panthers on Jan. 17.
The ridiculous rants were all aimed at Panther's quarterback Cam Newton, and here, in all its horrifying glory, is the reason why:
After the game, Newton celebrated with a victory lap in his home stadium. When a Seahawks fan tossed him a Seattle "12th Man" flag, he excitedly threw it into the field, a broad smile stretched across his face.
What a monster, right? Clearly this smiling, celebrating man hates God, homeless people and the purity of athletic competition. 
The day after Seattle's loss, a Seahawks fan named Sally posted a letter to Facebook in which she argues just that. By throwing the flag "to the ground like garbage," she writes, Newton insulted not only the team but a community that feeds and clothes the homeless and raises funds for families in hard times.
"Win or lose we come with class, respect, a love for the game, a willingness to help others, love for God, and love for those surrounding us," Sally wrote. "So mr. Classless cam newton, [sic] good luck and may God teach you what real winning looks like."
(Never mind Newton's charity work off the field and passion for helping children. Or the fact that Seattle fans, as some have noted, have shown their own lack of sportsmanship, including an incident in which they threw popcorn at San Francisco 49ers linebacker NaVorro Bowman as he was being carted off the field following a gruesome knee injury.)
"Cam Newton is one of the most unprofessional, unsportsmanlike individual [sic] on the face of the planet," Andrew Tilton wrote on the Change.org petition, which had more than 1,500 signatures as of Tuesday. "This should teach him to put his arrogance in check!!"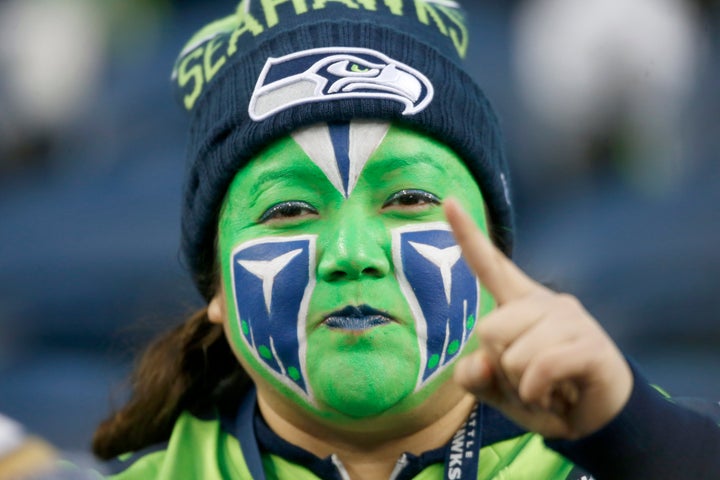 Thankfully, Dean S. wants to put his fellow Seahawks fans in their place.
The reactions, he writes in his petition, "are making all of us look like pathetic, whiny bitches. It only takes one or two of these stupid stunts to embarrass millions of 12s and make the rest of the country think we're a bunch of crybaby sore losers."
The petition to ban the ban, so to speak, says that Seattle fans "all think Cam Newton is an arrogant, unsportsmanlike, obnoxious douche canoe, dating back to his ethically questionable and short-lived college career."
"But for fuck's sake, get a grip," Dean wrote. "Grow up, get over it, start acting like football fans and knock it the fuck off."
Many on Twitter have noted that the intense fan reactions to Newton, who is known for dancing on the sidelines and showing his emotions, have racist undertones. 
On Feb. 7, Newton and the Panthers will face Peyton Manning and the Denver Broncos in Super Bowl 50 in Santa Clara, California.
PHOTO GALLERY
23 Funniest Moments From 2015 NFL Season