No matter where you're from, you probably have a favorite dish that evokes memories of your childhood. Whether it's kasha varnishkes, baklava, teiglach, or poutine; halo halo, spanakopita, a stuffed quahogor mooncake, certain foods evoke memories of family gatherings, favorite meals, and loved ones. If you click on this link for comfort food, you can explore the home-made culinary delights that people cherish all around the world.
Comfort food serves many purposes. It can warm you when you're cold, lift your spirits when you're lonely, and help get you through a crisis. In 1962's Harold Rome/Jerome Weidman musical, I Can Get It For You Wholesale, the show's ruthless protagonist, Harry Bogen (Elliott Gould), finally gets a taste of his own medicine. With his money gone and his ego deflated, he visits the disappointed mother (Lillian Roth) he has constantly lied to, who offers him some simple advice.
Many years ago I was having lunch at Canter's Deli in the Fairfax Districtof Los Angeles when I overheard a typical passive-aggressive exchange between a member of the wait staff and one of the restaurant's geriatric regulars. "Connie, this bread is stale!" complained the customer. "And you think I'm gonna make it fresh for YOU?" the waitress replied.
Not only did Café Edison become known for its large helpings of genuine Jewish comfort food, it was famous for its owners' generosity toward unemployed actors. The café served as a hub for people working in the theatre district. For actors, stagehands, magicians, and playwrights, it was a networking center as well as a home away from home. Business deals were made over dishes of matzo ball soup. Ideas for jokes and plays were scribbled onto napkins. When news of the café's closing first broke, theatre people rushed to do whatever they could to help save the beloved restaurant from being forced out of business.
If one were to take an audience survey aimed at finding the operatic equivalent of comfort food, I have no doubt that the winner would be La Bohème. The most frequently performed work in the history of the San Francisco Opera with 233 main stage performances since 1923 (not including its current run), Bohème sits right up at the top with Verdi's Aida and Bizet's Carmen in the "ABCs" of the world's most beloved operas.
In June, the San Francisco Opera revived John Caird's 2014 staging of Puccini's opera. Cleverly and most economically designed by David Farley, this production of La Bohème is one of the rare instances in which the sky's the limit. Why? The set for Rodolfo and Marcello's famous garret overlooking Paris has no ceiling. A co-production between the Houston Grand Opera, Canadian Opera Company, and San Francisco Opera, Farley's easily loadable and eminently rentable solution may look like it was designed for a bus-and-truck tour, but makes clever use of an array of hanging drops (representing Marcello's paintings and canvases) along with two rotating wagons to speed up set changes in a way that keeps the dramatic action wonderfully fluid.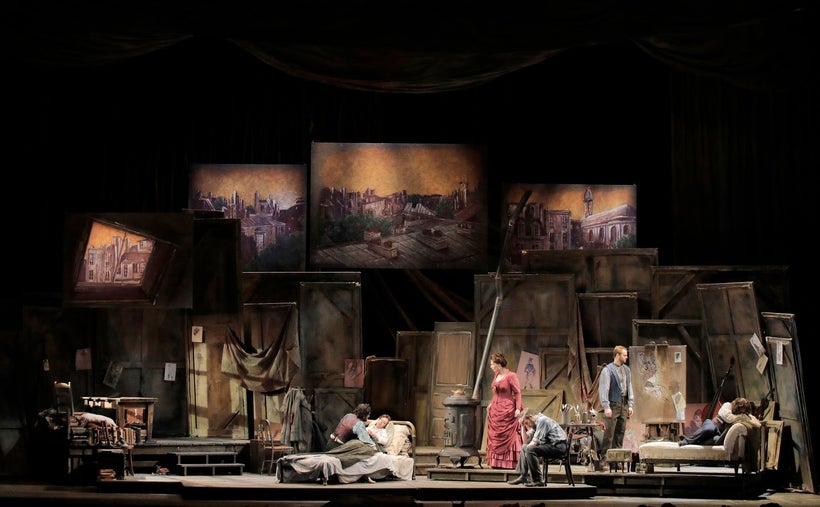 Aided immensely by the use of Supertitles, Caird's acutely sensitive stage direction (in which the principals actually keep looking at and reacting to one another instead of merely facing out toward the audience) frames a production in which the story's young lovers become more believably human than usual. The dramatic result is a refreshing and invigorating performance of Puccini's classic in which the audience's focus is on the characters rather than a superstar tenor or soprano.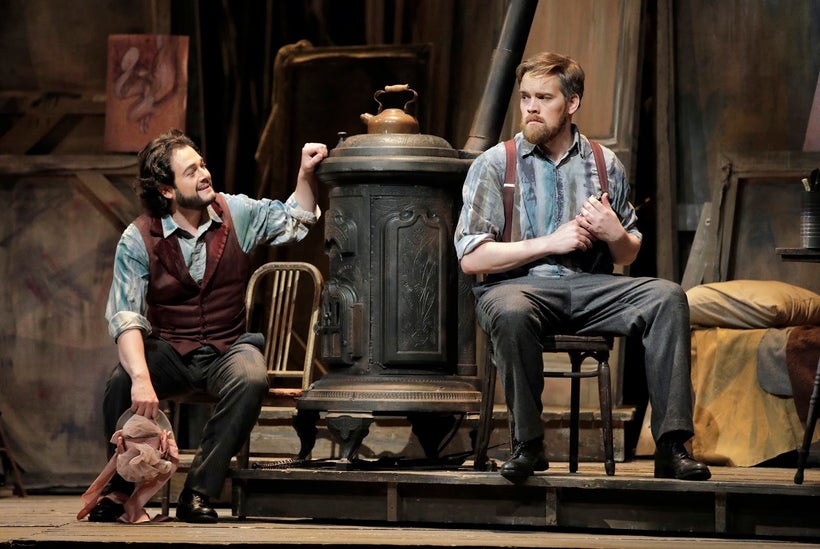 Although the performance I attended was slightly marred by outbursts from what was either an obsessed fan or a determined claquer, there was no denying the high level of vocal artistry onstage. The strongest work came from tenor Arturo Chacón-Cruz as Rodolfo and Norwegian baritone Audun Iversen (who delivered one of the most solidly-sung Marcellos I've heard in years). While Erika Grimaldi's Mimi was well sung and sympathetically portrayed, Ellie Dehn's Musetta was a much more completely rounded characterization than one usually encounters in this role.
Conductor Carlo Montanaro set a brisk pace for the first two scenes with such rapid tempos that I wondered if he had chugged a Red Bull prior to the performance. Fortunately, this provided a well-justified contrast to the third and fourth scenes, when the initial infatuation of young love had dissipated and Mimi's health was rapidly deteriorating.
Watching this remarkably satisfying production once again left me deeply impressed with the the economy of Caird's blocking (which keeps his singers downstage while allowing them to interact as if they were actually in love) and the brilliance of Puccini's writing. Add in David Farley's simple solution for changing sets in full view of the audience and this is a production I will happily look forward to revisiting in future seasons.
This post was published on the now-closed HuffPost Contributor platform. Contributors control their own work and posted freely to our site. If you need to flag this entry as abusive,
send us an email
.