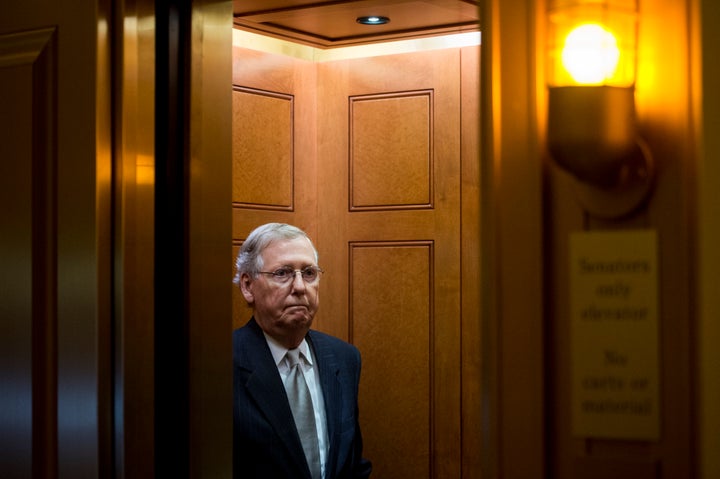 WASHINGTON -- The Senate took the first formal step toward averting a government shutdown Monday, advancing a bill that will keep the federal machine up and running through mid-December -- as long as the House of Representatives goes along with it.
The government will run out of cash at the end of Wednesday if Congress does not act.
The funding got tied up in the push by conservatives to defund Planned Parenthood, but House Speaker John Boehner (R-Ohio) said over the weekend that he would not let the federal coffers run dry.
The Senate voted 77-19 to take up the bill, with all of the "no" votes coming from Republicans.
"It does not represent my first, second, third or 23rd choice when it comes to funding the government," Senate Majority Leader Mitch McConnell (R-Ky.) said ahead of the procedural vote. "But it will keep the government open through the fall, and funded at the bipartisan level already agreed to by both parties, as we work on the way forward." 
McConnell said he would have preferred to defund Planned Parenthood while keeping the government open, but admitted that current political realities make that nearly impossible.
Following Monday's procedural vote, Sen. Ted Cruz (R-Texas), one of the Senate's most vocal conservative critics of McConnell's decision to move a clean bill, tried to offer an amendment to slow down the process, but Republicans and Democrats on the floor objected. 
Senators who still oppose the bill could stall the measure until late Tuesday, although there would be little point, since they are unlikely to defeat the measure. Boehner could move relatively quickly to pass the bill in the House, where there are fewer tools opponents can use to stop passage.
Senate Minority Leader Harry Reid (D-Nev.) said the "path to avert a Republican manufactured showdown" is now before the Senate. He urged lawmakers to support the clean bill. 
"Cooler heads are prevailing," Reid said. He added, though, that the Senate should not have waited until two days before the deadline to move to prevent a shutdown. 
"This last-minute scramble to do our most basic job is as unnecessary as it is reckless," he said.
The funding extends through Dec. 11, setting up another potential showdown. In the meantime, another deadline is looming for Congress to raise the nation's debt limit -- which, according to the Treasury Department, the U.S. has technically already reached. The Treasury says it will soon be unable to pay all the nation's bills if the current limit of $18.1 trillion is not raised between now and early November.
Following Monday's procedural vote, the Senate should take its final vote on the measure by late Tuesday or early Wednesday and then move it on to the House.
 This story has been updated with details about the vote and Cruz's response to it.