Who knew that half of the world's women have given up on their dreams. Recently, across ten major cities in the world, from the Great Wall of China to Seoul's iconic Gangnam and New York's magical Madison Square Park, children inspired adults to remember what it was like to dream when they were young and encouraged them to keep pursuing their dreams.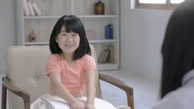 The "Dream Again" events were hosted globally by luxury skincare brand SK-II in response to startling results from the first Global Dreams Index Survey that revealed that half the world's female population has given up on dreams and is not satisfied with their current lives. The findings also inspired the brand to create the heartwarming "Dream Again | SK-II #changedestiny" film.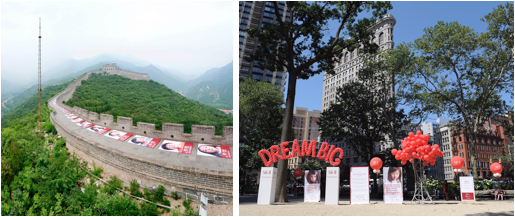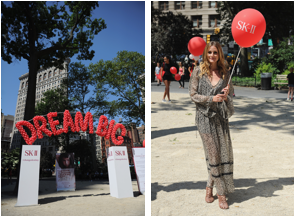 In New York City, children surprised adults by approaching them in Madison Square Park where they counselled them to dream big. Adults were encouraged to share their dreams virtually on social channels and physically on balloons and add to the SK-II "Dream Tree" installation that grew larger throughout the day. New York style influencer, Olivia Palermo stopped by to meet with the inspirational children and share her dream on a balloon. "I am honored to be a part of SK-II's new initiative in support of women pursuing their dreams," says Olivia. Local bloggers, Danielle Bernstein of We Wore What and Arielle Nachmani Charnas of Something Navy, also visited to share their dreams and encourage their millions of followers to continue to dream big.

In Beijing, larger-than-life posters of kids proudly declaring their dreams were plastered across long stretches of the legendary Great Wall of China ― itself a historic symbol of achieving what was once thought impossible. These impactful banners transformed the monumental landmark into a giant installation of dreams, encouraging the masses of Chinese visitors to believe in their right to dream. "The ability to dream is a precious and necessary part of being fully alive. Challenging one's self to pursue and make manifest those dreams can sometimes be far less palpable. So I try to ensure I'm always looking forward and being open to new experiences," says SK-II Brand Ambassador, Cate Blanchett.
The survey of 5,400 women in 14 countries across six continents found that key barriers to pursuing childhood dreams were limited financial support, fear of going out of one's comfort zone and not fitting traditional definitions of success. In contrast, the results highlighted 82% of women around the world who pursue their dreams were satisfied with life and strongly identified personal definition of success with "doing what you love."

The sentiment in Asia was even more alarming with women becoming less satisfied with their lives as they grow older while their Western counterparts were the opposite. Japan (81%) followed by Korea (67%) had the highest number of women who admitted they had stopped pursuing their dreams. While Western countries were above the global average in which 59% of women are pursuing their dreams.

The knowledge that dreams fade with age and adults who still dream are happier than those who don't inspired SK-II to create the "Dream Again | SK-II #changedestiny" film. This is a social experiment featuring children ― who are still full of dreams ― as surprise counselors for dreamless adults.

Throughout the film, it becomes clear how societal limitations and feelings of low self-esteem are preventing many women from pursuing their dreams; interviewees voice how they drifted away from childhood dreams as they grew up and life responsibilities became more demanding. At the end of the experiment, the 'adult expert' is revealed as a cover for young girls hidden behind cameras and earpieces. The dramatic unveil puts the women face-to-face with smiling children who remind them, in simple yet powerful words of encouragement, to never give up on dreams.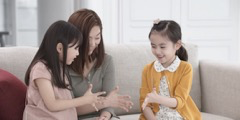 "Dream Again | SK-II #changedestiny" is the latest installment in the brand's #changedestiny campaign, following the success of "Marriage Market", in empowering women to take control of their future and achieve their aspirations. "The #changedestiny campaign challenges the belief that destiny is set at birth and celebrates women who have gone beyond limitations to achieve success," said Markus Strobel, President Global SK-II. "By encouraging women to pursue to their dreams and empowering them to overcome personal and societal limitations, we hope to inspire more women to change their destiny."
Bevs Lim also writes for Lifestle411 and also a top Examiner.
This post was published on the now-closed HuffPost Contributor platform. Contributors control their own work and posted freely to our site. If you need to flag this entry as abusive,
send us an email
.