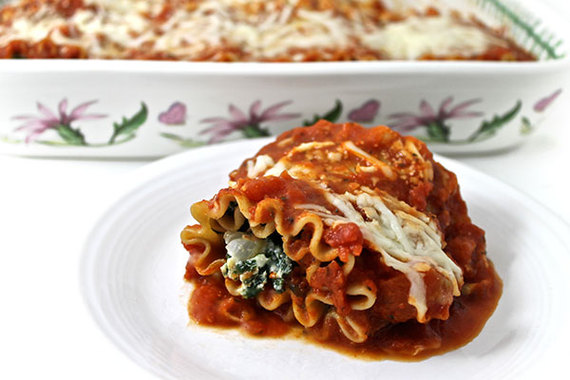 These lasagna roll-ups are so delicious! They're such a cinch to make since they start with a jarred sauce. The whole grain lasagna noodles taste great and add fiber. Each lasagna roll-up has 220 calories, 5 grams of fat and 6 Weight Watchers POINTS PLUS. One is very satisfying and you'll just need to serve with a salad or a vegetable dish. I love serving them with my Super Low Calorie Caesar Salad on a Stick. Enjoy your dinner!
Prep Time: 15 minutes
Cook Time: 35 minutes
Ingredients

9 whole grain or whole wheat lasagna noodles
1 cup onions, chopped
1 (10 oz) package frozen chopped spinach, thawed, drained and squeezed dry
1 (15 oz) container fat-free ricotta cheese or light ricotta
½ cup Parmesan cheese, grated
1 egg
A little salt and fresh pepper, to taste
1 (24 oz) jar pasta sauce, I like Classico Tomato Basil or Prego
⅔ cup part skim mozzarella cheese, shredded
Instructions
1. Preheat oven to 350 degrees. Coat a 9 x 12 baking dish with cooking spray.
2. Cook lasagna noodles according to package directions. Once cooked, rinse and drain. Lay noodles on paper towels and blot them with paper towels to completely dry.
3. In the meantime, on a microwave safe plate or small bowl, add onions and cook in microwave for about 2 minutes, until soft.
4. Combine cooked onions, spinach, ricotta, Parmesan, egg, and a little salt and pepper in a medium bowl. Ladle about 1 cup sauce on the bottom of the baking dish.
5. Take ⅓ cup of ricotta mixture and spread evenly over each noodle. Roll carefully and place seam side down onto the baking dish. Repeat with remaining noodles.
6. Ladle sauce over the noodles in the baking dish and top each evenly with the mozzarella cheese. Cover the baking dish with foil and bake for 35 minutes, or until cheese is melted.
7. To serve: spoon a little sauce on the plate and top with 1 lasagna roll-up.
Makes 9 lasagna roll-ups. Each serving, 1 roll-up
Weight Watchers (old points) 4
Weight Watchers Points Plus 6
SKINNY FACTS: for 1 lasagna roll-up made with fat-free ricotta cheese
220 calories, 5g fat, 31mg chol, 31g carbs, 15g prot, 4g fiber, 532mg sod, 6g sugar
SKINNY FACTS: for 1 lasagna roll-up made with light ricotta cheese
266 calories, 9g fat, 40mg chol, 30g carbs, 17g prot, 4g fiber, 550mg sod, 4g sugar
Note:
1. The nutrition facts were calculated on Spark People.com.
2. The Weight Watchers POINTS were calculated on CalculatorCat.com.
For more Skinny Kitchen recipes, please join me at: http://www.skinnykitchen.com
Follow Nancy Fox on Facebook: https://www.facebook.com/SkinnyKitchen
Follow Nancy Fox on Twitter: www.twitter.com/skinnykitchen