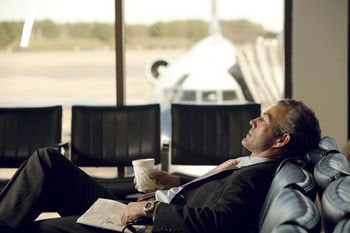 Nothing is more frustrating than traveling
on empty and there's really nowhere to get a cat nap. Lying across three
rows of hard seats in the boarding area doesn't do the trick. Sitting on the
floor and resting your head on your carry-on luggage won't do it either. And if
you don't belong to a 100K club where you can relax in a plusher setting, then
you're trapped.
Until now. Well, in the near future. Maybe.
A Moscow-based company has just released its concept
"Sleep Box"—a capsule mini-hotel that you can rent for 15 minutes or
longer. Perfect for sneaking in a rejuvenating nap.
And get this: it's fully equipped with:
Wi-Fi
LCD display
electrical outlets
a space to store luggage
a ventilation system…and a means to "zap" the interior with a quartz light to kill germs.
Now that's pretty cool. But will we ever see these sleep boxes for real in the real world?
And how will the real world treat these things?
Maybe they can work in airports and places where people have
a reasonable wait time (30-60 min). I'm actually surprised it has taken us this
long to come up with such an idea.
Metronaps,
the Australian and U.K.-based company that makes sleep pods primarily for
workplace settings, haven't really taken off yet in the U.S. and would not be
great in a public place (the pods are sort of futuristic and open to see
people lying down).
Yelo,
a New York based company, offers a place to nap and a reflexology massage that
is awesome. The chair you sit in puts you into a zero-gravity position so you
can completely relax. This is great for an afternoon break or to help with that
lull we all hit between 1 and 3 p.m.
So if you are tired of hitting the vending machine (candy or
an energy drink), the coffee shop, or those hard chairs in the boarding area, this
new concept could be the next great way to take a well deserved nap.