Spring 2011 New York Fashion Week is in full swing, and like the perpetual back to school mindset, the seasons have changed as well. The joke is, is it fall or spring? One of the more annoying parts of the transition is of course, what to wear. We're all living spring backstage, which makes me want to put on clothes and makeup for next year's warm season, but in reality it's getting cooler outside, which led me to wear the wrong outfit today... drat!
The first few shows of the week have been so optimistic: plenty of giggling with artists, models and production people alike, and everyone seems thrilled to be here. It's a time of new beginnings and changes, like trying to find the backstage at Lincoln Center. Do I really walk past this barricade to get to back there? There's no place to work backstage this season, but not enough time to go back to the office. Should I just sit on the floor backstage when I take this call from a show producer in Milan or an agent in Paris? Do we take in stride the new celebrity factor of fashion and book makeup appointments for celebrity guests now on top of just doing shows? The answer to all of the above is yes. Already my family is starting to complain about each other. We still joke over emails, but you can see the sleep deprivation of 6 a.m. call times and junk food lunches are starting to take effect. The first days of sleep deprivation certainly are the hardest, possibly because you still remember what a proper night's rest felt like.

This morning I had a chance to sit and watch a glorious show at the tents in Lincoln Center. Because I was seated in the family and friends section, (next to one of the designer's aunts) -- it was even better then being around the more jaded fashion crowd. She was excited. It was palatable. Suddenly the sleep deprivation seemed worth it.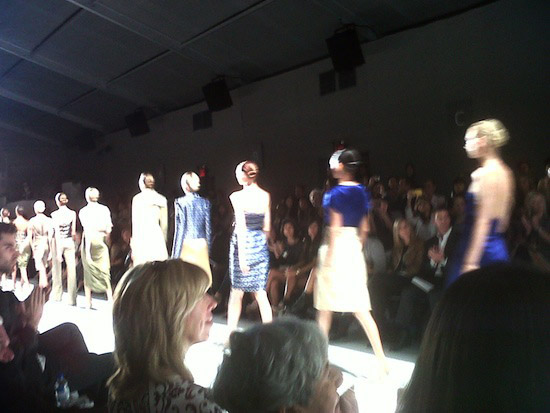 Ruffian collection, Sept. 9