This month I am celebrating the 6th year anniversary of my baby and the 2nd love of my life: my podcast, Story Worthy- a weekly podcast with Hollywood's most creative talents telling true stories, followed by an interview.
When I started podcasting, my real baby, Alabama, was just three years old. Now, 375 stories later, she's heading into 4th grade. Come to think of it, she has never known me not to be recording, editing, booking, posting, writing, and/or talking about Story Worthy.
I've been asked several times what the impetus was for starting the show. Enter the MOTH storytelling show and Adam Carolla. For anyone that doesn't know, the MOTH is a LIVE storytelling show that gives participants an opportunity to get on stage and tell a true 5-minute story on the evening's topic. The stories are then judged and the winner gets a t-shirt. For those of you completely living in a box, Adam Carolla is a brilliant radio personality and comedian who, after getting kicked off terrestrial radio, started his own podcast in 2009. It was these two entities that became the catalyst for me to start Story Worthy. I fell in love with the art of storytelling from the MOTH, and Adam Carolla taught me to find my voice and that podcasting is possible.
I can sum up the last six years in 4 words- a lot of work.
Don't get me wrong; it's been fun work. I've met amazing people, heard fabulous stories, and laughed practically 'milk coming out of my nose' laughed, except I don't drink milk. I've created relationships I could have only dreamed about and, through listening to my bright and talented guests, learned an incredible amount. I'm just saying… it's been a lot of work.
Producing a weekly podcast takes up a huge amount of time. There's booking, scheduling, researching, recording the actual show, editing, artwork, building and maintaining a website and mailing list, posting to social media and finally, promoting the show. Notice that I didn't even touch on sound equipment, which is the primary tool you'd need.
In a perfect world, money would be part of the podcasting equation, and for some, especially successful stand-up comedians, it is. But that is not the rule. The rule is you won't make any money podcasting. You must simply love the art of the medium and be devoted to spending the time it takes to create, maintain and deliver a show. In the podcasting world where consistency matters, this is especially difficult.
Podcasting never ends. It keeps moving forward. Monday comes every week, and you have to put the content out there. You cannot be successful in podcasting if you only post six shows a year. It's not going to happen. There is a diligence to it. People expect the show to drop the same time each week, or whatever the schedule. This is Podcasting 101, and, I have to tell you, it becomes a grind. And guess what? No one is going to fire you. You just keep going and going and going.
After about a year or two of recording your podcast, you begin to think it'll get easier, and in some ways it does. Specifically, you get better at it. You learn what works and what does not work. You learn to trim the fat, get to the good stuff, and move things along. One advantage I discovered from editing Story Worthy is that I can control the annoyances, the glitches. If I hear an audio pop, I cut it out. I know that if I cringe listening to a track, the listener is cringing too. So the good news is, yes, you do get better. But still, it's hard.
You find yourself thinking- I'm sure I can get sponsors on board! Oh really? How? Many people still don't even know what a podcast is. It's changing, but slowly. This is not to discourage anyone considering starting a podcast…it's just a reality check. There are thousands upon thousands of podcasts and to get noticed is harder than ever.
Obviously I couldn't, nor would I want to, talk someone out of creating a podcast if it's their passion. In fact, I encourage anyone who has the desire to podcast to start. But think it thru. Consider the subject matter, the logo, the sound, the guests, the length, and the website. Set up a schedule and a game plan. Get good sound! Stockpile episodes. Keep the shows evergreen, not topical if possible, so you may get future downloads. Listen to other podcasts! Then guess what? Podcasting may just pay off, if not financially, at least artistically. It's taught me what I really want to do in life- I want to interview interesting people and entertain. And let me tell you, so far I've had some remarkable experiences.
Over the years I've had the opportunity to sit down with accomplished writers like Phil Rosenthal, David Wild, Kelly Carlin, Annabelle Gurwitch, Peter Mehlman, Frank Conniff, Jon Hotchkiss, Laura House, Tracy Newman, Michelle McNamara, and Ken Levine. I've literally peed my pants laughing while listening to comedians like Cathy Ladman, Ed Crasnick, Steve Cooper, Matt Oswalt, Frank Nicotero, Theo Von, Jimmy Dore, Todd Glass, Jackie Kashian, Henry Phillips, Paul Mecurio, Greg Behrendt, Susanna Brisk, Kira Soltanovich, Darren Carter, Brandt Tobler, Fortune Feimster, Rick Overton, Phil Hendrie, Jennifer Vally, Dana Gould, and I even got to interview my hero- Adam Carolla.
One of the most memorable episodes was when my daughter came into the studio to meet her idol- actress Wendi McLendon-Covey from Alabama's favorite TV show "The Goldbergs." Bama proceeded to host her own segment "8 Questions From an 8 Year Old" which included the riveting question "What's your favorite flavor of ice cream?" (Wendi likes Brazilian Coffee Crunch.) Other wonderful actors that have told stories on Story Worthy include Dave Koechner, Naomi Grossman, Fred Stoller, Toby Huss, James Urbaniak, Jennifer Lafleur, Wayne Federman, Iris Bahr and Suzanne Krull.
The stories have been amazing, both the small stories and the larger, more dramatic ones. To recap a few- legendary boxer, Sugar Ray Leonard shared stories about his father and asked me about my own dad just a few months after my dad passed away. Comedian, Pauly Shore talked about growing up in the legendary Comedy Store and actor Kurt Yaeger told the story about losing his leg in a motorcycle accident. Filmmaker, Bobcat Goldthwait talked about performing for the Insane Clown Posse Juggalos and actor Jim Beaver sat in my dining room and talked about losing the love of his life to lung cancer and subsequently raising his daughter alone. Entertainer, Yakov Smirnoff talked about his famous painting "America's Heart" (and later I dated him.) "You buried the lede!" (That would be my co-host Hannes Phinney chiming in.)
I've learned about Hollywood and show business from many (if not all) of my guests, including celebrity stylist Jen Rade, celebrity hair colorist Marco Pelusi, Hollywood manager Barry Katz and commercial director Jordan Brady. As a closeted rock n' roll star myself, I've been thrilled to have musicians like Pearl Aday, Lynn Drury, Janet Robin, Jim Wilson and the one and only John Thomas Griffith tell fantastic stories and then rock out a song right in front of me. Man, I've been fortunate!
I've been asked if I ever had to take a story down and the answer is yes. The guest was a well-known comedian and his story was about a long distance relationship he had with a woman with three kids from three different fathers. The relationship didn't last because, although the woman was funny and smart, my guest came to the conclusion she was not a very good mom. He never mentioned her name, but he did say where she was from, and it was pretty specific. The story had all the elements of a good story- drama, love, sex, and travel. I was captivated to hear how he found himself in this situation and how he got out of it. However, a week after the episode went up, the comedian got a call from the ex-girlfriend saying that one of her baby daddy's heard the show. He was going to submit the podcast for the courts to hear and attempt to have custody of the child taken from her. We took the episode down and the comedian came back and told a different story. 
There have been many people who have helped me along my podcasting journey that I want to acknowledge and thank. My co-host Hannes Phinney is obviously, the first person. Loyalty is a tough thing to find in Los Angeles. Everyone has their own agenda- but Hannes shows up for me time and time again and is on top of his game with sharp observations and hilarious off-the-cuff comments. Thank you to my dear friend and co-host Hannes Phinney!
Sideshow Network took Story Worthy on as a content provider in May of 2013. With their help and the professionalism of employees like Roddy Swearngin and Shawn Marek, I was able to take Story Worthy to a new level. Having a network has definitely been an advantage, not only for their recording facility, sound engineers, and promotion, but for the idea and support that you are not doing it completely alone. There is someone taking notice. Thank you to everyone over at Sideshow Network!
A big hug and thank you go out to musician John Thomas Griffith. John Thomas allows me to use his song "Follow Me" with absolute immunity. He also created the music to my game Shotgun Story Worthy and the opening riff. Plus, John Thomas is a fantastic tennis player and a dear friend. Look for John Thomas touring with Cowboy Mouth all around the country.
Do you recognize the announcers voice at the top of every episode of Story Worthy? That's writer and voice over artist Bill Ratner. Now that guy is talent! Take a look at his website, billratner.com, and discover for yourself. Plus, he has appeared at least three times on the show. Thank you for your professional pipes and stellar storytelling Bill!
Here's something that can't be overlooked- Artwork. When someone is looking at a podcast logo on a phone or tablet, it may be as small as a sixteenth inch in diameter. The logo needs to be clear and it needs to stand out. Thank you to my best friend and woman I share a birthday with, graphic designer Carolyn Brunetto. Carolyn has literally created a style-guide for Story Worthy, and I am forever grateful.
I also want to acknowledge my first sound engineer Jorge Reyes. Jorge and I worked together the first three years of my show. He'd trudge his equipment over to Los Feliz and up the stairs to my 2nd floor apartment every week making sure the audio was clear. Jorge is a pro through and through, and I can't say enough about him. Do you hear me?
Chicago born Joe Slepski is the only intern I've had that really pulled his weight. Joe came to dozens of Story Worthy recordings and live shows. He always had great ideas and was the first person to help me figure out the metrics and demographics of Story Worthy's audience. Thanks Joe!
Most of all, thank you to the Story Worthy fans! If it weren't for my loyal listeners, I don't know if I would go on. Yes I would. I love podcasting. But still…thank you for subscribing, rating, and reviewing Story Worthy on iTunes. It's a good feeling to get the feedback, good and bad.
Finally, if you're not a listener to the program, I encourage you to give it a shot. Story Worthy is totally free and available on iTunes, Sound Cloud, Stitcher and everywhere major podcasts are found. Plus of course, you can find us on Twitter, Facebook, and Instagram, @storyworthy.
Thanks again everybody. Viva podcasting! And make it a Story Worthy week!  xoxo, Christine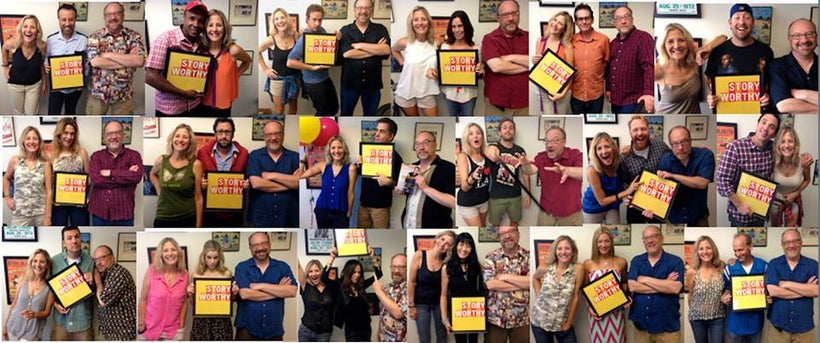 This post was published on the now-closed HuffPost Contributor platform. Contributors control their own work and posted freely to our site. If you need to flag this entry as abusive,
send us an email
.