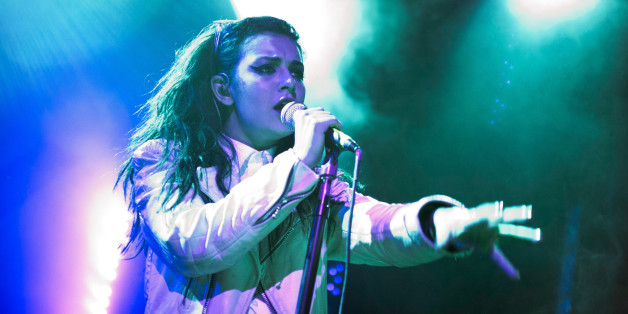 We are so sick of talking about "Fancy." It's not the song of the summer we deserve, but it's the one we got. Here's what should have dominated the charts in a weird, alternate universe's summer.
"Boom Clap" by Charli XCX

The breakout track from "The Fault in Our Stars" soundtrack will never get out of your head.
"Not On Drugs" by Tove Lo

The scribe behind some of Icona Pop's biggest hits wrote her own catchy hook about how love is better than drugs. *Click*
"Club Goin' Up On a Tuesday" by Makonnen ft. Drake

Drake remixed the hit to make sure every day was basically Tuesday this summer.
"All the Rage Back Home" by Interpol

The first song off "El Pintor" proves it's okay to pretend like we live in 2004.
"Chandelier" by Sia

Any song that can bring "Dance Moms" and Lena Dunham together to celebrate Sia's "social phobia" rules.
"Go" by Grimes ft. Blood Diamonds

Grimes wrote the song for Rihanna, but then turned it into the summer's best freaky dance track.
"Do You" by Spoon

Spoon is still good.
"Do It Again" by Röyksopp and Robyn

It doesn't have "Dancing On My Own" traction just yet, but as the title track from Röyksopp and Robyn's joint project, it's the best reason to yell, "NEW ROBYN!"
"0 to 100" by Drake

Turn everything up for Drake.
"Can't Do Without You" by Caribou

Because the guys in Bombay Bicycle Club and Cut Copy thought so too.
"Two Weeks" by FKA Twigs

Dare you to say this isn't the sexiest song of the summer.
"Just One of the Guys" by Jenny Lewis

Jenny Lewis came out swinging with "The Voyager," and its single sets her up for another era of indie pop praise.
"The Dealer" by Stevie Nicks

She's ba-ack! Nicks will release her new/old album "24 Karat Gold: Songs From The Vault" in October.
"OctaHate" by Ryn Weaver

Before the summer she was basically unknown, but her EP, produced by Benny Blanco, Cashmere Cat, Charli XCX and Passion Pit's Michael Angelakos, is the all-caps kind of FUN.
"Anaconda" by Nicki Minaj

Nicki Minaj's ode to butts is as good as she promised it would be.
"Break Free" by Ariana Grande ft. Zedd

The second single from "My Everything" is a space rave with Zedd. Come on ...
"Shower" by Becky G

"Shower" wobbles over the "Call Me Maybe" line, but in this case, that's for the best.
"Break the Rules" by Charli XCX

If this isn't an end-of-summer anthem, then nothing is.
"Stay with Me" by Sam Smith

::SOBS::
BEFORE YOU GO
PHOTO GALLERY
Artists To Know In 2014