Back in April, while snow fell in Boston, I was calculating the correct ratio of shorts to jeans to bring with me on my upcoming June adventure to Fairhope, Alabama, where I would be the Wolff Cottage Writer-In-Residence at the Fairhope Center for the Writing Arts (FCWA). My playlist at the time included Alabama Shakes and any song with Alabama in it, starting with, of course, Sweet Home Alabama, and The Doors version of Bertolt Brecht's Alabama Song (Whisky Bar).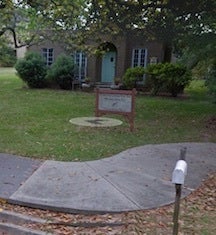 Around that time, The Daily Show was airing its Alabama Week, and a google alert linked me to the April issue of Garden & Guns where Fannie Flagg, Birmingham native, and author of such novels as Fried Green Tomatoes at the Whistle Stop Cafe, posted, "Fannie Flagg's Fairhope: Why the author loves Alabama's utopia by the bay—and thinks you should too."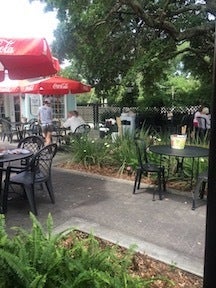 Like most writing residencies, the Wolff Cottage program provides authors with a place to focus on their writing. Sure, I welcome the opportunity to get a lot of work done. But I've been here less than a week and I can assure you that FCWA is much more than that. It's about the people and the place. And both are exceptional. I landed in Pensacola and after a very cool New England spring, I was greeted by summer.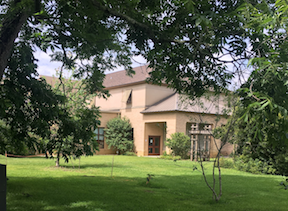 Waiting for me at the airport was FCWA board member and my local contact, Margaret Davis and long time Fairhope resident Nancy Jones. As we headed west, the two women pointed out changes to the southern landscape that included once abundant peanut farms that were now housing developments.
We arrived at Wolff Cottage, located in the heart of Fairhope, I was handed off to Skip Jones, president of FCWA. Surrounded by azaleas, magnolias and camellias, this one bedroom bungalow has hosted many authors, including Rick Bragg, Tom Epperson, and Daniel Wallace. The cottage is also in the backyard of Fairhope's awesome public library where I will be offering a writing workshop next Thursday evening, June 15.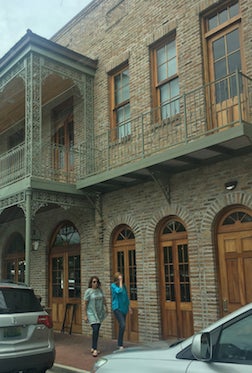 Skip Jones took me on a tour of the area and explained how Fairhope was founded in 1894 as a Single Tax Colony. The goal was to create a utopian society that preserved the value of land for the whole community and gave everyone a fair hope at life. The Colony was based on the theories of economist, journalist, and social reformer Henry George, who wrote Progress and Poverty in 1879. When the experiment could not sustain itself, the City of Fairhope was incorporated in 1908 with much of its infrastructure built and deeded to it by the Colony. The Fairhope Single Tax Corporation continues to operate as a not-for-profit and still owns about 4,500 acres of land in and around Fairhope. Read more here.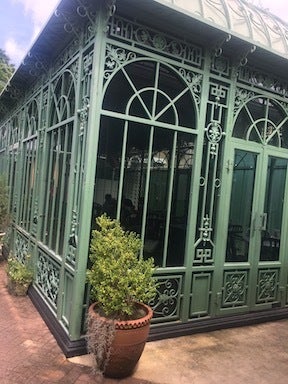 Fairhope's compact downtown offers an impressive variety of culinary choices, coffee shops, a French Quarter, and bookshops. I am making my way through the coffee shops and the beignets and am almost certain it will be impossible to find a favorite. But I will persevere.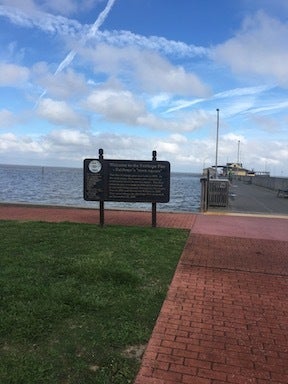 And then there is the bay. Within walking distance of the cottage and downtown is the Fairhope Municipal Pier and the cliffs and shoreline of Mobile Bay.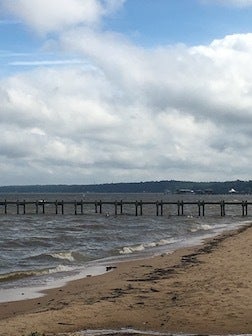 Nearby Point Clear boasts the historical Grand Hotel, built in 1847. Original guests arrived by steamboat and docked at what is now the marina. In 1864, during the Civil War, a portion of the hotel became a Confederate hospital.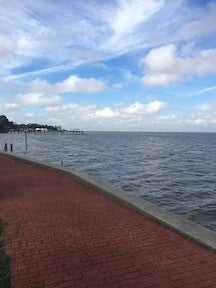 In the few days following my Skip Jones tour I have acquired a used bicycle, joined a local gym, and discovered that it is only humid here when I am outside.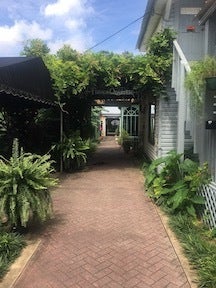 I also met with Margaret Davis' long running book group who had read my novel, Finding Bluefield. Hosted by the gracious Nancy Jones, we feasted on her crab salad, discussed my novel, and shared our stories. These women, to use a term I overheard in a coffee shop, are LA Women, Lower Alabama women. Friendly, opinionated, smart, and funny.
That's it for now. More next week.
Elan Barnehama's new novel, NO SMALL WONDER, is in search of an agent. NO SMALL WONDER, set in New York City against a background of the late 1960's, is narrated by Zach, a first generation US, son of holocaust survivors, as he navigates high school, the war in Vietnam, and finding an escape route for when the US starts rounding up its Jews. More at elanbarnehama.com
This post was published on the now-closed HuffPost Contributor platform. Contributors control their own work and posted freely to our site. If you need to flag this entry as abusive,
send us an email
.