Square just did something that's unfortunately very unusual in the tech startup world: On Tuesday the 6-year-old mobile payments company announced it was appointing a black woman to its board of directors.
Former Brown University President Ruth Simmons will be the board's second female director, joining tech guru Mary Meeker. She will also be Square's second black director. Basketball legend Earvin "Magic" Johnson also sits on Square's board. 
Simmons has held a string of impressive positions in academia. She served as president at Brown University from 2001 - 2012 and as president of Smith College from 1995 - 2000, where she launched the first engineering program at an American women's college. She's also worked at the University of Southern California, Princeton University and Spelman College. Nowadays she's on the boards of Texas Instruments, Chrysler and food multinational Mondelez. 
"Ruth has inspired generations of young people to follow their dreams, break down any barriers that stand in their way, and make an impact in their communities," said Square's co-founder and chief executive, Jack Dorsey, in a statement. "I know she will bring that same passion to Square."  
Having two women on a board is an extreme rarity in the startup world. Most tech startups have, at most, a single female board member. In fact, none of the private billion-dollar startups, known as "unicorns," have more than one woman on their board, according to a recent analysis done by Fortune. 
Simmons' appointment comes amid talk of Square's plans to go public and stands in contrast to what happened right before Twitter, the last company Dorsey founded, filed its initial public offering in 2013. At that time, the social media company was called out for having no female board members. Twitter finally appointed a woman -- Marjorie Scardino --  a few months after going public. She remains the company's only female board member. Dorsey is currently serving as Twitter's CEO, as that company searches for a permanent chief executive.
Having just a single woman or minority member on a board can be problematic, as I explained in this story for HuffPost last month. Being the only woman or black person on a board can mean you're treated as the sole representative for an entire demographic. So instead of getting asked for input based on business expertise, women and minorities might just get asked for the views of their demographic. "Hey, Mary, will women like this new feature?" etc. It's generally agreed that you need at least three women or minority members to get over that hump.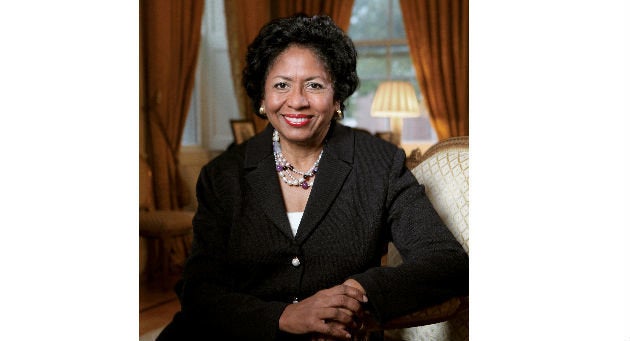 Ruth Simmons is joining Square's board.
It's even more uncommon to have an African-American sit on a startup's board. Indeed, it's unusual to see a black person on any company's board. Several major tech outfits including Facebook and Apple have no black board members. It's also worth noting that both the social network and the iPhone maker have a huge number of black customers. 
In fact there are 74 companies with no black directors on Standard & Poor's 250 index, according to a study from last year.  
Square declined to make its overall staff diversity numbers available. The firm does have a few women in leadership positions including chief financial officer Sarah Friar, business lead Francoise Brougher and engineering lead Alyssa Henry. The startup also has a number of programs aimed at getting more women into tech: College Code Camp and High School Code Camp among them.
The other members of the company's board include Dorsey, former Treasury Secretary Larry Summers, David Viniar, Vinod Khosla, Jim McKelvey and Roelof Botha.