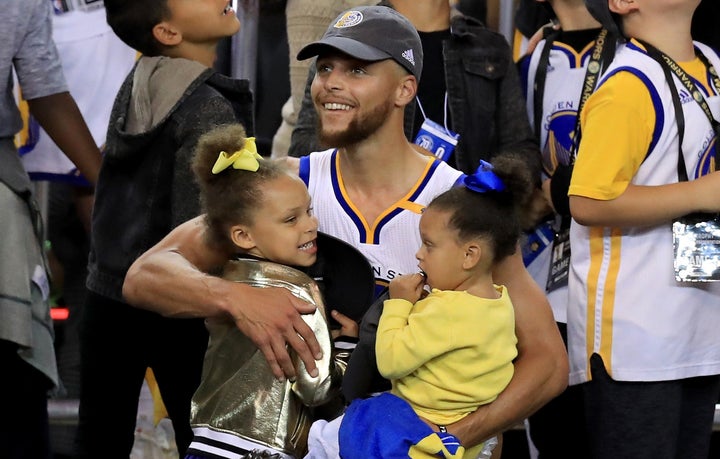 Stephen Curry is beginning to value gender equality a bit more these days. 
"I'd be lying if I didn't admit that the idea of women's equality has become a little more personal for me, lately, and a little more real," the Golden State Warriors NBA player wrote in an essay for The Players' Tribune published Sunday. 
Curry, 30, opened up about raising his son, Cannon, and two daughters, Riley and Ryan, in a heartfelt essay for Women's Equality Day, celebrated on Aug. 26. While raising Riley and Ryan has opened his eyes more to the sexism women face in the United States, Curry wrote that he hopes that more men can come to this conclusion before they have daughters. 
"I think it's important that we all come together to figure out how we can make that possible, as soon as possible. Not just as 'fathers of daughters'; or for those sorts of reasons. And not just on Women's Equality Day. Every day ― that's when we need to be working to close the pay gap in this country," he wrote.
"Because every day is when the pay gap is affecting women," Curry continued. "And every day is when the pay gap is sending the wrong message to women about who they are, and how they're valued, and what they can or cannot become." 
The star NBA player wrote that he's learned just how hard it is to be a woman in this country after watching his mother, Sonya, and his wife, Ayesha. 
"One lesson from that education that's really stood out to me is: to always stay listening to women, to always stay believing in women, and ― when it comes to anyone's expectations for women ― to always stay challenging the idea of what's right," Curry wrote. 
Now, as a father, Curry realizes the herculean task he has in front of him to raise daughters that know they are just as equal to men. 
"I want our girls to grow up knowing that there are no boundaries that can be placed on their futures, period," he wrote. "I want them to grow up in a world where their gender does not feel like a rulebook for what they should think, or be, or do. And I want them to grow up believing that they can dream big, and strive for careers where they'll be treated fairly. And of course: paid equally."
He added that he plans on teaching the same values to his son, with the addition of being an active, vocal supporter of women's equality. 
"I think you teach him to always stay listening to women, to always stay believing in women, and — when it comes to anyone's expectations for women — to always stay challenging the idea of what's right," Curry wrote. "And I think you let him know that, for his generation, to be a true supporter of women's equality — it's not enough anymore to be learning about it. You have to be doing it."