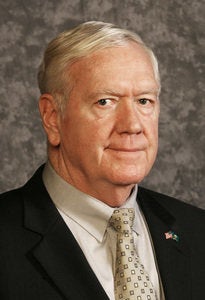 A Kansas state senator who caused a furor when he compared Planned Parenthood to a Nazi concentration camp is now running for Congress.
Steve Fitzgerald, a conservative Republican from Leavenworth, announced Saturday that he will seek the seat for the 2nd Congressional District in 2018, according to the Topeka Capital-Journal.
The seat is currently held by Republican Rep. Lynn Jenkins, who has decided to retire from public service, according to the Kansas City Star.
Fitzgerald will be running against at least one other Republican: Vernon Fields, a city council member in Basehor. However, Fitzgerald has the higher national profile, if only because of comments he made about Planned Parenthood last month.
He wrote a nasty response upon discovering that someone had made a donation to the women's health organization in his name.
"It is with great dismay that I received your letter that a donation was made in my 'honor' to your heinous organization," Fitzgerald wrote.
"This is as bad ― or worse ― as having one's name associated with Dachau," Fitzgerald wrote. "Shame on your organization and shame on anyone that would attempt to blacken my name in this manner."
The letter was tweeted out by Planned Parenthood Great Plains.
Fitzgerald brought up Nazis again during an interview with the Kansas City Star.
Fitzgerald has offended other groups since he first ran for the Kansas state senate in 2012. During his first campaign, he told voters that Democrats should not be Catholic.
BEFORE YOU GO
PHOTO GALLERY
18 Distressing Things The GOP Has Said About Planned Parenthood