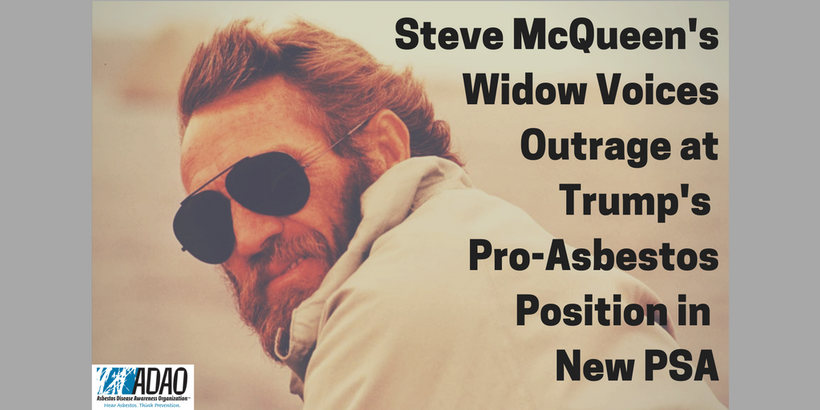 The Steve McQueen we know and love was a bonafide badass. Leather jacket, motorcycle, the works — and the attitude to match, both onscreen and off. Steve once famously said, "When I believe in something, I fight like hell for it."
Since Steve's life and fight was cut so suddenly short by asbestos-caused mesothelioma, his widow Barbara McQueen has taken up the fight against his killer. With a newly released anti-asbestos PSA video, she is adding her powerful voice to the conversation at a crucial moment.
Despite the fact that asbestos kills an estimated 15,000 Americans every year — from construction workers to schoolteachers to movie stars — it still hasn't been banned in the U.S. In fact, we still import tons of raw asbestos for manufacturing and millions of dollars worth of asbestos-contaminated products.
In 2016, historic (and bipartisan, believe it or not) legislation brought us closer than ever to finally getting asbestos banned. But under Trump, the U.S. Environmental Protection Agency (EPA) has taken a drastic pro-business, anti-science turn and threatens to undo years of hard-fought but collaborative progress.
President Obama earmarked asbestos as the litmus test for success when he signed the Lautenberg Chemical Safety for the 21st Century Act (LCSA) into law last June. He posed the idea of an asbestos ban as a no-brainer with the bolstered regulatory power LCSA gave to the EPA. The EPA echoed that sentiment in November — while still being led by Obama-appointed Administrator Gina McCarthy — by prioritizing asbestos as one of the first 10 chemicals for evaluation and regulation under LCSA.
Trump, on the other hand, has publicly praised asbestos as a quality "100% safe" building material for years, and suggested that the campaign to ban asbestos is led by the mafia. All this in spite of the fact that Trump himself has been sued by former contracted employees for dangerous work conditions, including "choking clouds of asbestos dust."
When Trump took office, he appointed Oklahoma Attorney General Scott Pruitt to lead the EPA, despite the fact that Pruitt had sued the agency 14 times in his capacity as state AG and is a climate change denier.
During his confirmation hearing, Pruitt was asked directly if he would ban asbestos, or if he would defer to the President's affinity for the known carcinogen. Pruitt repeatedly refused to offer a clear answer.
Since being confirmed, Pruitt has proceeded to staff his EPA with like-minded industry insiders, whose job histories and track records suggest a heavy business bias.
Nancy Beck, the new Deputy Assistant Administrator of the Office of Chemical Safety and Pollution Prevention (OCSPP), is a longtime chemical industry executive. She left her senior policy director position with American Chemistry Council (ACC) to join the EPA. Decades have proven that the ACC is one of the major trade industries fighting protect the use of asbestos in American manufacturing. Most recently, Michael Dourson has been tapped to lead the OCSPP. Dourson left a previous post at the EPA in 1995 to found the nonprofit Toxicology Excellence for Risk Assessment (TERA), which has "close ties to chemical manufacturers, tobacco companies and other industry interests," according to the Center for Public Integrity (CPI).
"TERA goes out of its way to describe itself as a nonprofit, to emphasize it works for government, not just industry…when in fact [Dourson] and his group engage in industry-funded activities all the time," Richard Denison, lead senior scientist at the Environmental Defense Fund (EDF), told CPI.
This caliber of EPA leadership coupled with the Trump administration's anti-regulatory agenda draws the future of health and environmental policies into question.
For asbestos, this means that — despite decades of damning evidence — the current regulatory evaluation process could quite easily be derailed by industry-backed junk science and rubber stamped by a series of Trump yes-men.
Asbestos-caused cancers are preventable, but Barbara and I both had to bury our husbands because of this deadly mineral. We're refusing to stand back and let this unconscionable negligence continue.
Our story could become your story. Until we have a ban on asbestos, we continue to expose more Americans, young and old, to deadly asbestos. Help counter the alternative facts and fake news on asbestos by sharing Barbara's important PSA with your friends and family. Find more resources at www.adao.us.
This post was published on the now-closed HuffPost Contributor platform. Contributors control their own work and posted freely to our site. If you need to flag this entry as abusive,
send us an email
.