Borrowers were at greater risk of defaulting if their student loans were handled by the Department of Education's main loan contractor than if they had dropped out of college or failed to complete a single class, according to a startling new report released Monday.
The study from the Association of Community College Trustees provides an unusual look into why some people default on student loans. Using previously confidential data, researchers examined all students who borrowed from the federal government to attend community colleges in Iowa and whose loans came due between October 2010 and September 2011. Nearly 28 percent of those loans ended up in default by January 2015.
The report adds to a growing body of evidence that the Education Department is failing to properly police its loan contractors. Serious delinquencies in the largest student loan program are on the rise, while about one-fifth of all student borrowers are in default on their loans -- troubling trends at a time when the economy is growing and unemployment is falling.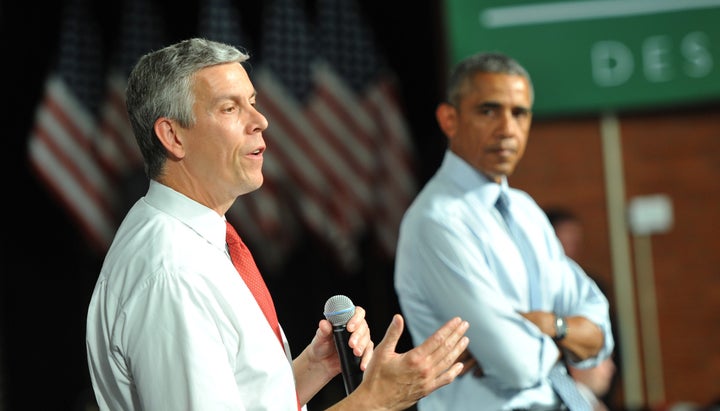 In response to widespread complaints and its own findings, the Consumer Financial Protection Bureau is widely expected to announce that it will develop new rules to govern the $1.3 trillion student loan market, including the roughly 90 percent of outstanding loans either owned or backed by the Education Department.
Deputy Treasury Secretary Sarah Bloom Raskin appeared to endorse the CFPB's expected efforts during a Monday speech in Indianapolis to nonprofit credit counselors.
"Unfortunately, neither private nor federal student loan servicers have ... exactly been wrapping themselves in glory these days," Raskin said in prepared remarks. "Repairing this system before it does further harm to borrowers is a must. This is primarily the responsibility of the servicing industry and the agencies that contract with them."
The Education Department expects to pay its loan servicers $804 million this year, spokeswoman Dorie Nolt said in August.
Last year, the department revamped its agreements with loan contractors to pay them more money in a bid to improve how borrowers are treated and to minimize loan defaults. Unlike other consumer debt, federal student loans aren't in default until there have been 270 days, or nine months, of no payments. That lengthy period of time, plus the availability of federal plans that allow monthly payments based on borrowers' earnings, has led some officials to question why borrowers default at all.
Yet among the loans examined by the community colleges' report, default was the most likely outcome for those serviced by the Education Department's longtime exclusive loan contractor, ACS Education Solutions.
Some of the report's findings confirm widely held beliefs -- that college dropouts are more likely to default than borrowers who earn an educational credential and that dropouts generally borrow little money compared to those who complete their programs. But in a twist, researchers found that the highest rate of default occurred among borrowers whose loans were serviced by ACS Education Solutions, which is now part of Xerox.
Some 73.1 percent of the 4,596 borrowers whose loans ACS serviced had defaulted by September 2013, according to the report. Nearly three-quarters of those defaults occurred within the first year that payments were due. (Where a loan was serviced by more than one company, the report credited the default to the last loan servicer on the file.)
The Pennsylvania Higher Education Assistance Agency, which is more commonly known as FedLoan Servicing, had the next highest default rate among Education Department contractors at 21.8 percent.
The 73.1 percent default rate was the highest cited in the report for any single factor the researchers looked at.
Borrowers who made no payments on their loans defaulted at a 45.8 percent clip during the period examined (the other 54.2 percent had probably entered a program that let them delay their payments). Those who didn't earn any educational credential defaulted at a 35.9 percent rate. Even those who failed to earn a single academic credit defaulted at a lower rate -- 58 percent -- than ACS borrowers.
Kevin Lightfoot, a spokesman for Xerox, said the ACS default rate in the community colleges report wasn't indicative of the company's overall performance. He noted that the loans examined represented only a small portion of the company's loan portfolio. In addition, he said, because the Education Department was transferring loans from ACS to other companies during the period studied, its default rate may not represent the full population of borrowers it serviced.
"We followed [Federal Student Aid division] guidance and policies regarding loan default," Lightfoot said.
The Education Department's contract with ACS ended in July 2014 and all of the company's loans had been transferred by the end of August 2013, according to Nolt, the department spokeswoman. ACS's default rate in the report may be elevated because of the way the department transferred loans to other contractors, Nolt added. Delinquent loans were the last to be transferred, she said, meaning that ACS was servicing a riskier population than its peers.
"We don't know for certain because we haven't had time to dig into the data fully," Nolt said. The Association of Community College Trustees had previously briefed the Education Department on its findings.
The department paid ACS nearly $1.4 billion under its contract during the fiscal years 2008 to 2014, federal records show. The contract was once valued at potentially more than $2 billion.
The Education Department's inspector general criticized the department in August 2015 for failing to hold ACS accountable for some of its allegedly shoddy work. Two years earlier, the inspector general had determined that the department failed to properly monitor loan servicers' compliance with their contracts.
Nolt didn't make available for interviews the two department officials who oversee the student loan program: Ted Mitchell, undersecretary of education, and James Runcie, chief operating officer of the Federal Student Aid division.
Last year, the Education Department spared some colleges from sanctions linked to their former students' high loan default rates by excusing defaults that may have occurred due to questionable servicing practices. 
Nolt said the department would not similarly spare ACS borrowers from some of the punishing effects of a student loan default, such as ruined credit reports or, in some states, loss of occupational licenses.