Who wants to spend an hour prepping a pie or baking a cobbler as an after-dinner treat? Sure, the effort can yield some pretty impressive results, but summer is a time when you should be enjoying the outdoors, not pining after it from the kitchen. So, keep things simple. This low-maintenance frozen dessert is just as satisfying as any, plus it can double as a sweet cocktail if happy hour's calling your name.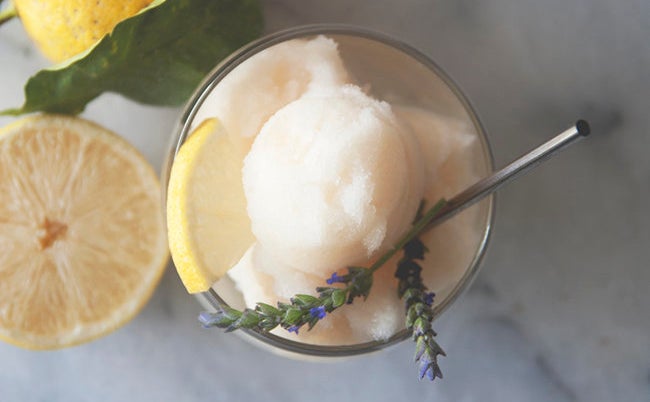 2 - 3 lemons, peeled (keep the peels) and juiced (about 2/3 cup)
1 Tbsp. lavender flowers *
Vodka or gin, to taste (optional)
Make lavender-infused simple syrup: Combine lemon peels, sugar, water and lavender in a pot over medium heat, stirring until sugar is dissolves, about 10 minutes. Take off heat and let the syrup cool, then strain.
Add the lemon juice, stir together and pour into one ice cube tray.
Freeze the infused lemon mixture overnight.
When ready to serve, put the lemon ice cubes in a blender or food processor. Crush until soft, and serve the treat in deep cups with spoons and straws. Enjoy as a refreshing dessert, or add vodka or gin to create a frozen cocktail.
* Instead of lavender, you may use rosemary or any herb you like. Other flavor combinations could include: lime and mint, strawberries and basil, grapefruit and rosemary, pineapple and cayenne, etc.
PHOTO GALLERY
Outrageous Chocolate Desserts