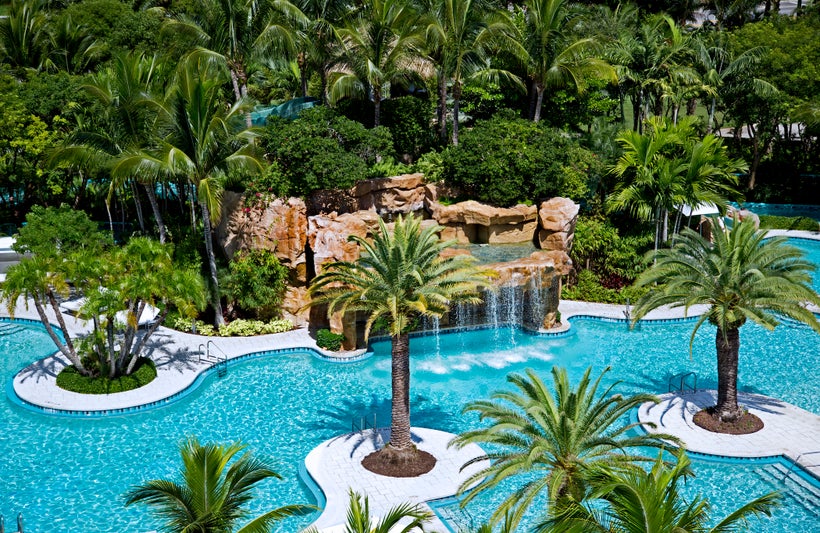 As someone lucky enough to do this for a living, I've narrowed the daunting list of amazing spas all over the world down to the very best 11. From Miami to Marrakech and from Manhattan to Mexico, truly great spas transcend language and cultural differences. Are you ready for next-level pampering and real results?
Âme Wellness Spa at Turnberry Isle (Aventura, FL)
With its recent multimillion-dollar renovation, Âme Wellness Spa, situated just north of Miami, is a state-of-the-art, East meets West haven that incorporates a medi-spa featuring surgical and facial aesthetics, plus general medicine alongside a first-class gym that includes yoga and Pilates classes, steam, sauna and a must-try salt suite.
My stellar tech proceeded to perform an all-in-one Hydra Facial and vacuumed out the pores on my sun-affected mug, lifted the sagging areas and infused some much-needed serums for plumping and brightening, bringing my face back to center and prepping me for some real skincare aesthetics magic to begin. I chose two signature Âme treatments known for producing get-noticed results. First, The Cure (enzymatic cleansing, detox and luminous hydration) and then, The Alternativa Facial, which uses the professional Inhibit Collection from Natura Bisse, utilizing a renowned wrinkle reduction system, a patented "tuning fork'" as a credible, non-invasive alternative to surgery if performed throughout the year. It's also great for keeping a prior surgical procedure from regressing and staying looking fresh-faced. Simply amazing.
The Spa at La Mamounia
 (Marrakech)

Can you handle being treated like the royalty you were meant to be? Then, The Spa at La Mamounia—the complete deluxe Hammam experience, followed by a soothing Tadelakt massage—was made for you. True Hammam is a 
long detoxification period (a full hour) involving hot water and specialized black soap, followed by an intense body scrub and deep steam bath for an internal detox. Yes, please.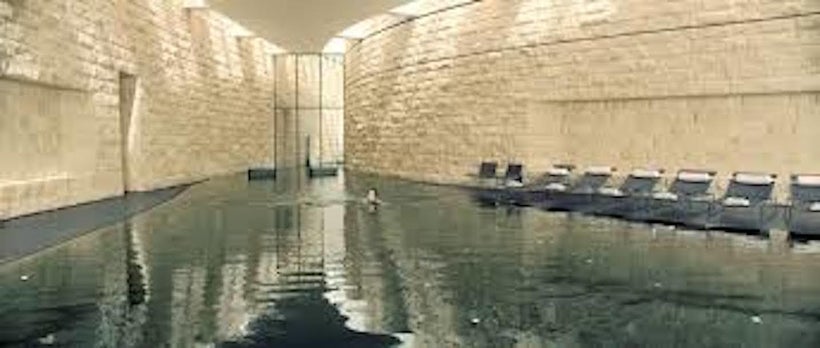 The Dolder Grande Spa (Zurich)
For citified hotel resorts, Dolder Grand would be my absolute pick for heaven on earth. It's an expansive, renovated palace hotel that sits above the city of Zurich. Yet its main salons and public spaces have a boutique-chic, NYC townhouse feel. The Spa is beyond. It's calibrated circuit of steam room caves with light therapy are his-and-hers gym-adjacent, as each are also equipped with the pounding-cold waterfall plunge and other gratis amenities including a stunning, pure, indoor lagoon pool. The outdoor Jacuzzis are set up under the stars like VIP table service at the ritziest nightclub. The Dolder Grand Spa itself is absolutely over the top. Every possible anti-age body massage service and turn-back-the-clock skin service is available, from minor upkeep to a head-to-toe restorative transformation with Swiss medical-grade skin doctors, MDs and surgeons. While there, chances are you'll be outnumbered by titans of industry, a handful of heiresses and even a few under-the-radar royals for good measure. You can literally leave as an entirely new person. It's that good. And being home to the annual culinary extravaganza, The Epicurean, and a $3 billion art collection is all the more reason to check in.
Veronica Skin & 
Body Care Spa at Malibu Beach Inn (Malibu, CA)
Located on the segment of prime walking sand referred to as Billionaire's Beach, Malibu Beach Inn was purchased from Hollywood mogul David Geffen by Mani Brothers. Lucky for us, maintaining this excellence wasn't enough—their detailed renovations actually raised the bar even further. This spot boasts the absolute finest, most comfortable, secure and indulgent spa experience I've ever encountered—and that's saying something. Veronica's facial menu may be short, but it packs a punch! The spa's Intraceutical
 Oxygen Facial will eliminate traces of 
aging and fatigue, and the technician performing the service is an expert—
we're in the best hands, literally. I've 
seen people in a grateful overflow of 
tears, in awe of their transformation after an Oxygen Facial. The LED light-infused Gold Stem Cell Facial is terrific for an ongoing, elevated anti-aging program.The Diamond White Facial is another experience you need to try, because it clears the slate—lines, spots, uneven tone, sagging, lackluster skin, everything. Even good skin shows impressive radiance and freshness after one of these must-do treatments.
Guerlain Spa at The Plaza Hotel (New York City
)
The Orchidée Impériale Prestige Treatment facial is, in a word, mind- blowing. Apparently, orchid plants promote longevity, and Guerlain's royal orchid serum—Orchidée Impériale Longevity Concentrate—is the star player of this facial. Orchidée Impériale will visibly transform your skin by revealing its rediscovered youth. Remember, it isn't bragging if it's true.
Spa Botánico at Dorado Beach, a Ritz-Carlton Reserve (Puerto Rico)
This extravagant, Moorish-meets-Buddha-luxe sanctuary of royal plantation calm is a place so visually beautiful and healing you have to allow hours (and days) to properly experience it, with a plan of returning quickly.
Of particular note was the Treehouse Thai Massage (also known as a "yoga massage") which was hands-down one of the most centering, balancing treatments I've ever experienced, because of the attention paid to stretching the body in ways I wasn't previously aware were even possible. Thai Massage consists of deep-tissue massage and pretzel-worthy movements; the therapist uses hands, elbows, knees, feet and legs to move you into a series of surprising, escalating stretches. I definitely stood taller after we were done. And I loved it.
Clinic Lémanic (
Lausanne, Switzerland
)
Picture Raquel Welch leaving a spa looking better than any woman her age has 
ever looked in the history of time; Clinic Lémanic is where results like hers begin. The Swiss spa's Grands Dossiers package genuinely delivers an overhauled (better) you.
Among the services provided is Thermage, which noninvasively produces a 3-D reorganization of loose tissue using only the most powerful products. This is a terrific treatment option for achieving firmer facial contours and gaining better skin tone without anesthesia or downtime for recovery. It's an absolute must.
The Hotel Bel-Air Spa (Los Angeles)
The Hotel Bel-Air, is, well, The Hotel Bel Air. As part of The Dorchester Collection of hotels (LOVE), it's so aesthetically perfect it has been known to make people feel deeply appreciated and adored just setting foot inside. But the spa gets even better, utilizing the Valmont brand of skincare and treatments. You are guaranteed an unimaginable spa retreat result, knowing you can walk away with their prestigious (seriously anti-aging) serums and regimens or their numbered, limited production L'Elixir des Glaciers, which are at the core of their stellar services. Try the signature Valmont facial treatment Vitality of The Stars. At ninety minutes and $1,000, you'll look like you stepped out of a time capsule.
Mandarin Oriental (Bangkok
)
The Rose Essence of Heaven head-to-toe treatment is designed
 to provide immersive peace as the 
body is cleansed and exfoliated with 
olive grains, then pampered with essential oils and creams. The Rose Indulgence Facial uses Damask Rose Water to promote stronger circulation and rejuvenate the skin. A hydration mask follows an invigorating facial massage, and it all concludes with a calming massage—it's as delicious as it sounds.
Regent Palms (Turks And Caicos)
Doesn't the Detox Herbal Bag Massage sound like something you're actually dying to try? Relax as warm, soaked bags containing a combination of the finest herbs and seaweed are deeply massaged into your body. This reconditions and rejuvenates your skin by gently exfoliating the outer layers and nourishing those deep within. Choose from calming chamomile, reviving peppermint or stimulating fennel. The herbal bags offer a relaxing way to detox, as the seaweed's powerful antioxidant gel increases the body's metabolism. The Regent Palms also features SOTHYS, a stellar beauty brand that has checked off many boxes of treatment-specific, at home skin care products and in-spa age-reversal results. Don't miss out.
Signature Spa at Grand Velas Riviera Nayarit (Puerto Vallarta, Mexico)
Yes, the brochure's money shot of the beautiful million-dollar pools adjacent the ocean is the real purpose of these vacations, but Grand Velas' Signature Spa is designed to lure you all the way to Mexico all on its own. At more-than 90,000 square-feet, Signature Spa is the region's largest spa sanctuary known for its authentic Mexican treatments.
The signature Seven-Step Water Journey exudes much more extravagance and centering than can be described on paper. The Uumbal Shawl massage is a choreographed body treatment using honey for body exfoliation and sacred corncobs for parts of the facial that follows. For a twist, lemons are used to apply continual pressure while Mexican shawls stretch the body for a mind-blowing, unforgettable experience. If your body is crying out for the Emerald City, this spa is the place you could not only get lost in, you'll definitely leave behind all your stress and most of your wrinkles. Perfecto.
This post was published on the now-closed HuffPost Contributor platform. Contributors control their own work and posted freely to our site. If you need to flag this entry as abusive,
send us an email
.