About 900 revelers crowded into London's Union Chapel last Thursday, ready to sing their hearts out. They were atheists, humanists, agnostics, spiritual seekers and many things in between. And they were there for the Yule Rock concert, a joyous celebration of Christmas. 
Many members of this merry crowd were fans of Sunday Assembly, the secular congregation that organized the event. Although Sunday Assembly is often called the "atheist church," nearly three years after it was formed the community has become a space for both secular and spiritual people of all stripes. There are now locations in the U.K., North America, Australia and Africa. In line with SA's motto to "live better, help often, and wonder more," London's assembly has formed smaller community groups around nearly every hobby and interest -- knitting, yoga, social enterprise, for example.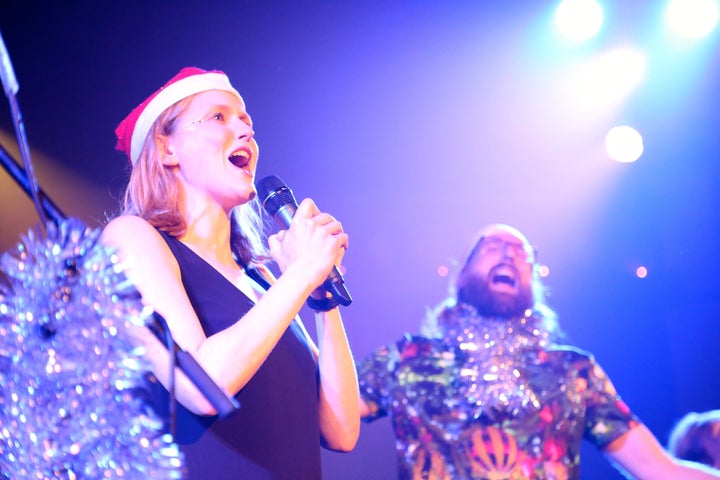 The choir is one of those interest groups, and Yule Rock is one of their biggest yearly events. Sunday Assembly's Head of Music Emma Broomfield said that singing is a great way to build community because it often brings strangers together to work toward a common goal.
"Singing is vital to people's well-being," the 34-year-old told The Huffington Post. "And if you're not part of a religion, and not part of a choir, there are not many opportunities to sing communally."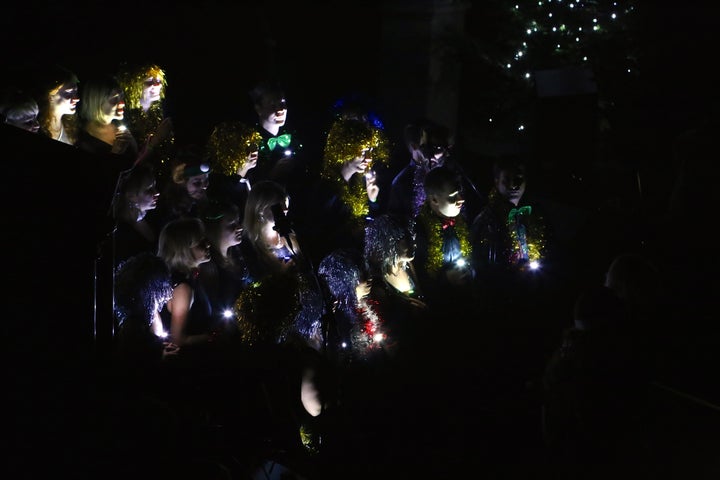 For many secular residents of London, Sunday Assembly has become a way to address the needs of those who want to feel like part of a community, but don't necessarily identify with a specific religious tradition. There's been a steady increase in the number of residents in the U.K. who don't claim a religious affiliation (49 percent in 2014). This group, known as the "religious nones," is also a growing minority in America (23 percent in 2014).
Broomfield wasn't raised in a religious household. She said she felt the lack of community deeply after moving to London from the countryside a few years ago. She joined Sunday Assembly about two and a half years ago.
"When things get tough, I wanted somewhere to go where I could feel a human connection," she said.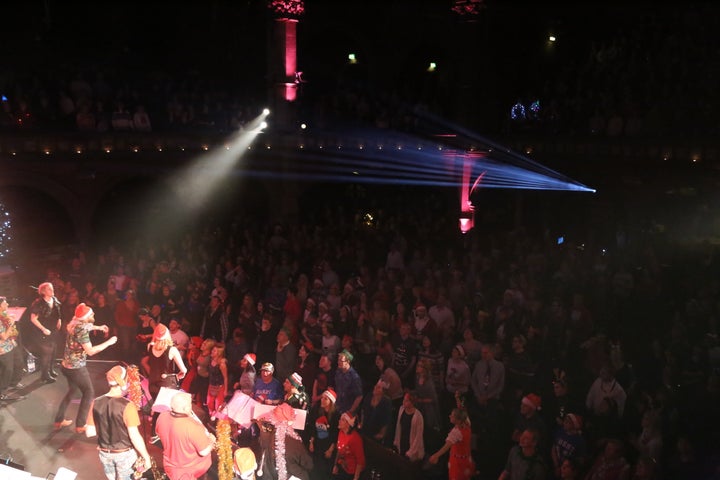 Shelley Styles, one of the organizers behind this year's Yule Rock, said that the Christmas season in particular is a time for family and community. For her, the holidays bring her strong memories of her childhood and of classic U.K. Christmas pop songs, like "Stay Another Day" and "Fairytale of New York." 
"For me, Christmas is about family and loved ones, taking care of people who are worse off than you. It's about getting together," Styles told The Huffington Post. "Obviously Christmas comes from the Christian religion, but it can also be adapted for people who have no faith or lost faith."