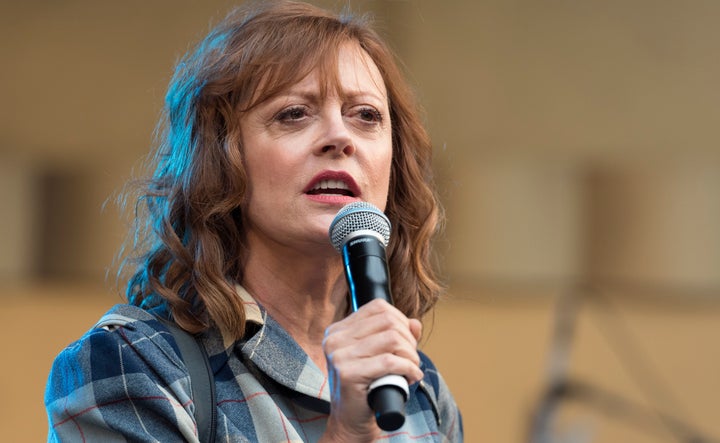 Actress and activist Susan Sarandon is backing Green Party presidential candidate Jill Stein instead of Democratic nominee Hillary Clinton. 
In a letter published on Stein's campaign website, Sarandon cites Clinton's lack of support for a $15 minimum wage and her silence on the Dakota Access Pipeline as some of her reasons for not supporting the candidate. 
"Fear of Donald Trump is not enough for me to support Clinton, with her record of corruption," Sarandon's letter reads. "Now that Trump is self-destructing, I feel even those in swing states have the opportunity to vote their conscience."
Sarandon was a vocal champion of Sen. Bernie Sanders (I-Vt.) throughout the Democratic presidential primary, and was among his "Bernie or bust" supporters who said they likely wouldn't back Clinton's candidacy if the senator lost the primary. 
She maintained this position long after Clinton was declared the winner in the delegate race, and protested at the Democratic National Convention alongside Sanders delegates upset with how the party committee had treated the senator. 
By supporting Stein ― who is polling around 2.1 percent nationally ― Sarandon is breaking with Sanders himself.
"This is not the time for a protest vote, in terms of a presidential campaign," he said in September. "This is time to elect Hillary Clinton and then work after the election to mobilize millions of people to make sure she can be the most progressive president she can be."
Read Sarandon's full letter below: 
Dear Jill and team,

I've been waiting for any indication that Hillary Clinton's position on the issues that are most urgent to me, has changed. But ...

She does not support the $15 minimum wage.

She shows no support for legalizing marijuana.

She has sold fracking and Monsanto.

She supports offshore drilling.

She has no position on the Dakota Access Pipeline.

She opposes the labeling of GMOs.

She opposes the breakup of big banks.

She takes lobbyists' money for campaigning.

She opposes a binding climate treaty.

She supports unconditional military aid to Israel.

I'm therefore very happy to endorse Jill Stein for the presidency because she does stand for everything I believe in.

It's clear a third party is necessary and viable at this time. And this is the first step in accomplishing this end.

Fear of Donald Trump is not enough for me to support Clinton, with her record of corruption.

Now that Trump is self-destructing, I feel even those in swing states have the opportunity to vote their conscience.  

Susan Sarandon
BEFORE YOU GO
PHOTO GALLERY
Best 2016 Election Photos