An Insight Into The Feminist Art of Stephanie Leigh
Running my production company Nexus Production Group from Studio 106 in St Kilda means that each day I bump into a the artists who also rent spaces in the building.
I had crossed paths with new tenant Stephanie Leigh a couple of times in the hall and we have smiled or said hello. However it was not until her latest exhibition, Suspended Woman – A Weighty Burden, was it brought to my attention, via a group email, that I realised Stephanie and I had plenty to talk about.
 Last week I finally arrived at Mars Gallery in Windsor to support Stephanie's exhibition and was lucky enough to catch the end of her talk and chat with her afterwards. Stephanie elaborated on the female form in her work, how it was inspired by art history and the representation of women in art over the centuries. This exhibition and what it stood for stayed with me for days.
When I had the chance to sit down with Stephanie over coffee I learnt that she is very passionate about the subject of women's representation in art and takes a very feminist approach to creating her work. Unlike myself who is new to feminism and is mostly self taught through reading a lot on the subject, Stephanie told me that her feminist views grew through art school. "I kept constantly engaged in interesting discussion, everything is thought provoking and the people that I met were epic. The women I met at art school, that is where I learnt everything about feminism and myself."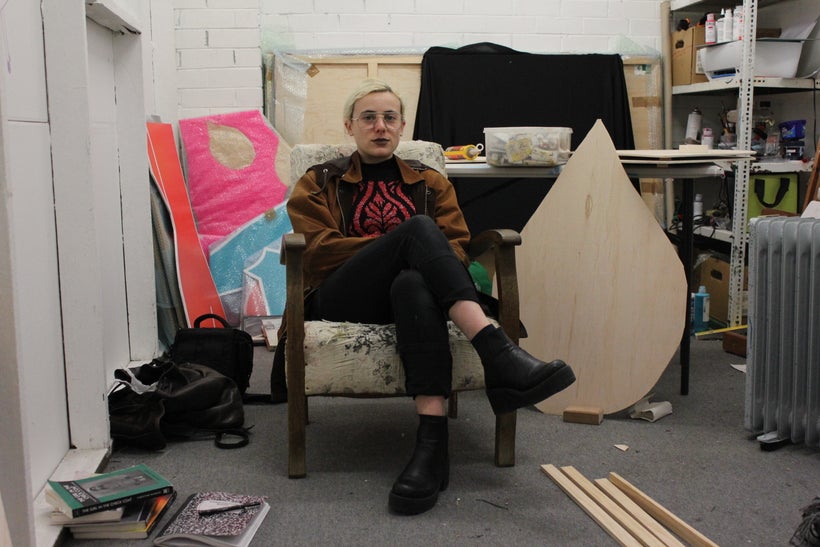 Stephanie is aware of the separation there was between a woman's historical place in society and the way these nudes were painted at a time when men were painting them. "The male gaze is super problematic today," she told me. "I think it really has a historical lineage in what would have been a niche practice, which is painting female nudes. That is why I find life drawing a really interesting space".
 At the time of our meeting, I had just written my article about similar themes and life modelling being an old art form that shows women's bodies as classical, goddess-like and natural as well as my experience as a life model. I understood where Stephanie's work and motivation steamed from and why it is important that she created Suspended Woman – A Weighty Burden for a modern audience.
The suspended women are four separate shapes, each forming the female body in various poses similar to what is seen in classic paintings such as during the Renaissance periods. One seems to be on her knees, while another looks like she is reclining, yet all are headless and each is painted in a different shade of blue, with a marble effect painted on opposing side. All pieces are hung from the ceiling at varied heights giving the work, in unison, a landscape-painting feel.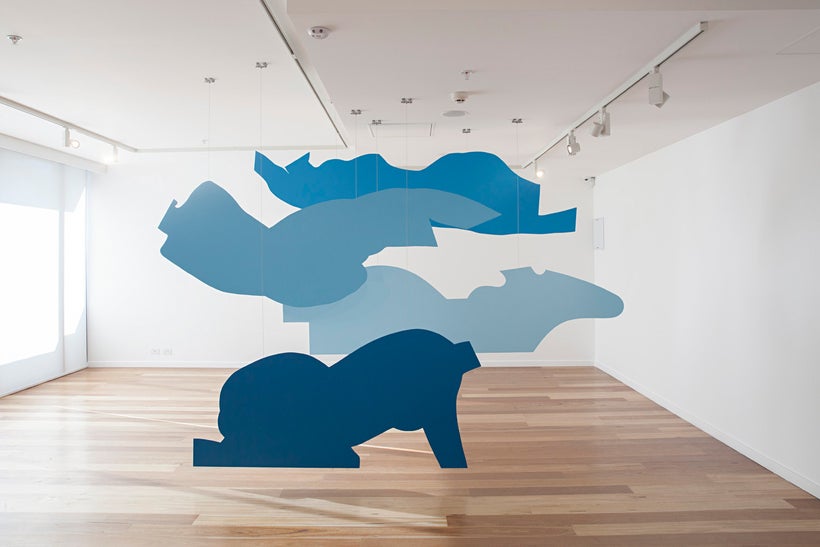 I asked Stephanie to go deeper into what her inspiration for the artwork was. "The whole kind of genre of painting the female nude for hundreds and hundreds of years starting from the representation of Venus, up until the eighteenth century, even the twentieth century and late nineteenth century when females started painting themselves. We know women didn't represent their sexuality first but the age of reclaiming, I am interested in that and in the problems, it is not so black and white. I focus on painting history and the old practice of men representing women."
 Looking back at Stephanie's previous work before Suspended Woman and you will see that she has always shown an interest in the female form, its place in history compared to modern society and taken a feminist point of view. Her next exhibition, with Karryn Argus and Caroline Phillips, titled BOOB, standing for Bias Objects Objective Bodies is true to form, yet the focus is on consent and the artwork, which it tentatively titled Consent, will be exhibited at KINGS Artist-Run Initiative throughout Melbourne Fringe Festival.
Again, this will be a series of around five large pieces and Stephanie is hoping to create a void between the artwork and the space using colour contrast, as well as making this piece interactive. "They are boobs but they are not boobs just like the (suspended) women are women but they are not women", she told me, smiling as she explained. I totally understood. The interactive part comes to play with a glove that is provided for the audience to wear so they can touch the boob. "The idea of touching breasts (without consent) is not ok but in my work I allow you touch them, but they are not actually breasts", Stephanie continued to tell me.
After all the excitement of Melbourne Fringe is over, Stephanie's next artistic adventure will see her travelling to NSW for The Nancy Fairfax artist residency at Tweed Regional Gallery Margaret Olley Art Centre, where she will live for a month in 2017. When I asked her what idea she pitched on the application she told me she proposed to make an artwork all about her breasts. In her words the idea behind this was, "if men for so many years have been dictating female sexuality, if that is kind of my motif in art then I should really take some time to represent myself in whatever that means. So I will do my own life drawing in front of a mirror by myself everyday."
Stephanie finished her Masters in Fine Arts in 2014 and her impressive CV shows that this young artist has been rightfully blessed with the recognition her artwork deserves. Stephanie's artwork is proof that she has no plans for keeping this new wave of feminist art she is creating on a small scale.
Stephanie's art is progressive, thought provoking and what it represents lingers in your mind long after the image in your memory has faded. It makes one think of the way audiences see women through art, and how women represent women through art. Stephanie is the modern feminist female artist Melbourne needs today.
This post was published on the now-closed HuffPost Contributor platform. Contributors control their own work and posted freely to our site. If you need to flag this entry as abusive,
send us an email
.